Modern consumers are savvy: in a recent trend report, 88% of shoppers researched a product online before purchasing. For companies that are creating high quality products and putting time and energy into a great shopping experience, building a loyal audience, and creating rich product content, this new generation of consumer is fantastic. For the companies who once depended on high budget commercials placed in expensive timeslots, it's terrible.

The bottom line: it's getting harder to create effective television advertisments.

Subway is the latest company to commit an advertising faux pas: the chain that brought us $5 footlongs is receiving a great deal of criticism for their most recent "halloween season" commercial. Called both sexist and offensive, nobody is buying it and a lot of people, especially female people, are pissed off.
This ad is blatantly sexist yes, but we'd argue that the underlying cause is messaging that doesn't align with the target audience.
What They Did Wrong
At a glance, thanks to the age and gender of the actress speaking, it seems like the target audience of this ad is a female consumer between the ages of 18-35. As the ad progresses it becomes clear that the commercial's messaging is not chosen to appeal to that demographic
Culturally women are constantly targeted by advertising that subconciously sets a beauty and fitness standard they must adhere to. It can be stressful to navigate, and while we're aware of the subtext, it's just that - subtext, under the radar, hard to pinpoint.
The "healthy" fast food chain is blantantly telling women that staying slim in order to wear skimpy halloween costumes should take a higher priority than health and physical fitness. The message is clear: this is the standard of physical attraction, and if you're a woman who doesn't fit into a sexy nurse's outfit, you're not doing it right.
Unsurprisingly, many women don't like being told how to regulate their body by a Subway commercial.
The way the camera focuses on the protagonist, coupled with the fact that she is changing costumes for two coworkers and only her male coworker speaks, presents a clear message: she's not wearing these sexy costumes for herself, to feel sexy - she's wearing these sexy costumes to look sexy for others. She is the object, not the subject.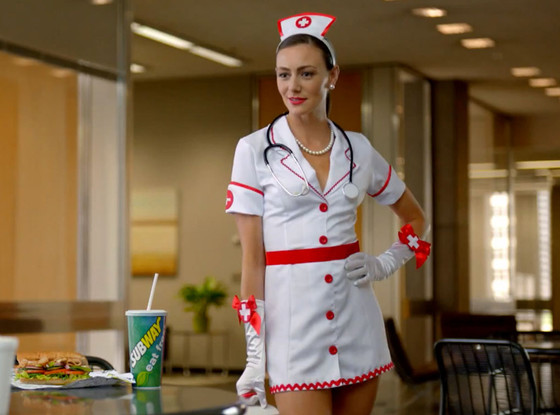 What They Should Have Done
Contemporary consumers are seeking out quality product information as the result of of years of dishonest product representation through advertising. After all, when was the last time your Subway sandwich looked like the one you see in commercials? We think Subway would do well to focus on promoting the health benefits of their food, rather than the physical benefits, by giving consumers more detailed information about their food, like where it's produced, and by who. Without that, it will become increasingly for difficult for Subway to pull off that "Eat Fresh" motto.
McDonald's new "Our Food, Your Questions" campaign is a great example of how effective providing detailed product information can be in regaining the trust of consumers.
Subway should follow McDonald's lead and give their customers, men and women, a reason to eat at their establishment that doesn't involve skimpy halloween costumes.