Why creating superior product information is a key supplier strategy
Glori Blatt | October 23, 2014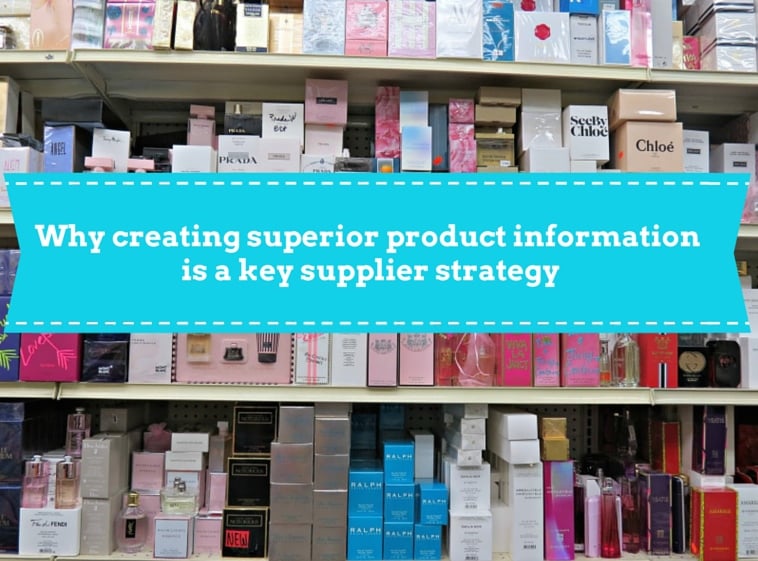 Savvy shopping is on the rise: according to a recent study 88% of consumers research products online before going into a brick and mortar store to purchase. That's why it's so crucial for retailers to offer high quality product information to replace the tactile benefits of shopping in a store: Even if option A is a superior in person, if Option B has superior product information (extensive details, multiple high quality images, customer reviews, and unique descriptions), Option B is going to be the lucky winner.
This offers a serious advantage to suppliers who can create this product information in-house and reduce the time and energy retailers must devote to ensuring that new products are ready for consumer consumption.
Why it Works
There are three major benefits to providing retailers highly detailed product information:
1. It makes you desirable
Your target retailers will appreciate a supplier who makes their lives easier, and will therefore be more likely to place an opening product order.
2. Your products are easier to sell
Retailers will be able to sell your products more effectively and efficiently, increasing sell-through and increasing the likelihood of a reorder.
3. You help their business run better
The time that was previously spent on creating that content in-house will allow retailers to focus on important site-wide strategies like customer engagement and retention, again, increasing profitability for their business and yours.
How to Work It
1. Make it Easy
There is endless data that proves when it comes to shopping online, the easier it is to purchase - for example requiring less personal information at check-out or automatically applying discount coupon codes - the higher the rate of conversion.
The same idea rings true for getting your products in-store at target retailers. Suppliers that make the process easier for them will be more appealing. That means it's not enough to simply create the content; you should also make it easy to exchange it. Don't make retailers chase you down for the information or give it to them piecemeal - supply them with everything they need, up front.
2. Think like a Consumer
In order to create effective product content that needs minimal editing, suppliers should realign their product information strategy to more closely mirror a retailer's.
Seek out opportunities like this webinar with Walmart's Director of Product Management in order to gain insight into how major retailers think about product information, how that information impacts the presentation and sales of products, and the top priorities suppliers should consider in order to maximize sales opportunities.
Make choices with the desires of the individual consumer, not the retailer, as your guide. It may seem counter intuitive, but (successful) retailers are considering the needs of their customers 24/7, and they will recognize and appreciate suppliers who do the same. Retailers are often tasked with a precarious balancing act; the wants and needs of their suppliers and those of their consumers are not often aligned. This affects everything from price (both wholesale and retail) to brand story, to the final packaging, and suppliers who are able to anticipate consumer needs will make this less of a balancing act and more of a team effort.
3. Knowledge is Power
Suppliers are much more knowledgeable about their products than retailers, whose attentions are split between hundreds (or thousands) of different brands. That offers suppliers who take charge of their own information with a PIM system or other data management platform have a powerful advantage over those who don't. After all, who can leverage products' key selling points more effectively than the company who created them?

The Takeaways
As shoppers become increasingly sophisticated and retailers increasingly overburdened, suppliers that can go above and beyond will become more and more valuable. Suppliers that optimize that opportunity by using their unique position within the retail supply chain will find unparalleled success.