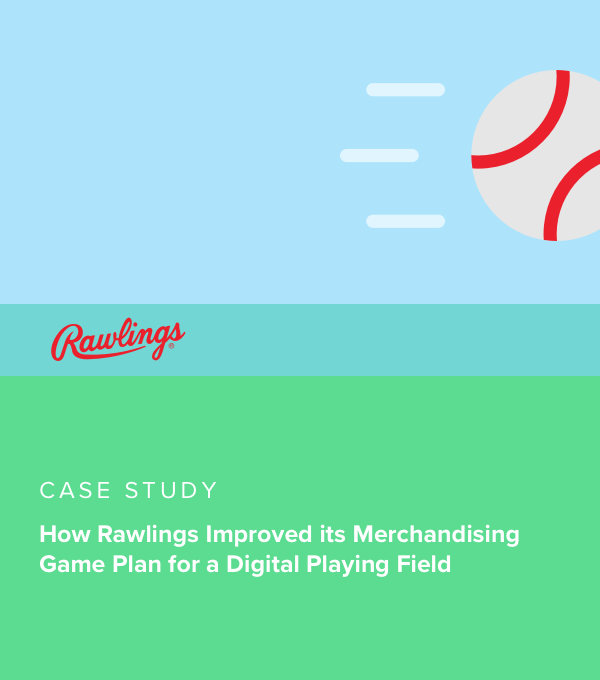 "We quickly discovered what product information and assets we had been lacking. Salsify has allowed us to structure our data in a far more useful way." --Sally Vandegrift Yeast, VP, Customer Experience & Analytics, Rawlings
Rawlings faced new challenges with the rise of ecommerce. More of their consumers wanted to browse products online before coming in-store, retail partners began requesting new digital content across a wider selection of product inventory, and the professional, college and high school teams that buy Rawlings' equipment wanted details on the latest product innovations as early as possible.
To stay ahead of this overwhelming demand for digital product content, the Rawlings team chose the Salsify Product Content Management platform. Learn how Rawlings got control of its digital assets to deliver the right information to prospective buyers quickly and accurately.
Download the case study to learn how to:
Equip sales teams with robust product information quickly. With Salsify's Digital Catalog capability, the Rawlings sales team was able to start demonstrating and selling new products 5 months earlier than its usual sales cycle.

Launch a first-time direct marketing channel. In September 2016, Rawlings went live with a new direct-to-consumer channel powered by a Demandware and Salsify integration.

Solve data asset access for marketing and sales. Using Salsify, the Rawlings team created a custom Pro Player attribute, so the athletes associated with each product could be stored and searched for easily in Salsify by its marketing and sales group.