Who Can You Turn to for On-the-Job Ecommerce Advice?
Chris Kiertz | January 11, 2019
The path to digital transformation is not an easy one. Many savvy IT or marketing managers find themselves running a brand's ecommerce presence from a department of two or three, championing progress and writing their own list of best practices for the digital shelf. Such was the case for Sara Logan, ecommerce operations/PIM and DAM manager at Badger Basket Company, and Nancy Almeida, digital marketing, PIM, and DAM specialist at The C.H. Hanson Company. When they met at a Salsify Regional User Group Event in October 2018, Sara and Nancy quickly bonded over the shared experience of managing product information for their organizations and growing their digital sales channels.
Now, Sara and Nancy have become a reliable source of advice for one another. Earlier this month, they sat down in person to discuss tips and tricks for using Salsify – from everything from naming schemas, content development, digital asset properties and channel views. We caught up with them over the phone to learn more about what they've learned from one another and how they achieved digital milestones at Badger Basket and C.H. Hanson.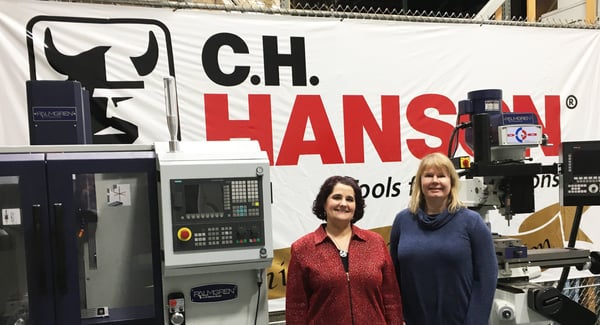 Q: You come from different industries and have different selling models. What are your individual goals and how have you helped one another?
Sara: Badger Basket sells baby and doll furniture to consumers across 20 different online retailers. People want to see multiple images before they buy. We recently had a call where I advised Nancy on my best practices for organizing digital assets within Salsify. One thing I've been working through is bringing priority to image properties to address channels that have a limit on the number of images they accept. Nancy explained that many of her data points are product category specific, so she doesn't find it overwhelming at the item level. I feel better now about expanding the number of image properties I have and adding properties when needed to meet those endpoint requirements; and Nancy has a better understanding from me about setting up her image properties the best way for channel mapping.
Nancy: C.H. Hanson has three different brands in the industrial machinery and tools category. Our salesforce works with a network of distributor and retailers. Our products are complex and can require hundreds of properties per item. We currently have 650 properties in Salsify. I'm at the point with Salsify that I am going to start channel mapping and syndication to get that information to our partners faster. It's comforting to know I can look to Sara to understand the best ways to think about how C.H. Hanson should be approaching channel mapping, working with formulas and all the mapping options I have. Both of our goals for 2019 are what the other accomplished in 2018, it's a nice balance.
Q: Speaking of what you accomplished in 2018, Sara: Tell me about your achievements with getting Badger Basket's products online last year.
Sara: Debbie Riedle, channel manager at Badger Basket, and I spent the majority of 2018 on data management, channel mapping and getting that data distributed through the channels and validating that data. Channels are constantly updating their requirements, which requires Debbie and me to be vigilant with responding to their changes. We are frequently updating templates because we learn something when we syndicate to each channel. That is incredibly powerful when you are a small team.
Salsify has made it easier to keep up with changes and store information in the best way to deliver to our channels. Having access to direct connections like Walmart and Amazon has been awesome. We don't have to wait on a person to confirm we are up and running--it's on the site and we can be confident that our products are accurately presented. To date, we've mapped to 20 retailers and have 174 properties associated with our product catalog. Aside from the platform itself, Salsify's support team is always willing to help and treat each customer as if they are the biggest they have.
Q: How about you Nancy, what were your big wins for C.H. Hanson and how did you make them happen?
Nancy: We invested in Salsify at the end of 2017, shortly before acquiring Pearson Industries, an industrial ventilators brand. Before that, we didn't have an ERP system or a manufacturing database, so there was a lot of data collection involved when getting set up. I worked across our product management, supply chain, and engineering teams to move everything into Salsify and understand the amount of properties for our products. I leveraged the Product Readiness Reports in Salsify to evaluate what was missing and could easily send that information over to my colleagues and ask for information. The time saved has been great. With Salsify's image transformation capabilities, I went from adjusting images in Photoshop and taking 30 minutes to using much less time per item in Salsify.
As you can imagine, that's a lot of data input for one person. I was able to hire some temporary workers to help. Seeing how easy it was for these temp workers to feel comfortable within Salsify was great because I feel more confident that our departments at C.H. Hanson can adapt to it. One of my bigger initiatives currently is getting other teams into the system; I really want our sales representatives to see how powerful the digital catalogs can be for their efforts. Salsify has helped us consolidate our data and can be better leveraged internally to be more efficient and position our products better in sales conversations.
Q: What is your advice for other PIM and DAM managers who are growing ecommerce at their organizations?
Sara: Don't be afraid to make properties. If you need a property, make that property and store the information. You will soon see how incredible useful and powerful it is to have those properties at your fingertips once you start channel mapping and syndicating to ensure you can meet all of these different retailers' channel requirements.
Nancy: I couldn't agree more with Sara, I do have two other pieces of advice. First, don't be intimidated by Salsify. It's nearly impossible to make a mistake that cannot be deleted. Second, when it comes to properties and products, make sure you spend time on a regular basis looking at them and reviewing them. Can you make them better? Improving how you position your product is always a valuable use of your time.