What is rich product content?
Joe Gaudreau | March 9, 2016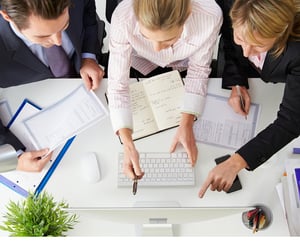 What is rich product content?
Rich product content. You've probably heard the term before - and if not, you have now. But what, exactly, is rich product content?
Starting with product content
Before defining "rich" product content, though, let's first take a look at product content in general.
Product content is, simply, the text, imagery and other information that a brand or retailer provides to describe its offerings. This includes product names, prices, dimensions, descriptions and anything else that further helps consumers to understand the items they are viewing.
Naturally, product content is absolutely imperative for any basic ecommerce (and distributed commerce) effort. After all, when you're shopping on the internet, you can't physically view or handle the products you're considering purchasing in, so the consumer is entirely dependent on the content that the brand or retailer provides.
If that content is lacking, then the consumer will feel too uncertain to move forward with a purchase. If that content is inaccurate, then a customer who makes a purchase is going to be very upset in the not-so-distant future.
Going further with rich product content
With that established, the obvious question is: What's the difference between product content and RICH product content?
"For brands and retailers, all this ultimately leads to more revenue and increased market share."
In one sense, it's a matter of degrees. But it can make a world of difference.
Rich product content goes further in just about every way. Instead of bland copy, the language used to describe the products is more engaging and evocative. With rich product content, the reader should be able to imagine not just what the product is, but also what it would be like to own that item. More creative language, extensive bullet-point lists of product features and detailed usage instructions are common examples of rich product content, as far as text goes.
Just as importantly, rich product content features much more interesting - and a greater number of - visuals. Instead of a single photo, brands and retailers are increasingly offering a series of images, presenting the product from a range of different angles and in different contexts. Even better, rich product content can include 360-degree rotation images, allowing shoppers to view the item in its entirety and at their discretion.
Then there's video. Short videos featuring the product can be even more engaging and informative than images or text, and further serve to generate consumers' interest.
Why rich product content means for brands and retailers
Rich product content, and the omnichannel (aka distributed commerce) strategy it drives, helps make your products shine on the digital shelf and drives consumer purchase decisions. For brands and retailers, all this ultimately leads to more revenue and increased market share.
To better understand why rich product content is imperative to your ecommerce strategy and get tips on how to improve your product content, download our "11 Rules to Deliver Product Content that Sells" ebook.
Technology enables rich product content
In an increasingly competitive ecommerce environment, brands and retailers need to do everything they can to stand out. Developing rich product content is a great step in that direction.
However, simply creating rich product content alone is not enough. To gain the most value from these resources, brands need to also invest and implement the technology (i.e. product experience management systems) necessary to the creation, management, and syndication of rich product content.
Effective product experience management systems ensure that the rich product content is being leverage to the utmost, maximizing consumer engagement across channels and boosting revenue in the process.