Want to Maximize Holiday Ecommerce Sales? Look to Your Product Content.
Peter Crosby | December 28, 2016
For successful sales campaigns this holiday season, brands relied on creative product content to help drive sales online and off. Ninety-four percent of shoppers abandon a site or just give up shopping if they can't find the product information they need. Some of the most exciting holiday campaigns this season relied on a catchy core concept, detailed and rich product content to demonstrate that theme, and effective syndication of that messaging across the relevant retailers and digital platforms.
Here are three of our favorite campaigns from Salsify customers: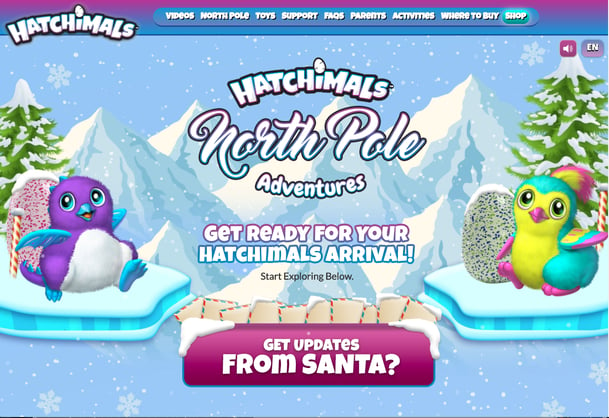 Hatchimals were one of this year's must-have gifts for young children. Toy manufacturer Spin Master created an interactive online experience to support the Hatchimal world with videos, activities, and links to its partner retail sites (Walmart, Amazon, Toys R Us, and more).
Why it worked: Parents and children found a consistent and exciting experience packed with the the cuddly creatures on the company's microsite. By providing a series of pictures on what it was like when the animal hatched, including product use shots and children's voiceovers on the videos as well as a portal where children could wait for their toys arrival from the North Pole.
Takeaway: Centralize your content. A single trusted source of content helps you organize your content and get complete information faster. In the case of Spin Master, they had consistent messaging around the Hatchimals ready to be delivered to retail outlets and in addition had a one-stop location for children and parents to learn more about the creatures, interact with them and, of course, shop for them.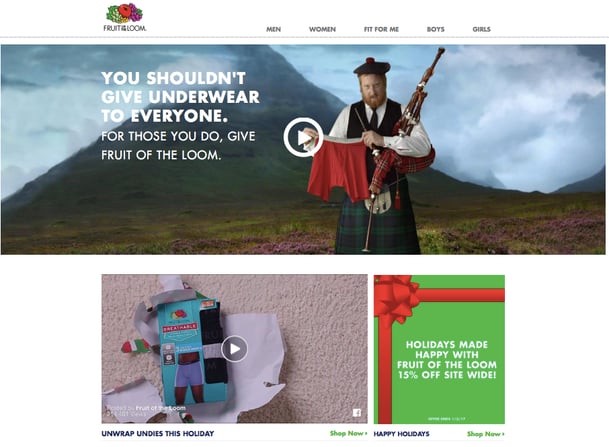 By contrast, Fruit of the Loom went to market with what is often seen as a basic or even boring gift this holiday season. The underwear brand launched a ad campaign three years ago to use comedy and flip the script on unwrapping undies at Christmas, claiming that you can only buy underwear for certain, very special people in your life. This year, Fruit of the Loom continued that theme with new ad spots, online videos and promotion.
Why it worked: Central to the strategy is driving awareness and bringing people to the key retail pages with the promise of a clever look at unmentionables. But once consumers find the Fruit of the Loom site or product pages on retailers like Walmart and JC Penney, the brand delivers detailed product descriptions, specifics on materials and sizing that helps shoppers make informed and thoughtful buying decision. Shoppers get a smile and leave with the confidence they know exactly what is being delivered.
Takeaway: Meet shopper needs. Underwear buyers want to get the right size and fit. In addition to supporting its brand content Fruit of the Loom includes sizing guides, fabric details and fit information that gives shoppers the confidence to become buyers.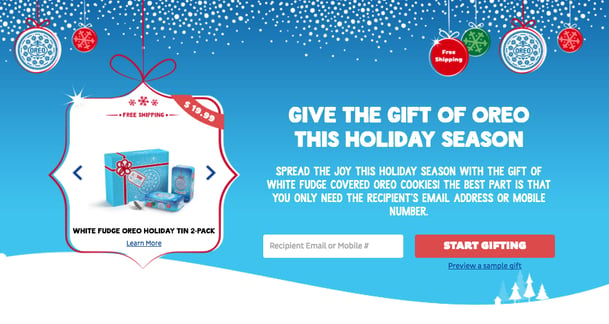 Oreo maker Mondelez tapped into the spirit of holiday giving this year with a share with a friend promotion of its limited edition White Fudge Covered Oreo cookies. Customers could sign up online and ship two boxes of cookies in holiday themed tins - one for themselves and one to share with a friend.
Why it worked: Mondelez made it quick, easy and compelling for holiday gift givers to fill in a form and send the tin. By being really specific about exactly what consumers and their friends would receive (shoppers could see a digital walk-through of the experience) the company built trust that this would be a nice holiday surprise for a loved one.
Takeaway: Refresh content regularly. Oreo combined its limited edition product with the season of giving to make this promotion a success. Brands should periodically be looking for ways to update product content based on inventory and key events for target customers.
Do you have great examples of holiday product content to add to our list? Reply in the comments. For our complete list of best practices on how to make your content stand out on the digital shelf, get our eBook: The 11 Rules to deliver Product Content that Sells.