What Are the Business Benefits of Social Commerce?
Marie Corkery | March 12, 2020
Expanding your pool of prospects is one way to gain market share and grow sales. With social commerce, also known as social shopping, the size of the pool is unprecedented — in both size and range. This pool is also highly targetable.
Social networking platforms, such as Facebook, Instagram, YouTube, Pinterest, and others, have billions of active daily users who spend hours scrolling through their feeds. For your customers, social media is a place to engage with entertaining content. For your brand, it's a built-in captive audience.
As social commerce continues to grow, brands must understand the value of using these channels to expand brand presence while testing and experimenting with these new commerce capabilities — without compromising your strategic investments in other proven channels — using the tools and resources you already have.
Your brand has the opportunity to tap into these spaces to make deeper emotional connections with your audience through the delivery of personalized product content. You can also leverage some of the greatest assets these platforms provide: robust user data and the native shopping experience.
A Brief History of Social Commerce
The term social commerce was first used by Yahoo! in 2005 to describe a set of collaborative shopping tools. Social commerce has morphed into a strategic opportunity for brands to expand their presence on the digital shelf, enabling shoppers to engage with brands by discovering, researching, and purchasing products.
The sheer volume of engaged users makes social media an essential channel for brands. Facebook has over two billion active daily users, as well as 140 million businesses using the app to connect with customers and prospects. Of the over one billion daily active Instagram users, 60% say they use the platform to discover new products — and over 200 million users visit at least one business profile daily.
The number of brands already selling direct to consumers via social channels is growing every year, and its influence must not be ignored.
Social Commerce Is Already Influencing Your Customers
Most brands are already using social media in some way, and 54% of social browsers use social media to research products, according to GlobalWebIndex. If your brand isn't considering social commerce, you may be missing out on an enormous opportunity.
In light of all the challenges brands encounter online — including maintaining brand loyalty when price drives buying decisions — brands must find a way to rapidly expand the pool of highly targeted prospects, without adding significant capital investment or taking resources away from proven channels.
One way to do that is to leverage two of social media's greatest assets: data and native functionality. Brands can use robust user data from social media to target ads to prospects and followers.
With social commerce, they can also target product content in a way that makes an even stronger connection with their audience. Brands can also leverage native chat and shopping capabilities on select platforms.
The Seamless Social Shopping Experience
As consumers continue to become more comfortable with shopping on mobile devices and through social media, the shopping experience has also become more seamless.
Imagine this: Your customer may be in the market for a coat, which your brand happens to sell. She starts her research online, scrolling through several blogs and retailer websites — a few of which mention your brand.
Later, while scrolling through her Instagram feed, she sees an image of one of her favorite influencers wearing one of your best-selling coats. She may also see an ad for your coat within her feed that highlights the active, dog-friendly lifestyle she hopes to adopt.
She then taps on a product tag, reviews the product details, asks a simple question about the coat using the chat feature, and decides to make her purchase.
This final social shopping journey can happen at any time of day — without leaving the app. Once her sale is confirmed, she then effortlessly returns to scrolling through her Instagram feed.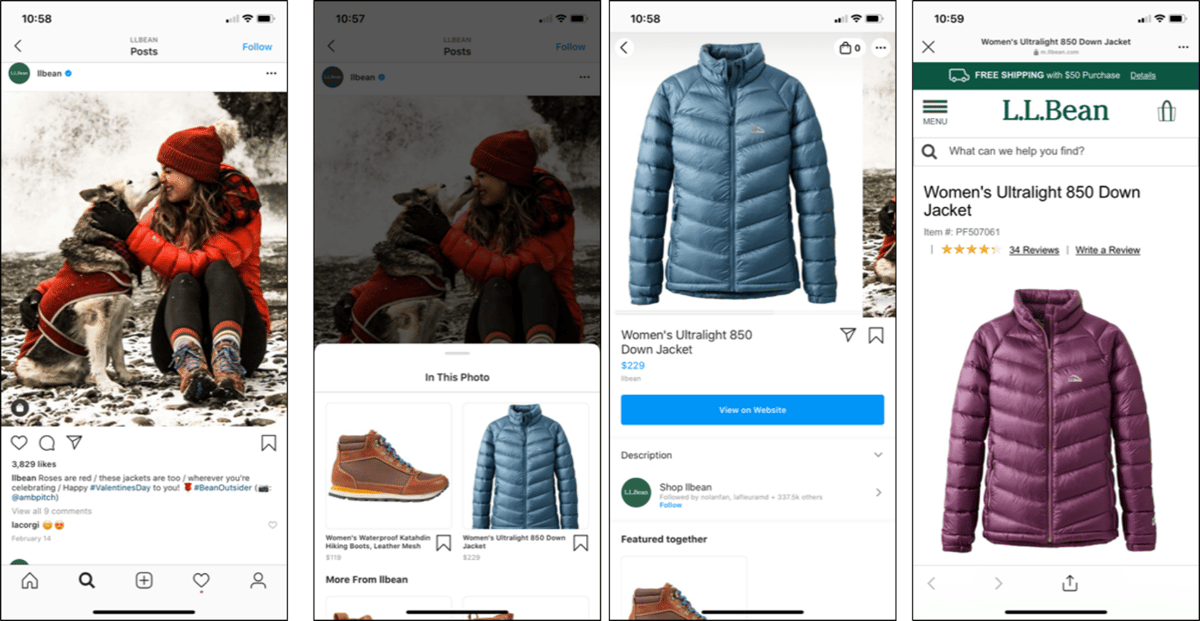 Image Source: L.L. Bean
Deeper Customer Connections for Your Brand
This customer made a connection between the influencer and your product — and it's deeper than seeing a stock image of the same coat on a traditional ecommerce site. Brands can leverage these authentic images to connect with shoppers at the point of discovery and inspiration.
As social commerce expands, brands are in the perfect position to test and learn. It's possible to consistently present product content across all social platforms, customized for every unique channel. Brands can test product content and user data in countless ways until they are ready to make the big leap into direct sales — and a big part of the future of commerce.