How to Get Started With Social Commerce
Lauren McMenemy | January 23, 2020
Your customers are browsing social media every day. More than 2 billion people are connected to family, friends, and communities across Facebook's shopping surfaces — that is, Instagram, Facebook, Messenger, and WhatsApp. As many as 70% of shopping enthusiasts turn to Instagram for product discovery.
Social media platforms are emerging sales channels that drive not only product discovery but also transactions, enabling shoppers to purchase at the moment of inspiration. Both Instagram and Pinterest now enable direct purchases. Checkout on Instagram launched in March 2019 to streamline the process of enabling direct selling for brands. Many other platforms have been selling ads to direct shoppers to third-party retailers for years.
The Rise of Social Commerce
The term social commerce was first used by Yahoo! in 2005 to describe a set of collaborative shopping tools. Today, social commerce is a strategic opportunity for brands to extend their digital shelf and enable shoppers to engage with brands and discover, research, and purchase products.
Social shoppers have a more emotional connection with the purchase. Shoppers aren't specifically searching for something to fulfill a need. They discover something that piqued their interest — or that trusted friends and family recommended — and decided they wanted it in their lives too.
Social Commerce Contributes to Brand Awareness and Sales
Brands who don't test social commerce risk losing brand awareness and the opportunity to build direct relationships with shoppers — and brands that try these new channels see returns. Watch brand MVMT launched a Facebook shop and saw 60,000 visits within the first 90 days. A 0.5% conversion rate was enough to make $15,000 in revenue.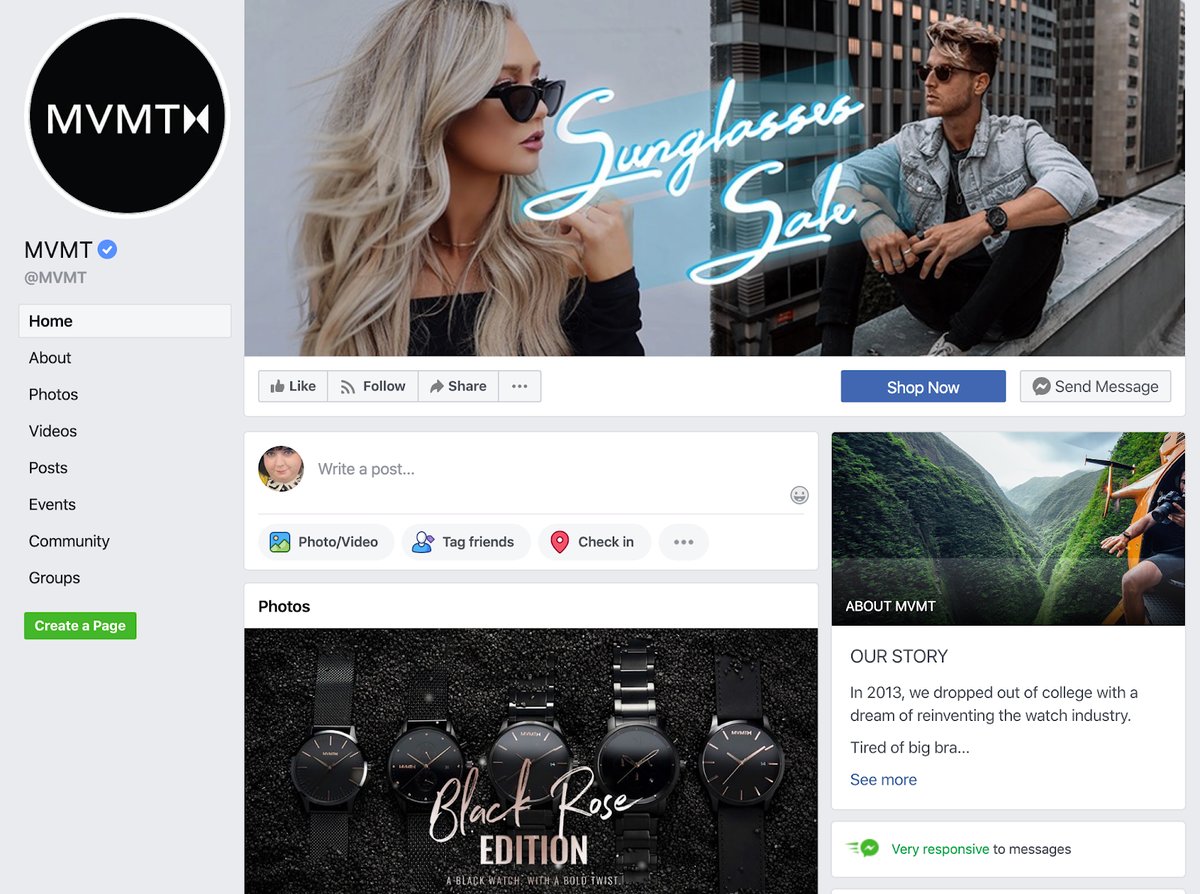 Image Source: MVMT Facebook
Tailored Social Content Drives Engagement
Fashion retailer PrettyLittleThing, which is owned by retailer boohoo, has a specialist responsible for each of the social media platforms it uses to make sure they understand the nuances of the channel and can tailor content. They leverage TikTok to reach the Generation Z audience — one that spends two to three times more shopping on social channels than the average consumer.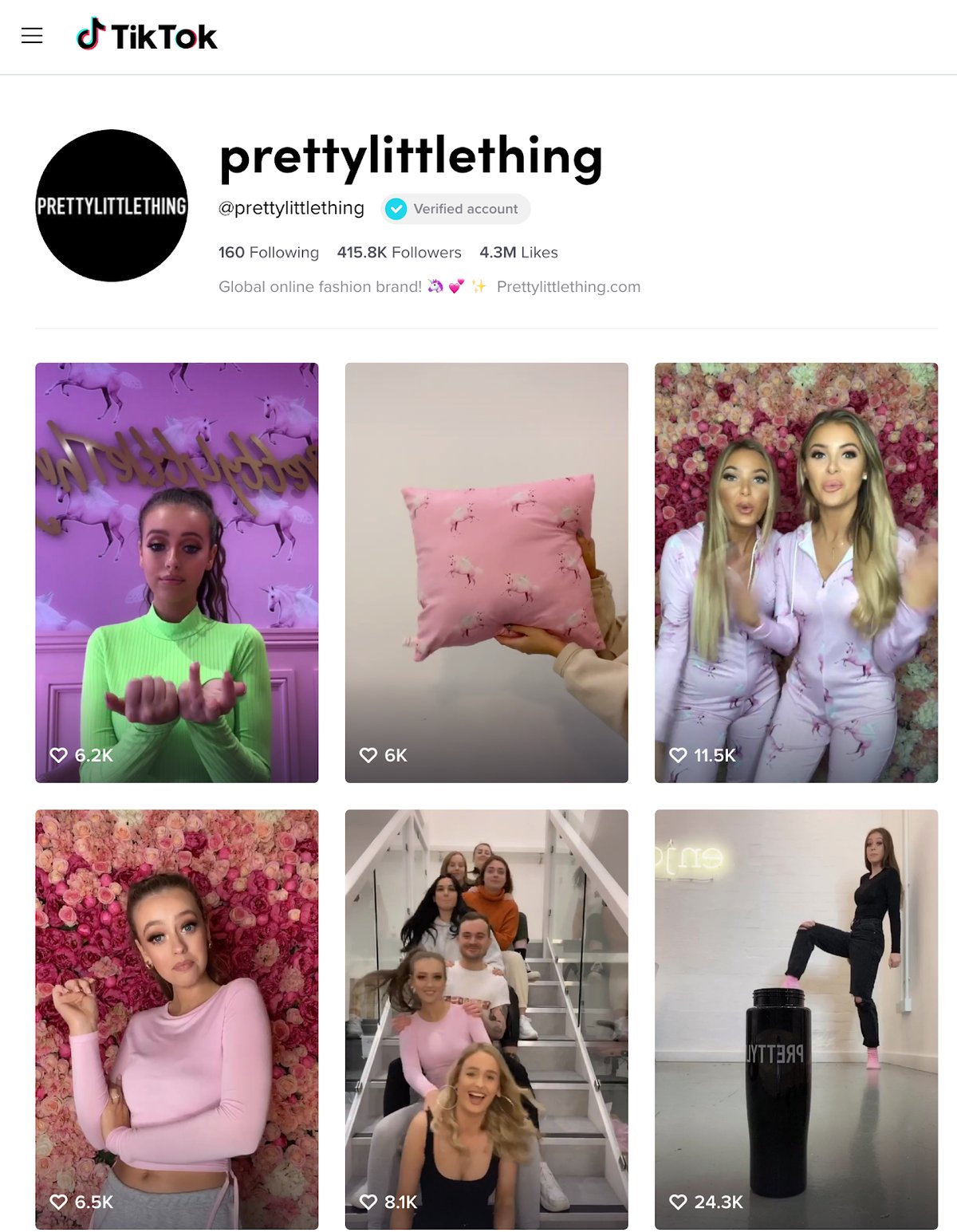 Image Source: PrettyLittleThing TikTok
How Brands Can Get Started With Social Commerce
Unlike with third-party retail, to use social commerce channels like Checkout on Instagram, brands must be able to sell directly to consumers. This capability requires connecting back-office teams, orders, and inventory management with front-of-the-house marketing and social commerce teams.
There are four steps required for brands to get started with social commerce:
Unite marketing and ecommerce teams, ensuring an integrated and coherent approach;

Map out the people, initiatives, budgets, and technology needed to capitalize on the opportunity;

Tap into the entire digital shelf, tracking movements and processes across all digital touchpoints; and

Start small and introduce agile processes to retain flexibility in an ever-changing digital retail environment.
Brands must look at managing product experiences on social, even if they're not ready to transact on that channel. Publish catalogs and either drive traffic to the brand's own site or link to your product detail pages (PDPs) on other retailer sites like Amazon.
Experiment selling through third-party partners (3Ps) — you might have to start with developing new products and packaging that can be shipped directly to consumers, removing the middle person, and enjoying higher margins.
Flexibility Is Key to Maximizing Social Commerce Opportunities
The key to maximizing social commerce opportunities? Test and learn. Brands must be willing to try new channels as they launch, quickly learn what works, and adapt as channels evolve. Moving swiftly and being flexible means your brand can be one of the first-movers as new channels launch.

Brands must manage product experiences on social media, experiment with selling as a third-party, and choose a technology platform that can support social commerce initiatives in the future to grow sales, connect with buyers, communicate brand values, and win new customers.