7 Common Roadblocks to Winning Market Share
Caroline Egan | October 25, 2018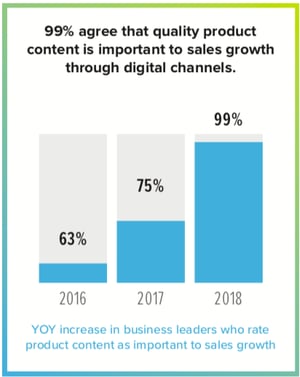 It takes more than competitive pricing and brand recognition to win market share on the digital shelf. Consumers look for detailed product pages and content that provide in depth information about the products they are purchasing and it requires brands to be constantly improving their digital presence. Leading brands are taking note--99% of brand leaders agree that quality product content is important to sales growth digital channels, but will need to overcome the common roadblocks associated with growing and maintaining market share.
When less than 50% of brands push new content to retailers weekly, it's evident the challenges brands are facing are surmountable. What are the most common roadblocks and what can brands do to overcome them to start growing market share? In our latest report "How Leading Brands Transform to Win Market: 2019 Trend Analysis" report we identified the 7 top roadblocks to great product pages --and what brands can do to overcome.
Roadblock 1: Too Many Approvals Needed
Challenge: It's not uncommon for brand teams to require half a dozen people responsible for approval of new content for product pages. Every company has different stakeholders, whether it's ecommerce managers or legal and it can be difficult to move content through each person.
Solution: Determine the most critical team members who need to be involved in approval, and then develop a streamlined approach with timelines and easy action items to stay on time. Ensure those included in the approval process understand their role in approval and keep everyone on task. This will allow your brand to refresh content more frequently--and be a part of the 63% high performing brands that are optimizing content on a daily or weekly basis.
Roadblock 2: Lack of In-organization Commerce-specific Knowledge
Challenge: Your brand sells on 10 different digital sales channels; each channel requires different information and has their own best practices (i.e. Amazon now allows 140 characters for titles, but Kohls may be 100), and keeping up is difficult. You know you need to be able to update and optimize your product pages, but retailers move faster than your team can keep up.
Solution: Hiring team members who can dedicate the time to the most important sales channels and are able to analyze the changes needed and assign out the tasks to others who can help fulfill new requirements. Utilize a central source of truth for product information as a baseline to be able to build on existing product content.
Roadblock 3: Challenges in Syndicating to Retailers
Challenge: Growing market share requires selling on numerous retailers; brand who are using outdated and disparate systems to deliver product information to their retailers are falling behind. When brand teams need to update content in numerous places and then send it to a retailer, it becomes more difficult to be agile.
Solution: Brands need a technology solution that can maintain product information and enable easy syndication through APIs, direct connections and exportation of critical content.
Roadblock 4: Not Enough Creative
Challenge: Continuous content optimization requires an abundance of creative content to utilize for retailers. Yet determining what type of creative content is needed for products and how to maximize efforts is time consuming and not budget friendly.
Solution: Be strategic about your creative investments--focus 80% of your content efforts on the top 20% of products or SKUs when resources are limited. This has two major benefits: your top 20 products are the biggest revenue drivers and should be focused on first, and then you can narrow in on what content is driving conversions.
Roadblock 5: Lack of Content Management Tools & Systems
Challenge: Your brand's product information lives in spreadsheets, in emails, in people's institutional knowledge and outdated systems that don't speak to each other. This inhibits your team's ability to know where the right data is and time to market for updated or new product information.
Solution: Ninety-nine percent of leading brands with software to manage product content grew sales across channels with their online retailers. To win market share, invest in a technology platform that will serve as a single source of truth like a product experience management platform (PXM). PXM's are built for the digital shelf: they should allow you to store and modify all product information and digital assets in one place (automatically updating your source of truth), enable you to syndicate to retailers, and identify where optimization needs to be happen.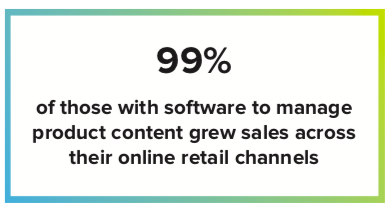 Roadblock 6: Too Many Products--Lack of Focus
Challenge: Your brand has 5,000 products on 12 retailers with a small team and outdated systems. Honing in on what products need new content, or where there is opportunity to grow market share in a particular category has become nearly impossible.
Solution: Find a technology solution, like PXM, that identifies what products need refreshed content, and tells you exactly what needs to be updated. Start with with your top 20% of products on your top sales channel, and maximize efforts with creative teams as much as possible.
Roadblock 7: Lack of Personnel
Challenge: There simply aren't enough team members to manage content creation and sales channels. Teams are overloaded with requests from sales teams and retailers and are struggling to keep up with the constant changes. Traditional marketers need the assistance of digital savvy team members to overcome daily challenges.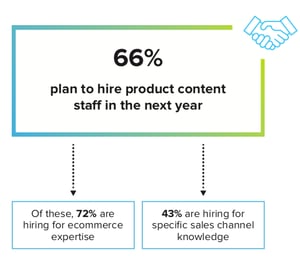 Solution: Hire with ecommerce knowledge in mind. Over 66% of brands plan to hire product content staff in the next year. Consider if you need expertise in a particular sales channel or creative content capabilities (i.e. video, copywriter, photography). If it's becoming challenging to find a dedicated staff member, work with an external agency to outsource.
Brands who have overcome these roadblocks will continue to win market share and have the bandwidth to look toward future trends. With the digital shelf constantly evolving, brands must tighten processes, hire the right people, and utilize technology that will catapult them to the top of the search page.