How Insights Fueled a 15% Improvement in ShurTech's Amazon Sales Rank
Nick Tovey | July 19, 2018
In our conversations with brands, most understand generally how online product content can help drive sales through richer online experiences, more consistency, and better addressing consumer trends. Salsify Insights was built based on the understanding that these more qualitative arguments are indeed backed up by data.
Our latest case study, focusing on ShurTech, shows how more robust product content drives products further up search results, helps convert customers, and positively impacts sales as a result. If you're not an Insights customer, you can get a sample of this idea through our product content grader, which gives anyone the ability to grade individual products across a range of product content criteria.
Going back to ShurTech, one of the features Salsify Insights customers get is the ability to broaden these analyses across an entire product catalog, giving them a full picture of what specific content aspects given products need to be successful, and then assigning tasks out to staff members to take action on those suggestions. ShurTech took this approach - their ecommerce team took the lead improving product page content, and that led to higher sales.
You'll notice within the case study that while ShurTech produces hundreds of products, the team focused on 70 products that Salsify Insights identified as needing some content optimization. This is important, and illustrates how not every vertical or business is the same. Many successful brands are employing an 80/20 strategy when they start optimizing products for digital.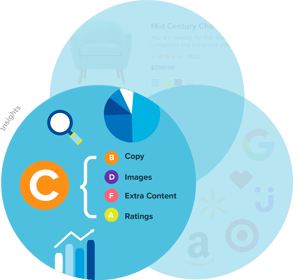 While optimizing the product listings for all of your products may be a noble goal, it likely isn't realistic, and won't maximize your time and energy from an ROI perspective. Brands can set themselves up for success by focusing on the top 20% of their product catalog first (which likely drive 80% of total sales) and give themselves the best chance of driving the most sales dollars and ROI.

Additionally, by utilizing machine learning brands can also actively identify what products need attention, and how they can be improved. This way, digital teams can better focus their efforts where they will have the greatest impact. Here's a list of this and other techniques employed by ShurTech and other winning brands using Salsify:
To increase sales and grow market share on the digital shelf, focus on building a closed-loop capability for continuously optimizing the performance of product pages

Secure buy-in and collaboration across different teams across the organization in order to maximize operational efficiencies and overall impact

Use Product Page reporting to identify and prioritize product content optimization opportunities

Use Buy Box reporting to make sure products are always in-stock and available, that you are winning the Buy Box versus 3rd parties, and that there are no MAP violations.

Use Compliance reporting to identify content discrepancies and to make sure content submitted actually is ending up on the product pages
Read more about these approaches within the full ShurTech case study, or, for some more vertical specific insights, check out Salsify's recent consumer research here.