The Rise of Ecommerce Pop-Ups & How It's Innovating the Shopping Experience
Caroline Egan | June 26, 2018
When it comes to ecommerce first brands, a sign of success in disrupting their market is opening a brick & mortar location. We've seen this with Warby Parker, Bonobos, Casper, and Cuyana- Warby Parker has opened 75 locations within 8 years of its founding. While these larger, more established ecommerce brands are seeking physical expansion and have taken market share from consumer giants, smaller emerging brands enter brick & mortar with pop up stores. Ecommerce pop-up stores in particular have become a way for these brands to test out the market, gain exposure and connect with their shoppers.
There's a section of Melrose Ave near La Cienaga Boulevard in Los Angeles' West Hollywood neighborhood sprinkled with digital upstarts brick & mortar stores, extended pop-ups, and experimental stores. For the brands with pop-ups, it's an opportunity to spread awareness around their brand and introduce themselves to those who may have no knowledge or have hesitations about their product. For the most established brands, it's solidifies their place in the market.
In a matter of a few blocks situated amongst massive brands like Marc Jacobs, Restoration Hardware and Nordstrom Local (a new concept that offers personal stylists and services but no physical merchandise), the following digital upstarts have found a home, permanently or for a short brand awareness stint:
Outdoor Voices
DSTLD (long term pop-up)
Away
Brandless (short term experimental pop-up)
UNtuckit
Sweaty Betty
A few weeks after starting here at Salsify, I happened to be in LA for Brandless' short pop experimental pop-up and DSTLD's last month of a 6 month pop-up before moving the store to New York City. Post spin class and iced matcha in hand, I went off to see how these two brands that I was very familiar with online would present themselves in a physical space.
DSTLD: TRY US ON
DSTLD is a company based out of LA disrupting the premium denim industry with an emphasis on quality products that are sold at wholesale prices with a guilt free supply chain. They compete with brands like Citizen of Humanity and Rag & Bone with prices for premium denim at $85 vs the $250 price for their competitors. They aren't just disrupting the supply chain- they are changing how consumers can further invest in business' they believe in: loyal consumers can have a stake in their business (yes, really).
The store resembles the clean minimalist design of their website and full of Instagram worthy content-- a giant neon sign reads "Black is the New Black" as you enter the store. Pop-ups provide brands a huge opportunity for user generated content and DSTLD created a space as sleek and cool as their customer.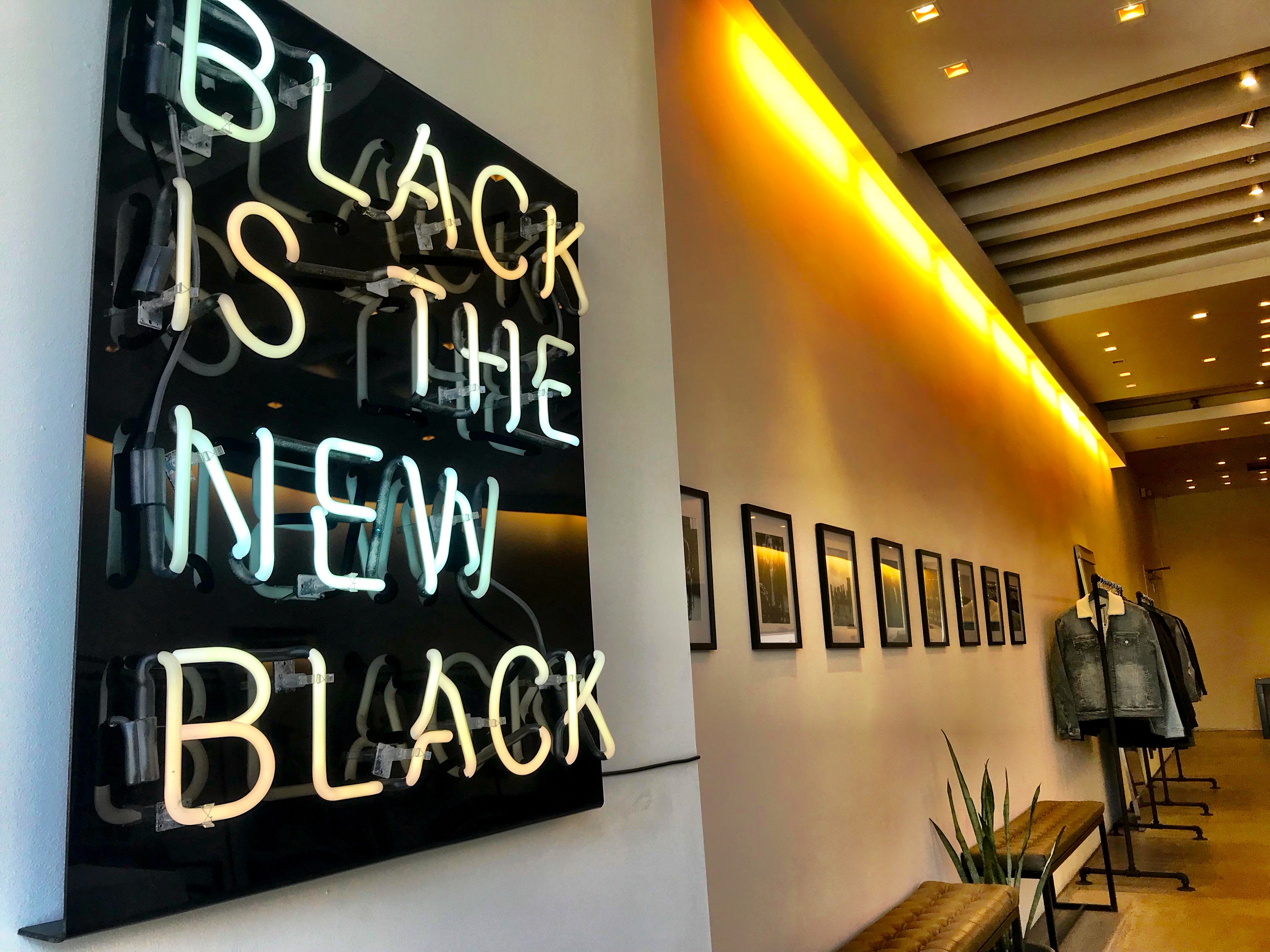 Unlike larger more established digital upstarts, DSTLD has no inventory in store. For some shoppers that could be seen as annoyance, but it does mean they never run out of sizes to try on. The store associate walks you through their site to order. If you purchase in store, they automatically apply 10% off of your order.

BRANDLESS: ENGAGE & EDUCATE
Brandless aims to be a household name and staple of every kitchen pantry all for under $3 per item. The San Francisco based brand launched it's site less than a year ago in July 2017 to provide home and beauty essentials. Co-founder Tina Sharkley sees its target shopper as one of the following: belief buyers, (i.e anti-establishment millennials who want healthy food and beauty products) and heads of households looking for convenience and to avoid high cost of brand names. They sought to create a Pop-Up with Purpose that focused on education, community engagement and social fun.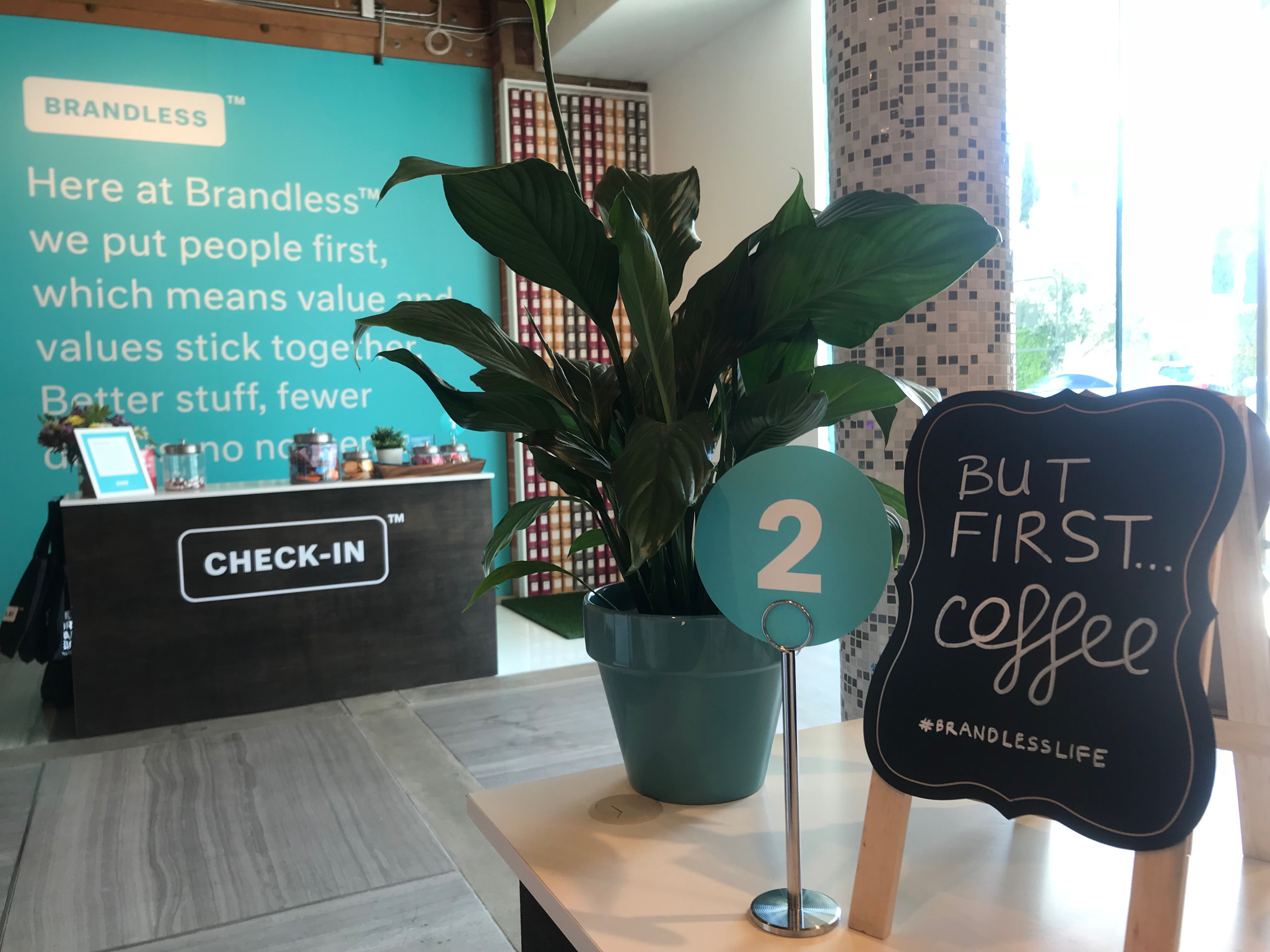 The two-week long pop-up hosted a variety of programs including meditation sessions and panels partnering with digital first food publishers, health-focused chefs, and celebrity activists all centered around community engagement and educational. Each event was live-streamed on social channels and provided Brandless endless opportunities for social content, created by them, influencers and consumers (what a tri-fecta!). Unfortunately, there were no events happening when I was there, but the manager of the pop-up let me in and gave me a private tour --- and I immediately was captivated by the experience at hand.
It was unlike any store, pop-up or not, I've ever been - it was full of products from their clean beauty wall to a cold brew bar that you could sample and had a playful approach to each section of the store. Thought you couldn't purchase in store, if you wanted to buy shoppers could scan a QR code and add it to a shopping cart and have it shipped directly to them. While it was an interactive experience, it was not centered around a digital interactive experience: a wall of exploding Brandless-products, sections designated to vegan or pasta night products, and places to taste test were all designed to Brandless' goal of education and engagement.

The rise of ecommerce pop-ups will continue to rise as more brands disrupt market and seek to connect with their customer and engage them off the digital shelf. Traditional brands and retailers are also innovating in-store experiences to compete with digital first and highly savvy brands. Traditional consumer brands can learn from the central tenant of these digital upstarts: connecting with customers and providing them an opportunity to engage with the brand, on and offline.