Salsify's Point of View on the PIM Analyst Report
Nasry Angel | June 18, 2018
I shared our key takeaways from the 2018 Forrester PIM Wave in an earlier post. The most important buying criteria for PIM Software buyers is time to value. In this post I discuss which specific factors drive faster time to value as well as what additional components beyond PIM, an effective digital commerce workflows requires.
PIM is 1 of 3 components in a broader Product Experience Management Platform
PIM helps companies source, manage (centralize), and enrich product content. But for most digital commerce professionals, product content and digital asset management (DAM) is one component of a broader digital commerce workflow. These commerce professionals operate in a flywheel economy where algorithms act as gatekeepers for what consumers can see and purchase. Playing to this algorithm involves taking an outside-in approach where digital business professionals are armed with insights on what content is most effective, they source, manage and enrich that content and efficiently publish that out in a closed loop model.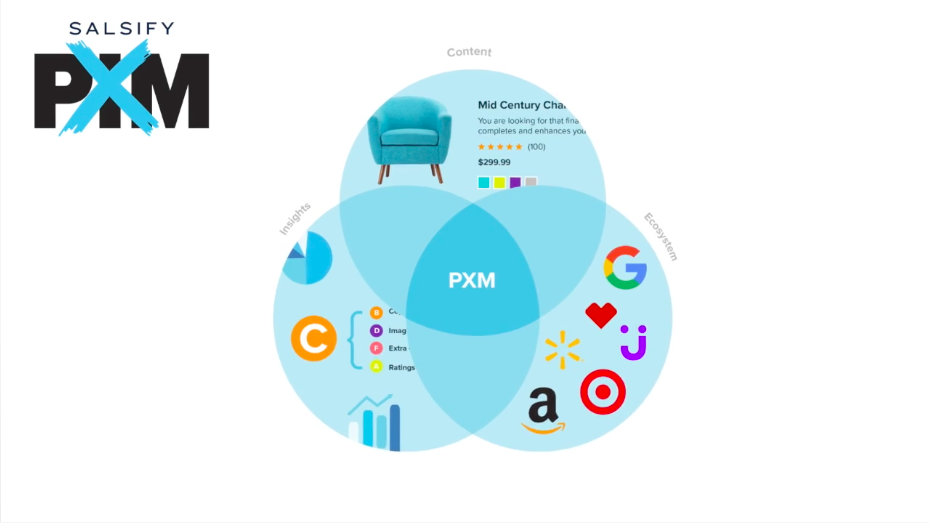 At Salsify, we refer to this approach as Product Experience Management (PXM). As such, these platforms enable digital business professionals to:
Analyze content. Content without context is irrelevant so you need integrated ecommerce analytics capabilities to deliver prescriptive guidance based on the best practices of the channel you're doing business with. This area was mentioned in the evaluation in the form of content scoring but it's more than that.
Improve the content. There are many vendors that help analyze content but actionability is the clear differentiator. Driven by changes in consumer behavior, retailers updated content requirements daily across product lines. This means commerce professionals need to benchmark their content through reports. And not only view reports but be able to generate and assign tasks to their team members to ensure actionability.
Transform data across channels in-app. Channel-specific data requirements must be built in the application for business users to be able to successfully transform data inside the application. Not doing so means pushing users outside the application and creating shadow IT environments. But its not only having the requirements built in but also having the business rules and formulas to transform original data sets to meet a marketplaces, distributor or retailers specific requirements.
Syndicating data through the best available method. This is not afterthought but rather a process that can create a major wedge in your workflow. Not evaluating a broad set of syndication capabilities within your PIM, you certainly will encourage the creation of rogue product data repositories as your business users will likely export spreadsheets from their system and begin to modify them to meet their channel requirements. This also means commerce teams will default to doing bare minimums when it comes to content and product information. To bring content to market and refresh it constantly, users must have a consolidated syndication workflow that provides broad coverage beyond just retailers.

All things considered: Time to value is the #1 Priority for Buyers of PIM platforms
When I survey B2B commerce pros on the criteria they use to make buying decisions, time to value is almost always among their top 3 reasons. To credibly drive it, here are a few things to consider when assessing PIM vendors:
Native multi-tenant clouds are a prerequisite. In commerce, requirements, workflows, performance demands and just about everything else changes all the time so implementing a platform that has long 12 month plus upgrade cycles is not going to cut it. You need a platform that provides continuous updates. Many vendors started on premises and are pivoting to a public, private, or hybrid cloud environment. Make sure the vendor offers the full breadth of capabilities on their cloud product, and not rely on their desktop client to deliver needed features. If dealing with vendors who have transitioned, ask for customer references running exclusively on the cloud product.
Close the loop with actionable ecommerce analytics. This goes far beyond internal system reporting. It has to do with helping users know where to focus their time by collecting and quantifying market context in the form of product sales rank, product description length and number of digital assets to compliance reports and SEO keyword ranking and making that actionable within the platform. Customers who leverage these analytics capabilities not only decrease the time it takes to bring products to market but they also increase the ROI of their products. For example, a Salsify customer saw a 15% improvement in sales rank by starting with an insights audit of their content and then systematically improving the content in their catalog over a four month period.
Choose ELT over ETL to drive time to value. Beware of systems that require you to extract the data, transform it and then load it into the system. We've found that having to define a data model first kills your time to value. This exercise means having to invest weeks and months (depending on the size of the implementation) for a select group to agree on a data model only to have it be outdated the second it's implemented because of changing requirements. We've found that companies that drive quick time to value extract their data from source systems, load it into the application and will model it based on specific channel requirements.
Model and maintain data against channel-specific requirements. Investing the time and effort to organize your data by channel upfront will drive time to value. Namely because it translates the requirements that the market has already expressed (in the form of partner spreadsheets and standards) into the application. This takes the guessing out of how to structure your data and makes it easier for business users to manage, enrich and optimize channel data they are responsible for without having to touch core data. Not having to touch your core data model means you can perform channel-specific incremental improvements without having to export anything out of the system or create approval bottlenecks. Channel-specific views of your data are also foundational since they enable you to assess data completeness and readiness to syndicate.
In-house dedicated customer success and support teams. Let's face it, PIM is not ERP. There aren't that many partners dedicated to it. A key factor in driving time to value is having an experienced customer success team that is 100% dedicated to doing PIM type implementations. When looking at a team, dig into not just their implementation methodology but their knowledge of commerce. Specifically around channel-specific schemas, content enrichment, analytics and syndication workflows. An in-house customer support team

that can address the breadth of your PIM, DAM, Syndication and Analytics needs

is an invaluable resource post implementation.
Beware of making MDM a prerequisite for PIM. Do you really need to overhaul your customer, supplier, and location data to develop a commerce project? This is a common question where business and IT often diverge. There are many legitimate reasons for IT to undertake an MDM initiative. For example, the need to reconcile data scattered across the enterprise and to establish a business process through which your company can source trusted, reliable business and operational data. But most often, a company is not ready, doesn't have the IT bandwidth, budget or need to undertake a project that, when deployed on premises, traditionally takes over 12 months and requires 2 to 3x the license costs in professional services from vendors. Regardless of the underlying IT infrastructure, modern PIM tools should be able to ingest product data from different sources, and apply channel-specific quality, validation and transformation rules to help you bring products to market in a timely manner.
Disclaimer: This information is intended to outline how we are currently thinking about our general product direction. It is intended for guidance only, and should not be interpreted as a commitment to deliver any material, code, or functionality, and should not be relied upon in making purchasing decisions.