Rules for product content that sells - A new ebook from Salsify
Peter Crosby | January 28, 2016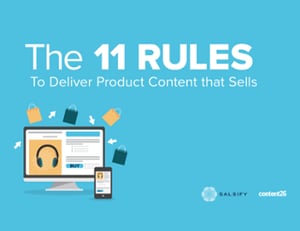 Rules for product content that sells - A new ebook from Salsify
Takeaway: You should download this ebook if you're looking to build a product content strategy to increase sales and outshine your competition
Is product content a priority for your company?
If it's not now, then it will be soon. It has to be. In today's retail space, product content plays a role in drawing shoppers' attention, keeping consumers informed through every stage of the sales process, guaranteeing a consistent, satisfying customer experience across channels and, finally, closing the deal.
But how do you make sure that your company is getting its product content right? How do you deliver product content that sells? Do you have a strategy in place?
Those are precisely the questions that our latest ebook sets out to answer.
"The 11 Rules to Deliver Production Content That Sells" was put together by experts at both Salsify and Content 26. These 11 rules were designed to help brands and retailers understand what product content is and how to make it work for their companies.
Here's a taste of the eBook for you:
Rule #4: You need both basic and enhanced content to be competitive.
"The eBook includes insight and examples from Google, Amazon, Walmart and others."
What does that mean in practice? The basic content includes product names, pricing, features, ratings, reviews and images, all of which needs to be accurate and appealing to look at. At the same time, enhanced content should go above and beyond. For example, Cheerios' website highlights its cereal's gluten-free status and addresses sustainability - issues that matter a lot to certain groups of shoppers. Plus Cheerios features additional images to further entice site visitors.
That's just a small taste of what you'll find in this ebook. Other rules cover everything you need to know about creating great product content, including:
Have one set of content truth. (Rule #6)
Use what you've got. Don't reinvent the wheel. (Rule #8)
Refresh content seasonally, at least, or when you learn something new. (Rule #10)
And much more.
Additionally, the ebook includes insight and model examples from brands such as Google, Amazon, Walmart and others (read: companies that are good at what they do).
If you're looking for ideas to focus on your product content strategy to ultimately increase sales, then we highly recommend you check out our ebook. Click here to download it for free.