How Tools and Home Improvement Brands Can Win On Amazon
Andrew Waber | June 13, 2018
Amazon is an increasingly important channel for brands selling tools and home improvement products. For ecommerce teams looking to take advantage of this growth, it's important to understand what aspects of the Amazon product page are the most critical to growing sales and building market share. I recently led a webinar specifically focused on this vertical, and our accompanying benchmark report for brands selling on Amazon. Listen to the 30-minute webinar or take a look at the highlights we've gathered for you.
1. Growing review counts needs to be a top priority
It's no secret that consumers take a lot of stock in how a product is reviewed on Amazon. In fact, a study we conducted across more than 2,000 consumers earlier this year showed that better reviews help drive higher margins, and are a big contributor to consumer trust of that brand: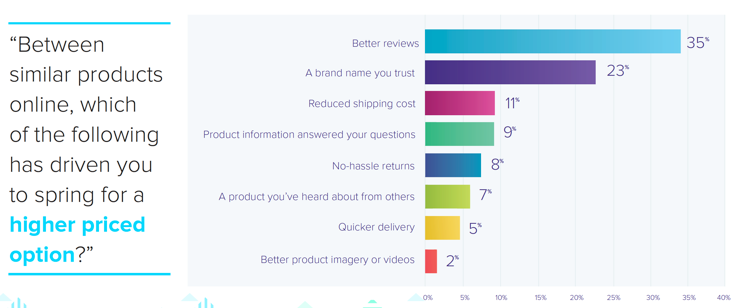 But tools and home improvement brands need to be especially focused on this area. Products that are the biggest sellers on Amazon within the category had review counts that positively dwarfed those of poor sellers. Specifically, the difference in review counts between products in the top 10% of Amazon Sales Rank, and the bottom 10% ranged from roughly 10X to more than 30X.
While improving review counts doesn't happen overnight, tools and home improvement brands need to employ tactics to help grow these as fast as possible. This includes including an in-package insert soliciting a review from the customer, to post purchase email communications, to approved paid review campaigns like Amazon Vine.

2. Regardless of price, your product should have more than 1-2 images
There were a few recurring themes across every price point studied within the benchmark report, and two of them revolved around image counts. In what should be encouraging to every brand that understands the value of product content, a plurality of products within every price range studied only had a single image on their respective pages. Meanwhile, top-performing product pages consistently had 2X+ more images than poor performers, ranging from an average of 3.9 to 4.6. The example below, from the $250 and above segment in the report, is typical: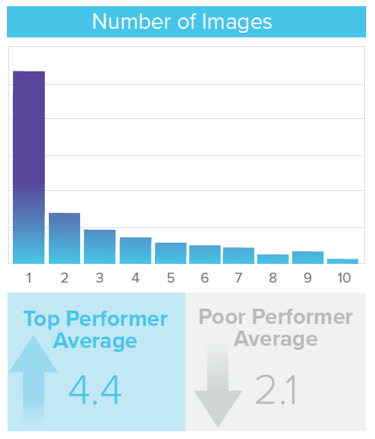 While getting additional imagery for every single product in your catalog may not be realistic over the short term, brands in this space should initially focus their efforts on improving imagery for their products with high sales volumes or high margins. This will place the business on more solid footing before moving to longer-tail products. Qualitatively, we saw top performers including in-use or in-home product shots as part of their assortment in order to better illustrate product quality or functionality to prospective buyers.
3. Don't glaze over below-the-fold content or A-Plus
Our co-founder Rob Gonzalez recently co-hosted a webinar with Mark White from Content26, and one of the major insights coming out of that session was the importance of below-the-fold, A-Plus content on Amazon. While not every consumer scrolls down to that section, those that do are likely your most engaged, and for them, that content significantly helps with conversion.
Top performers in the tools and home improvement space used that below-the-content in a variety of ways depending on the product. Some, like Philips and their Hue smart light bulbs, emphasize use cases and functionality. Others, like Moen and their touchless faucet, look to harp on product quality and craftsmanship. In any case, your product's key marketing messages should get reemphasized here in order to drive those conversions with engaged buyers.
Because Amazon rewards higher conversion with higher search placement, brands that execute well get the positive feedback loop that drives sales over the long term. As we've written previously, regardless of whether you are using AMS & Promotions, in the long-run your products need to convert at a higher rate than the competition when buyers land on the page.
For more tips and data, be sure to check out the full Product Page Benchmark Report, which gives a lot more color on these and other trends within the tools and home improvement marketplace on Amazon.