How HP Delivered Customer Service Excellence on the Digital Shelf with Salsify Chat
Caroline Egan | December 19, 2018
When it comes to purchasing personal computers or printers, consumers often have a lot of specific questions. That's why tech giant HP has made delivering best-in-class customer service in retail stores, like Best Buy, Costco, Staples, and Office Depot, a priority. In 2016, Director of Consumer Market Sales Loren Woodbury, at HP, was tasked with identifying how to deliver that same level of customer service experience in ecommerce.
Loren invested in Salsify Chat (formerly Welcome Commerce) to provide digital shoppers with a live chat option embedded directly on retailers' HP product pages across three critical product categories: Personal Computers, Printers, and Ink & Accessories. This allowed the HP team to provide a seamless experience for digital shoppers and drive better sales results. During a 10-month period between 2017 and 2018, the team saw a lift of almost 400% in revenue per order for chatters compared to consumers who did not engage with chat. "When people chat, good things happen; we've seen our revenue per order and per visitor increase drastically, returns rates have decreased, and overall, more satisfied customers when they engage with [Salsify] Chat," Loren said.
With experience in field engineering, customer service and consumer sales, Loren evolved HP's extensive in-store customer service organization, prior to launching ecommerce chat support. We spoke to Loren about his perspective on how conversational commerce and customer support can help brands drive sales.
How was the shopping journey changed for HP in the last decade?
It's not uncommon for customers to have a consideration period with our products; they can be big purchases and it may require speaking to their spouse, or double checking that a printer can work in their home. We want them to be able to make the purchase wherever they are. For millennials and Gen Z they have high expectations about customer experience, and product experiences. They expect brands to step up and be there for them, wherever that may be and brands need to adapt to that. I want our customers to know we are happy and available to answer their questions, whether in store or online. Maybe you stopped by the HP area in your local Walmart and spoke to your spouse after you got home, and you are ready to buy. With Salsify Chat, they can still ask those final purchase questions before clicking the buy button when they are at home. The biggest change, that every brand faces, is delivering that guided experience regardless of where they buy.
What led you to think more strategically about customer service on ecommerce channels?
In mid-2016, I was approached by my boss and she asked me "if there is anything else we should be thinking about in our consumer sales motions? We are spending a lot on brick & mortar efforts, which is successful, but the market is changing. Take some of those dollars and figure out how to impact ecommerce within your world." It's important that we evolve and change as shopper's behavior does, and we cannot be left behind. The reality was, and remains, that the shopper's journey has changed--they are using mobile devices to search numerous retailers for the best price or to understand a product before purchasing. We needed to be wherever they were engaging with our products. Salsify Chat came up in a meeting I was in for Walmart and it clicked. We have a great consumer sales team already, we should be leveraging them to maximize our efforts for ecommerce.
HP has a huge brick & mortar presence, how do you see ecommerce intersect with that for a better customer experience?
Regardless of your vertical, there is a lot of anxiety about how to keep up with the changes in commerce activities, and shopper's behaviors. When ecommerce first started, it felt very silo-ed from other sales channels. You had ecommerce, and you had your brick & mortar; they were separate entities that you didn't feel needed to be cohesive. Now they are blended together, and ecommerce must be an equal extension of the anchor of your business, which is brick & mortar. These two things cannot stand alone anymore; and brands need to identify ways to make it as easy as possible for consumers to make the right purchase decision.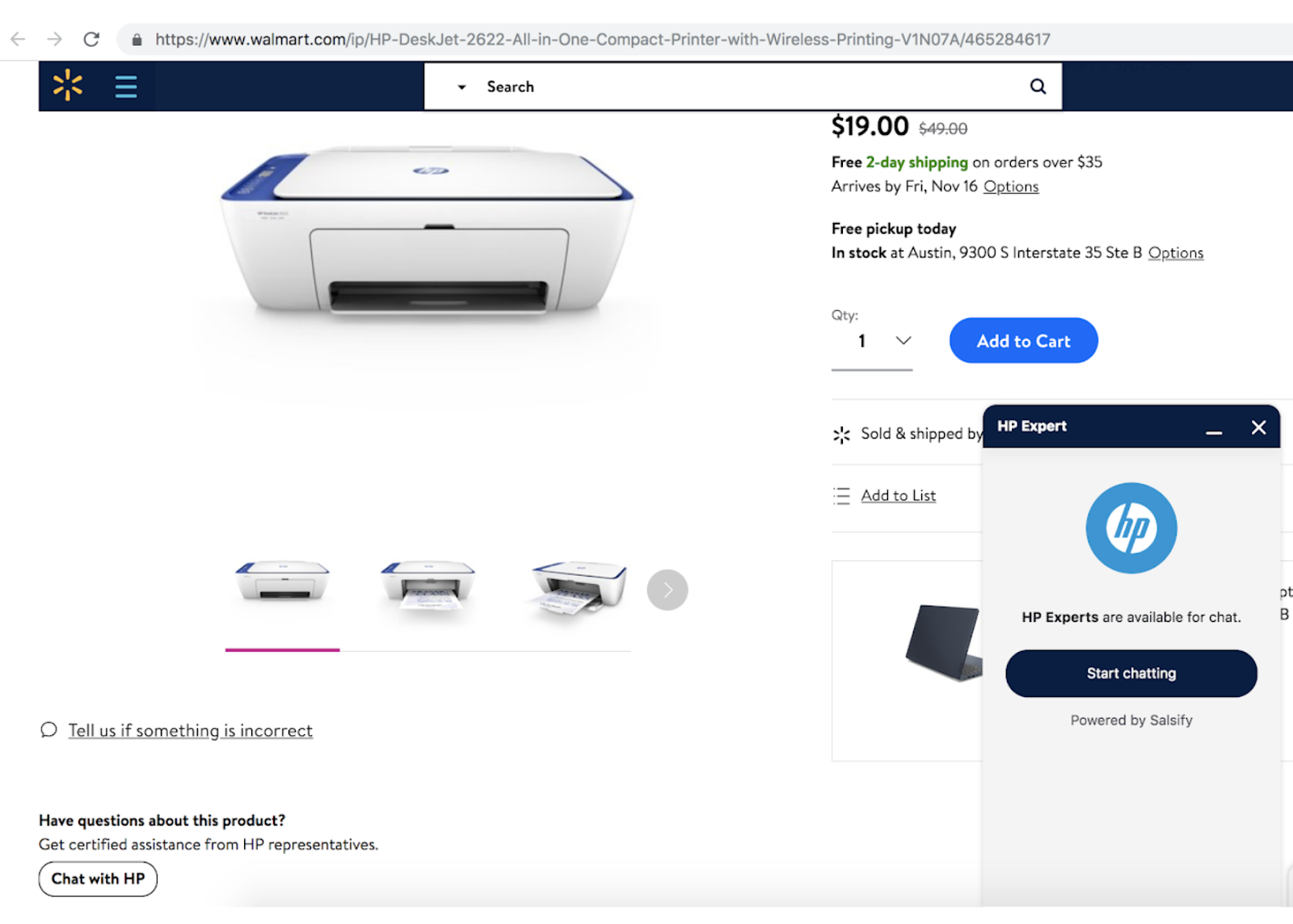 How easy was it to scale adoption of Salsify Chat within HP?
Two years ago, we had our initial conversations with Salsify Chat in September, and right before Black Friday that year, we were up and running on Walmart. Getting the chat platform up and running was relatively painless because it's simply an activation of an already deployed functionality on Walmart. We were able to leverage our existing sales people from our in-store program. The ease of activation coupled with the benefit of already having an educated and adaptive customer service organization that was already trained on product recommendations and information allowed us to kick off the program quickly. Our representatives had a lot to bring to the table already: they were personable due to their face-to-face interactions in store, they were knowledgeable about products, and we already had invested in their ongoing education. We encourage them to be personable, you can say "I am in San Diego, and used to provide product recommendations in store," consumers are not talking to a bot, which was important to us for them to feel right away in the process. There is also the idea that they are still part of our sales organization and should be offering as much insight into our products that they can. We had to do some retraining when the initial conversations were reviewed, but it's been great ever since.
What have been some of HP's biggest wins with Chat?
We've had a lot of strong results, we've seen our revenue per order and visitor increase by triple digits, returns rates have decreased, and overall, a more satisfied customer. I'm particularly proud of how our agents consistently averaged a 4.6 Customer Satisfaction rate (CSAT) out of 5 since the inception of the program. Black Friday 2018 and the days leading up to it and after was really successful--we had over 2700 chats in under 2 weeks. The ability to scale the product with our customer service teams makes it much easier to make an impact on those critical shopping days. Aside from great sales metrics, the team worked with us get Salsify Chat on Office Depot last year, a critical sales channel for us. We want Salsify Chat on all our channels, and we are excited to see how we can leverage Salsify's Product Experience Management platform and Chat to keep growing our business online.