5 Home and Garden Brands Shaping the Future of Ecommerce
Carrie Dagenhard | December 17, 2019
Homes are sanctuaries — spaces to retreat, relax, and host gatherings with friends and other loved ones. Maintaining a stylish and serene living space takes work, however, and brand manufacturers of home and garden products have developed a broad range of valuable goods.
From organizational tools to cleaning products and kitchen gadgets to textiles, these companies continually invest in innovation to improve the way their customers live. As this space grows and demands increase, so does the number of brands within the industry.
As the future of shopping shifts more of the buyer's journey online, it's becoming increasingly important to harness the power of the digital shelf. Here are five home and garden brands successfully captivating today's online shoppers.
1. ShurTech Streamlines Syndication for Product Consistency
Shurtape Technologies (ShurTech) is the manufacturer behind mega-famous brands like Duck Tape and FrogTape. But in today's rapidly evolving consumer climate, you have to have more than a legacy household name to keep buyers engaged. This challenge is especially true when targeting younger generations who may not be as brand loyal as older consumers.
ShurTech implemented a streamlined syndication system to help keep its brands on top. This system ensures consumers always receive the same information about products — no matter where they shop.
The company then leveraged digital insights to identify opportunities in search engine optimization (SEO) and product page performance, pinpointing 70 products that weren't performing as hoped. After optimizing these items by adding details and relevant keywords to product pages, ShurTech's Amazon sales rank increased by an average of 15% across underperforming products.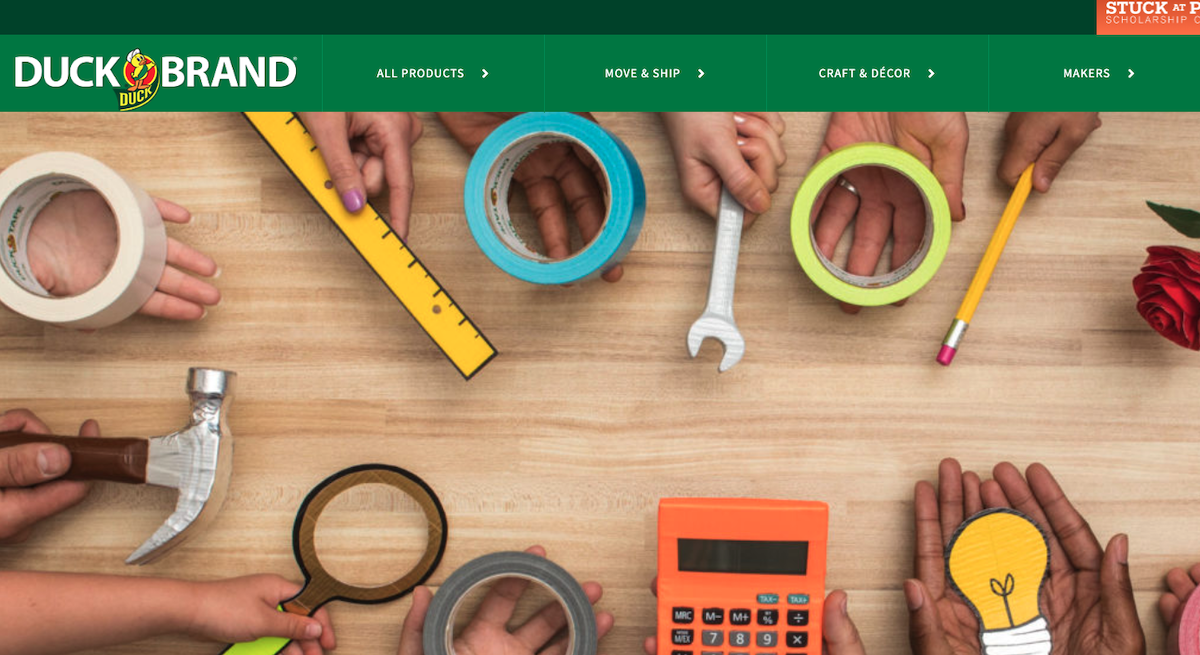 Image Source: ShurTech
2. E-cloth Creates Enhanced Content Experiences
Consumers are more aware than ever of the impact harsh chemicals can have on their health. In response to a growing desire for healthier alternatives, many brands are debuting chemical-free cleaning products. E-cloth, a manufacturer of specialized, high-performance microfiber cloths that trap bacteria, dirt, and oil, gives users the ability to clean without any cleanser at all.
The brand found it was challenging to communicate why its products are more expensive than traditional microfiber. In the current distraction-filled marketplace — which will only become more crowded in the future of ecommerce — brands only have seconds to get their message across.
To overcome this hurdle, the brand leverages enhanced content — including enticing imagery and straightforward, well-written copy — to share its value and create brand cohesion across platforms. These powerful updates yielded a 49% increase in Amazon sales rank across the brand's 45 products.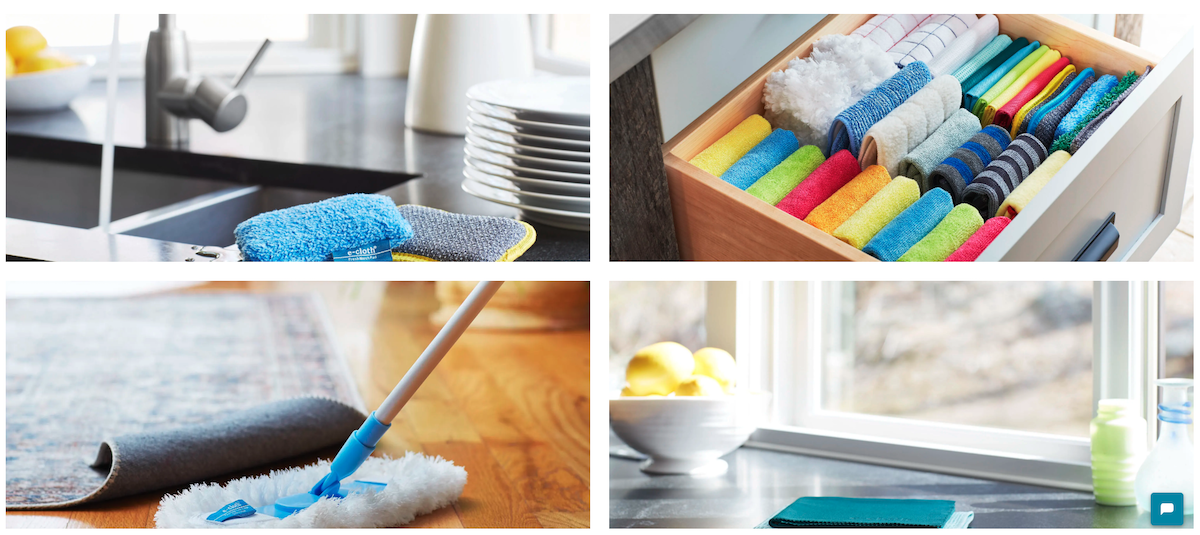 Image Source: E-cloth
3. Le Creuset Capitalizes on Social Commerce
Le Creuset, a premium French cookware manufacturer founded in 1925, produces enameled cast-iron cocottes beloved by generations of cooks. But with Millennials quickly increasing their spending power and making up a more substantial portion of the market, the company had to alter its traditional approaches.

To reach younger audiences, Le Creuset cultivated a strong social media presence, especially on Pinterest and Instagram, where home and garden brands garner significant engagement.
By using contemporary lifestyle photography across social media, as well as publishing useful and enticing content across its product pages with a variety of online retailers, the brand has found success. After 90 years on the market, it remains a favorite among chefs of all ages.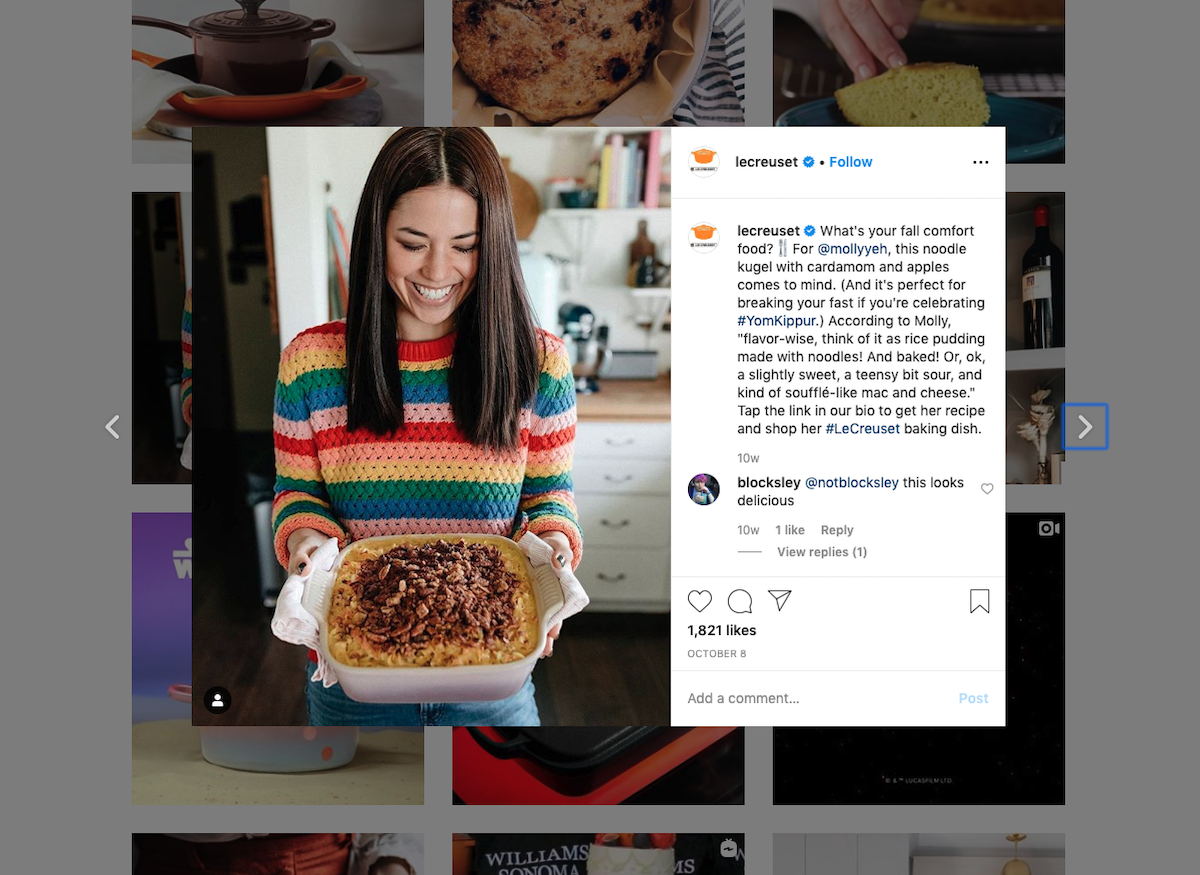 Image Source: Le Creuset Instagram
4. Luna Wellness Stands Out With Product Information
As the self-care movement continues to expand, consumers are shining a spotlight on personal habits and seeking brands that help improve wellbeing. Sleep products, in particular, are receiving a lot of attention.
Luna Wellness, a manufacturer of weighted blankets, is aiming to help customers reduce stress and enjoy more restful sleep through "deep touch pressure stimulation." Its luxurious high-thread-count blankets full of premium-grade glass beads make users feel like they're being hugged, easing their anxiety.
While shoppers can find several brands of weighted blankets on retailers like Amazon, Luna stands out with detailed yet easy-to-consume product descriptions, eye-catching photos, and other useful content. For example, on its product pages, the brand includes a useful weight and size chart to help shoppers choose the right blanket for their body and bed size.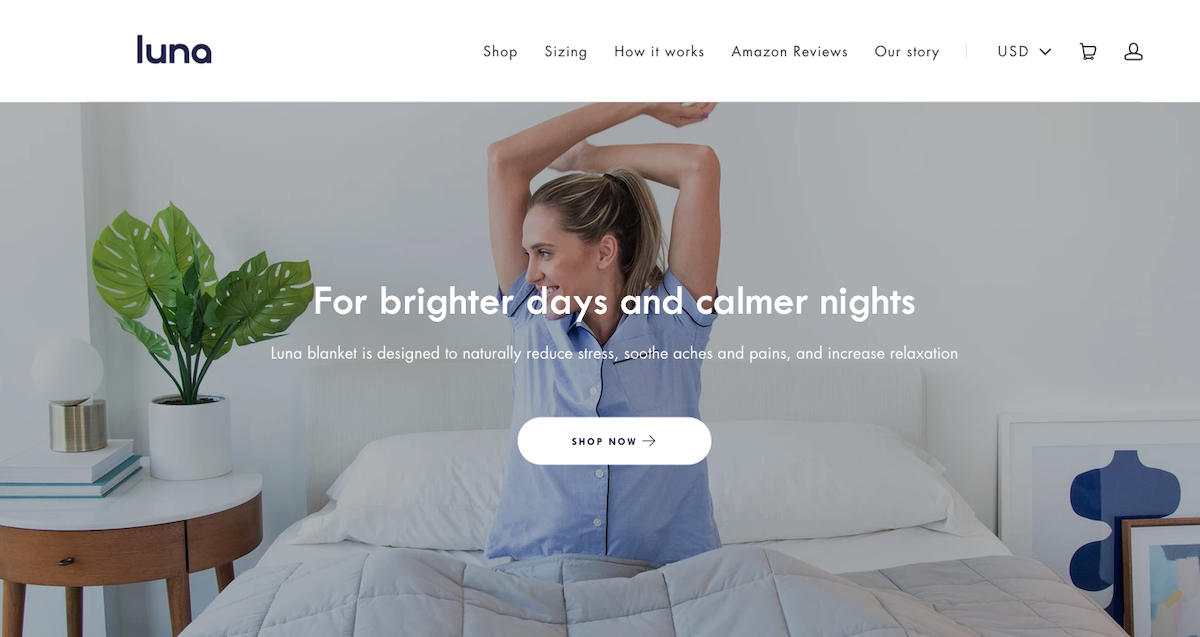 Image Source: Luna Wellness
5. Fox & Fern Leverages User Reviews
While indoor plants have long remained a staple of home decor, they've become especially popular in recent years. Many high-end retailers are capitalizing on the trend, selling expensive mid-century modern planters and stands to help consumers achieve a certain "Instagrammable" aesthetic.
Fox & Fern, however, entered the scene with the motto "great design is for everyone." It sells high-quality planters at a fraction of what big-name specialty stores charge. And to show how its products stack up to more expensive competitors, the company puts a great deal of effort into its enhanced content.
Public customer feedback is often the most powerful asset a brand can have. This is why Fox & Fern also focuses on earning as many customer reviews as possible.
To incentivize ratings on places like Amazon, Fox & Fern includes a card with each order, asking customers to leave a review in exchange for a free mini planter. The result? Most of its products have earned more than 900 reviews, and dozens of customers have uploaded images of the planters and stands displayed in their homes too.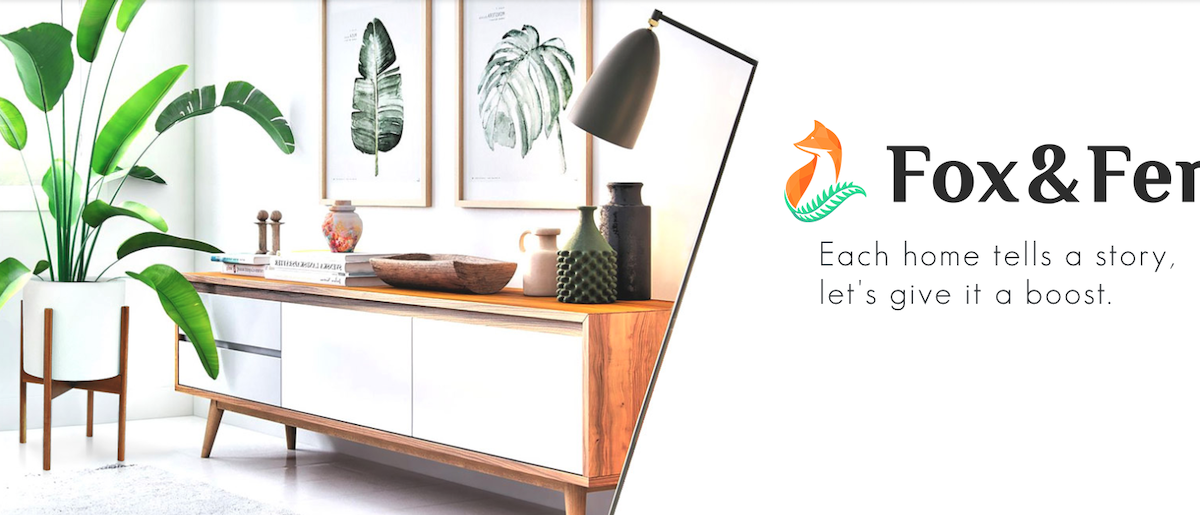 Image Source: Fox & Fern
How Home and Garden Brands Can Stand Out
Taking control of the digital shelf and standing out from other established and emerging home and garden brands isn't impossible. Especially as the shopping journey becomes increasingly non-linear, and buyer attention seems to wane with each passing year.
But by leveraging enhanced product content to communicate your value and keep your brand consistent across retailers, you'll be more than ready for whatever the future of shopping throws your way.