How To Get Started On The Digital Shelf
Michael Kruszynski | November 26, 2018
It's been 24 years since the ecommerce sale was made, but brands still struggle to continuously win online. Starting out with ecommerce, it can be hard to find the right combination of initiatives to deliver success -- especially because what works for one brand does not necessarily work for all. During a recent webinar, I shared a few simple steps, that you can use as building blocks for sustainable ecommerce growth.
Understand the Current Pressures Facing the Market
Often brands look at their internal inefficiencies when building or improving an ecommerce team, but can forget that sometimes low performance stems from the pressures in the market, many of them affecting a variety of industries. Digitally Native Vertical Brands (DNVBs) such as Allbirds, Everlane, The Honest Company and others are quickly disrupting the consumer goods industries, while traditional brands struggle to keep up with the shortened innovation cycles and often get caught up in the bureaucracy of highly corporatized decision-making processes. Design your initiatives with the current market pressures in mind. For example, you might be launching a direct-to-consumer site to compete directly with a new digital native competitor. Or perhaps you are expanding your product listings on grocery stores in a specific geography that is losing market share to a grocery delivery service.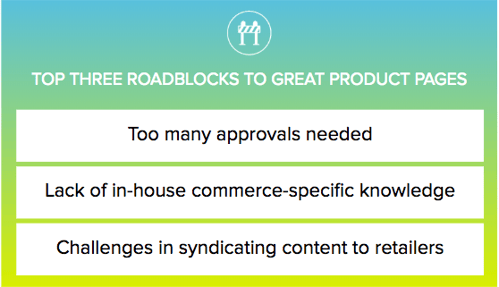 Hire For Ecommerce Success
For ecommerce to be successful, brands need to have the correct strike team in place, which may mean adding headcount to an existing ecommerce team to reduce gaps. Hire the right group of people at all levels, from directors to associates. Brands need ecommerce professionals who understand the nuances of each online retailer, are easily adaptable and can work at a fast pace. Some of the skills that brands are looking for in the next year are SEO and AMS experience, compelling content creators, and search rank specialists.
Optimize Product Content To Improve Sales Conversions
Things like images, reviews, feature bullets and ratings make a huge difference during a consumer's buying journey --we've found that more content and better content will yield dramatic results on both search ranking and product page conversions, which will in turn improve sales. But, optimization does not only depend on product content on retailers like Amazon and Walmart. Brands have also seen great success by optimizing their own brand websites, social media sites, and search engine results to drive a holistic shopping experience for consumers on all mediums.

Keep An Eye On A Variety Of Key Performance Indicators (KPIs)
One of the most important parts of ecommerce success is being able to objectively judge performance across a variety of metrics and KPIs. While often product page conversions and sales volume are the main ones brands pay attention to, there are other metrics that can provide a more complete analysis of what tactics work and why. Sales Volume Growth for a specific channel is one of the ways brands can judge and compare performance both with their past selves and competitors. Additionally, Product Content Update time is a good way of testing and measuring whether continuous content optimization has an effect on weekly, monthly or annual sales.
Strive For Continuous Improvement
Ecommerce is not an exact science, nor will it be in the near future, so what works for one brand and one product might not be the best approach for another. Part of being successful online is not being scared to test and learn often, iterating on successful and unsuccessful strategies might be the only way to discover whether something could work or not. A/B testing different product descriptions, lifestyle images and pricing is one of the ways winning brands have seen success online, but there are many others that have yet to be tried out.