New Report: Improved product content leads to higher sales
Andrew Waber | August 1, 2018
With modern brands selling hundreds or thousands of different products online, leaders want to know what content is required to lead in your product category. Salsify has run a slate of statistical analyses to quantify the impact that product content has on your search rank and sales performance.
The data shows that an ongoing investment in content optimization drives a measurable competitive advantage and increased market share. Get your copy of Data Report: The Sales Impact of Optimized Product Content.
More content = higher search ranking and more conversions
We compared products listed next to each other on the first page of Amazon search results based on the number of bullets, images, and reviews for more than 500,000 separate queries. The product listing with more content outranked and out-converted their closest competitor on a given search, with a product's review count and image count making the biggest difference.

Ongoing content optimization = better sales rank and competitive advantage
An analysis of 60,000 Salsify customer ASINs across 78 brands revealed that top-performers were following the content guidelines either suggested by Salsify Account Managers or performance improvement workflow items surfaced by Salsify analytics reports. Customers made their Top 100K ASINs succeed by keeping the product content on page robust.

AI-driven content optimizations = higher sales
For brands selling hundreds or thousands of products, the idea of continually optimizing product content across an entire catalog can be overwhelming. With the help of artificial intelligence to actively highlight areas that need attention, these improvements can be prioritized for greatest impact.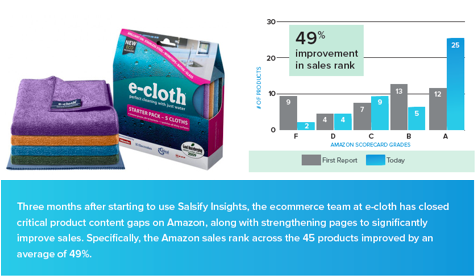 Data Report: The Sales Impact of Optimized Product Content includes the stories of how Salsify customers have taken this approach. For example, the ecommerce team at e-cloth closed critical product content gaps on Amazon and strengthened 45 product pages to see critical gains for their bottom line.