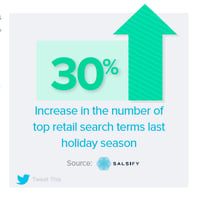 Consumers aren't just searching more during the holiday season, they are also searching across a much wider variety of terms.
Salsify's latest report analyzes the actual behavior behind these seasonal differences, showcasing where brands have opportunities to hone their strategies.
We examined six full months of product content pushes and updates across more than 50 large Salsify customers in the apparel, toys, home and garden, and associated industries. Collectively, the brands included in this sample oversee the management of more than ten million SKUs. Additionally, we analyzed a full 12 months of aggregate retail search activity across several Salsify retail partners.
You know how critical the holiday shopping season is. Other brands are changing their product content to reflect this seasonal consumer landscape. Download this report to get critical information to inform your holiday strategy.