Delivering Online: What food shopping can teach the rest of retail (Part 2)
Cara Wood | October 3, 2016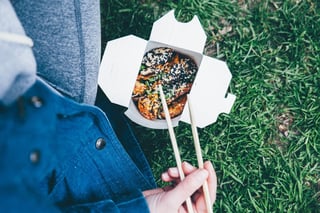 In part one of this series, we shared lessons in good checkout content for other online retailers. In this second part, we look at validation through reviews. By putting convenience above all and streamlining the checkout, there is a reduction in abandoned shopping carts that even price doesn't affect. Additional features that can be critical to reducing shopping cart abandonment are peer-to-peer advice and onsite search.
Abandoned carts are a challenge for e-tailers. 39 percent of U.S. cart abandonments are due to lengthy or complicated checkout forms, such as entering shipping addresses or payment information, according to Business Insider. Short or pre-filled forms are the expectation today, especially for the need-it-now millennials who have no problem building brand loyalty based on transaction speed.
Convenience is the singular reason behind the existence of the food delivery industries. According to Grubhub's economic impact study, 45 seconds is "the average time it takes to process a GrubHub order, thanks to GrubHub technology." Mind you, they process 220,000 orders a day across 35,000 restaurants in 900 cities. In spite of this expansive reach, the consumer experience remains fast and efficient.
The food delivery companies also excel at retaining past data and shopping habits to personalize and expedite future sales. Remembering a consumer's favorite made-to-order salad or core weekly grocery list is the food delivery version of retaining a consumer's jean size or preferred fabrications. Speeding up the shopping, buying, and paying process is as simple as storing personalized data, including credit card and shipping information, and serving it up at intuitive times.
Two other areas in which these food delivery services excel are peer-to-peer advice and onsite search. Quickly accessible user reviews from strangers persuade just as effectively as suggestions from one's closest friends. Econsultancy reports, "61% of customers read online reviews before making a purchase decision," which results in an average 18% increase in sales. The sheer presence of ratings and comments (positive or negative) can be the difference between a consumer selecting your product versus your competitor's. Ultimately, the consumer will decide whose rating will persuade them.
Make your product reviews visible on your site. You should incorporate user reviews as much as possible into your overall product content strategy. Our research found 82 percent of consumers want to see a minimum of three product reviews whenever they might buy a product. That is the absolute minimum number the vast majority of shoppers need to see before they'll possibly decide to buy. Audit your site to see how your pages are performing up to this standard.
Second, the often overlooked onsite search function can be the hidden ticket to faster transactions. Perhaps the consumer isn't quite sure what he wants. So long as there is plentiful content on the site, a few keywords from the user can lead them directly to their desired product. In order to do this effectively, you need to have product descriptions with customer's keyword terms in place as well as an understanding of what they might type when looking for your products. Ensure that you are listing distinct product descriptions for different product types and taking full advantage of feature lists to account for all of these keywords.
Taking the power of onsite search one step further, Salsify co-founder Rob Gonzalez recently shared his advice on how brand suppliers can improve overall sales by ranking higher for relevant keyword terms on retailer sites. It comes down to understanding the power of what he calls ecommerce SEO. As more shopper traffic goes directly to Amazon and other key retailers it becomes more important than ever that each of your products has the relevant keywords to rank high in your product categories on each retailer's site.
Why has it taken so long for e-tailers to follow suit? What may require more backend work by the retailer, results in convenience for the consumer. Getting the shopping, buying, and paying job done accurately fast becomes just as valuable as the product being purchased and the money being spent, thus putting a new spin on the saying, "Time is money." Only, now it should read, "Reduced consumer time is money for retailers." Less poetic, sure, but certainly more powerful.