5 Most Innovative Strategies for Toy and Baby Brands
Barb Mosher Zinck | January 6, 2020
For toy and baby brands, innovative strategies are the keys to success. While the closure of toy giant Toys "R" Us led to a decrease in sales in early 2019, things are looking up. "Despite the lingering and minor evaporation from the loss of Toys 'R' Us, the toy industry is poised for growth in 2020 and 2021," said Juli Lennett, vice president and industry adviser for toys at The NPD Group.
This article will highlight five strategies, including leveraging influencer relationships, utilizing enhanced content, and hitting parents with nostalgia-inducing product lines, that the most successful toy and baby brands implement.
1. Work With Online Influencers
According to a 2018 Pew Research Center study, 81% of parents with children under 11 years old let them watch YouTube — and these children all want to watch one thing: influencers. Influencer marketing works across industries to win attention, and toy and baby brands are no exception.
Popular children's YouTube Channel Ryan's World is just one example of the enormous opportunity influencers bring to toy brands. Eight-year-old Ryan Kaji hosts the channel, which has over 23 million subscribers.
Kaji is best known for unboxing toys on his channel, but he has also moved into hosting a show on Nickelodeon. He also has his own toy and clothing lines. Kaji earned $26 million in 2019 alone, and each of his YouTube videos has an average of 1 million views.
There are numerous family-focused channels on YouTube and Instagram with wide visibility. Anastasia Radzinskaya hosts her own YouTube channel at just 5 years old and has stuck deals with Legoland and Dannon. Honest Company, owned by actress Jessica Alba, produces eco-friendly baby, home, and health products, and has enlisted the help of brand ambassadors across Instagram to show the benefits of its products.
Working with influencers could help toy and baby brands connect with key audiences and develop followings within well-known online communities.
Video Source: Ryan's World YouTube
2. Collaborate With the Entertainment Industry
Toy brands that work with the entertainment industry have also seen a rise in market share. Toy company LEGO is one of the most persuasive examples of a toy brand that has found success in working within this industry.
Consider the $400 million-plus box office revenue of The Lego Movie. If this isn't compelling enough, LEGO has also partnered with franchise giants like Frozen, Star Wars, Harry Potter, Spiderman, and Batman — among many others. Take the LEGO Shop on Amazon: There are seemingly endless product options for parents, aligned with almost every major children's film release.
While not every brand has the budget of LEGO, this doesn't exclude less-funded toy brands from pursuing opportunities within the entertainment industry. Other options like in-movie product placements or cinema advertisements could help brands gain attention.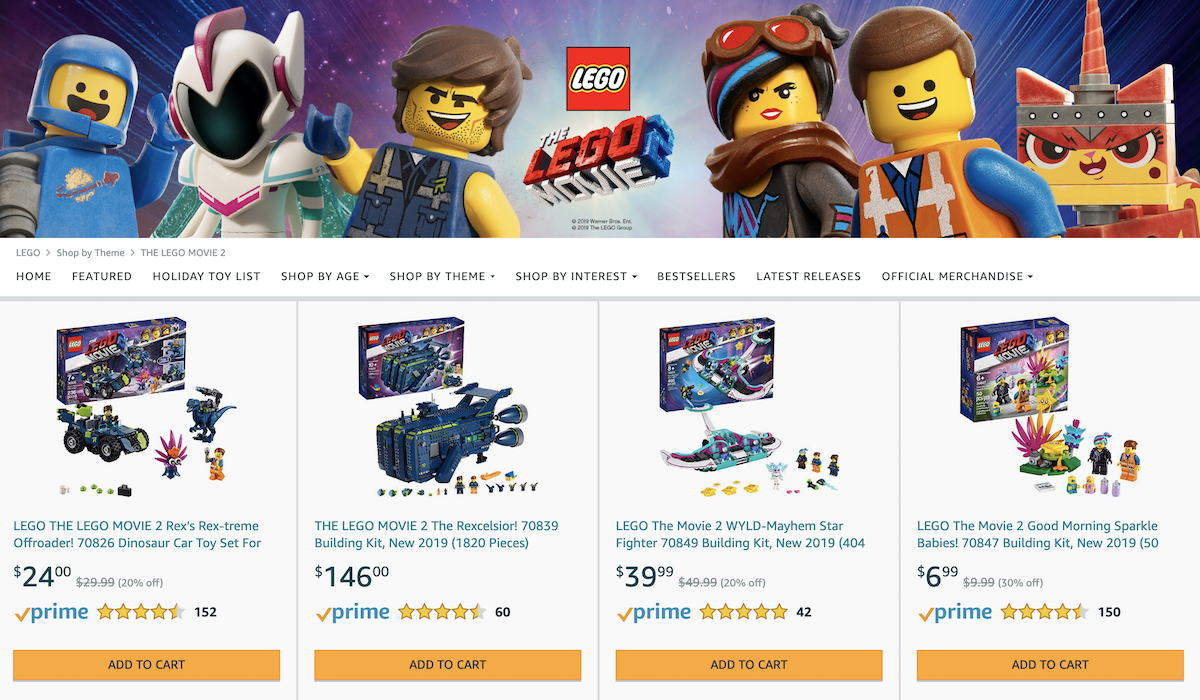 Image Source: Amazon LEGO Shop
3. Hit Parents With Nostalgia
A significant trend to watch: What's old is new again. Many classic toys have come back for a second run, and toy and baby brands are capitalizing on this dose of nostalgia. A quick Amazon search for "classic toys for kids" highlights old favorites like the View-Master, Lincoln Logs, Etch A Sketch, and others.
Baby brands are no different, as Fisher-Price's Classic Xylophone, Chatter Telephone, and Rock-a-Stack toys dominate the top of the search results for "classic baby toys." Baby clothes are also another area where nostalgia-inspired buying is healthy. Brands like Feltman Brothers have been successful with their lines of classic baby clothes.
Consider how your brand can invoke these feelings of nostalgia with parents. As they move through the toy-buying process, memories of their own fun as children often guide final purchasing decisions.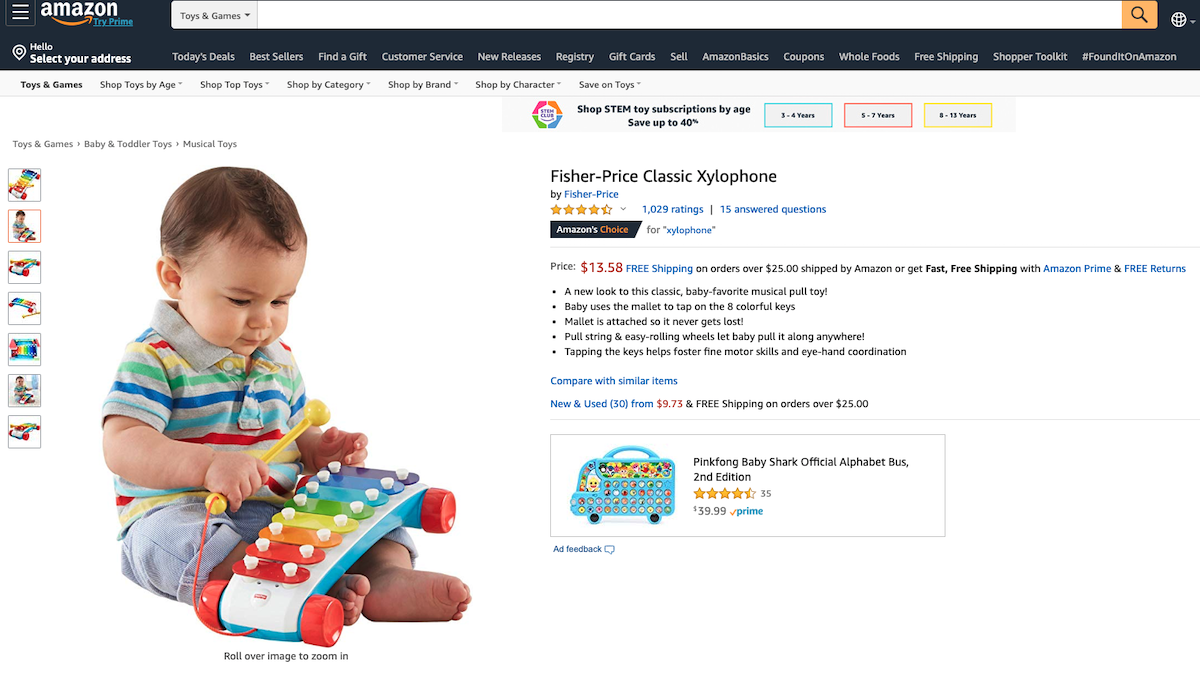 Image Source: Amazon Fisher-Price Shop
4. Play With the Video Game Industry
Online gaming is hugely popular with many children, including games like Minecraft (age 7 and up), Fortnite (age 12 and up), and Super Smash Bros. Ultimate (age 12 and up). Partnering with these gaming brands to develop new products is becoming increasingly popular.
Some brands like LEGO take this a step further by developing their own game lines. The LEGO video game catalog is extensive, including a wide variety of titles from LEGO Batman: The Video Game (age 10 and up), LEGO City Undercover (age 7 and up), and LEGO Pirates of the Caribbean: The Video Game (age 9 and up).
In-game advertising is another way for toy brands to promote their products to a gamer audience, whether on YouTube or Twitch, as some online gamers are popular with many children.
5. Optimize Product Content
Brands must think beyond the traditional product page with a simple image and brief product description to win on the digital shelf. Utilizing enhanced content, also called A+ content, can help increase conversion by 10% in most categories. This content includes graphics, 360-degree image spins, comparison charts, and other rich media.
As online sales continue to grow, shoppers have increased their need for product information. Take baby brand Chicco, which sells a wide variety of baby products like strollers and car seats, as an example.
The brand utilizes enhanced content, including in-depth product videos that highlight critical use cases and comparison charts that answer questions about dimensions, weight, and other specifications. This information helps new parents make informed purchasing decisions — and takes much of the stress of shopping out of the process.
Utilizing enhanced content can help brands optimize product experiences online, which can improve brand trust and market share.
Video Source: Chicco YouTube
Capture Market Share With Innovation
Toy and baby brands of the past may not have considered developing their own movie franchise or video game catalog, but these outside-of-the-box strategies have brought success for LEGO. Fisher-Price sells its classic toy lines to every generation, and Chicco eases the worries of parents across the U.S. with in-depth product experiences.
Utilizing these innovative strategies can help brands capture critical market share and build brand trust with each generation of customers.