3 Beauty Brands Winning With Enhanced Content
Salsify | January 22, 2020
Beauty brands have the complex challenge of translating tactile in-store shopping experiences into compelling digital encounters. Shoppers want information about every aspect of a beauty product — from texture and color shades to blendability and application techniques.
Online shopping habits and expectations are only expanding, so beauty brands must experiment with new online experiences that help shoppers find the information they seek. Three beauty brands, Revlon, L'Oréal, and Dermablend, are setting the bar for how to best use enhanced content to win on the digital shelf.
1. Revlon
Cosmetics brand Revlon utilizes enhanced content on Walmart to help its shoppers clearly understand the fine details about every product. An examination of its product pages illustrates several best practices for enhanced content.
Ensure Content Value
Revlon goes beyond the best practice of listing a handful of images and bullet points. On its product page for its Revlon PhotoReady Concealer, it contains a step-by-step tutorial for applying the product and finding the right color shade.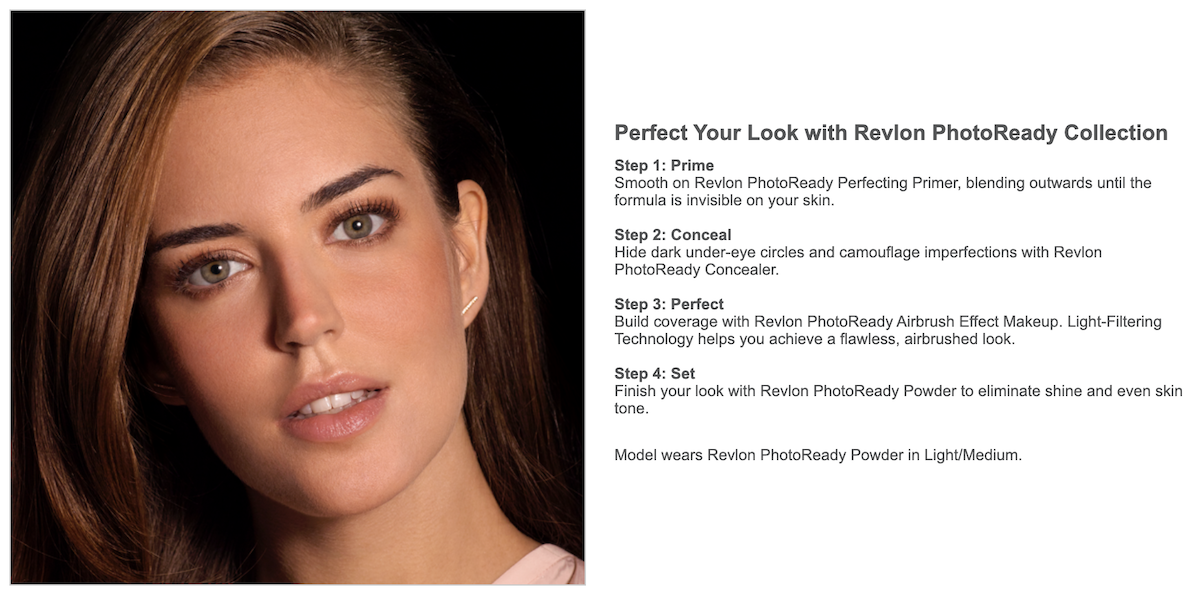 Image Source: Revlon Walmart
Highlight Competitive Differences
Revlon illustrates how their products are different and superior to their competitors. By using facts and highlighting differentiating product specifications, the product page for the Revlon Super Lustrous Lipstick shows how its formula stands out from competitors. It also compares Revlon lipsticks, highlighting differentiating features.
Utilize 360-Degree Image Spins
Consumers want to know how a product will feel while they are using it. Does the cord rotate to ease movement around one's head? What do the switches look like, and where are they positioned?
Including 360-degree image spins, like the one featured on the Revlon One-Step Hair Dryer and Styler product page, has been shown to increase conversion rates for some brands by as much as 47%. These spins can satisfy usability questions that static images cannot.
2. L'Oréal
Cosmetics brand L'Oréal utilizes enhanced content on Target to illustrate critical product information and features. An examination of its product pages shows several best practices for enhanced content.
Use Editorialized Product Pairings
In a section called "Eye Makeup Must-Haves" on the L'Oréal Paris Voluminous Mascara product page, consumers can find eyeliner and brow definer product pairings. These pairings aid both the consumer shopping journey and help the brand cross-sell its products.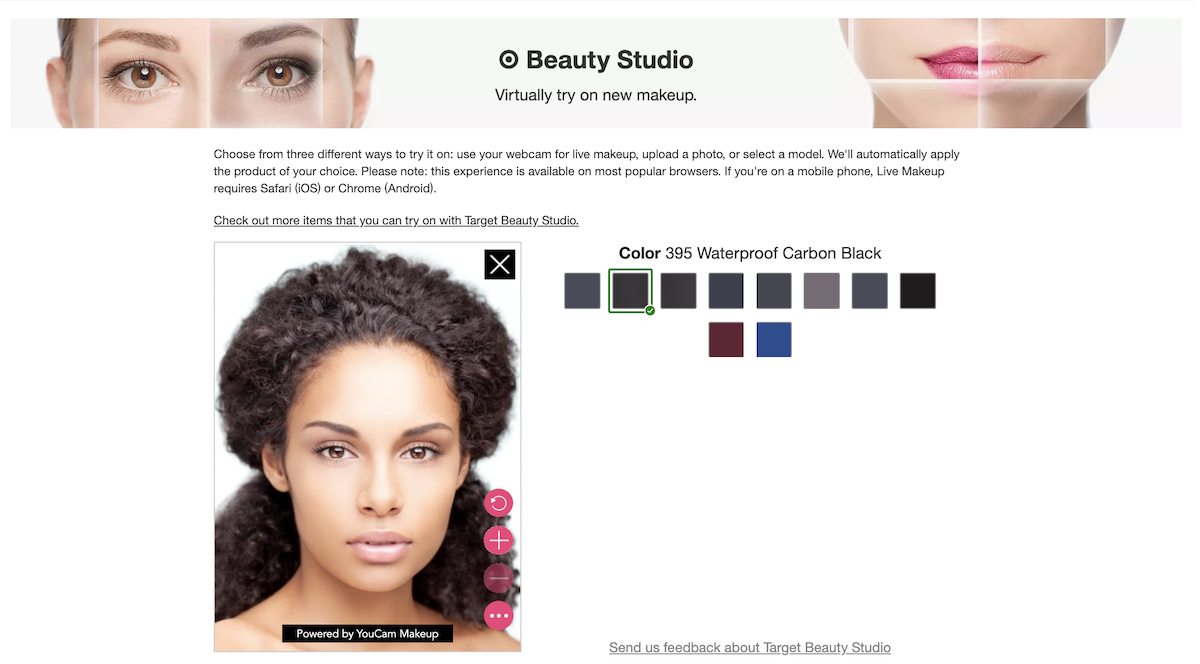 Image Source: L'Oréal Paris Target
Test Interactive, Virtual Reality Experiences
L'Oréal utilizes a virtual reality (VR) experience called "Target Beauty Studio." By partnering together, the brand supplies Target with content assets so consumers can virtually try-on select beauty products. This VR experience can show how the product looks on a model or the shopper, who can upload an image of themselves for a virtual makeover experience.
Answer Frequently Asked Questions
L'Oréal answers how and why to use their products. By featuring an easy-to-comprehend illustration on the L'Oréal Paris Magic Root Cover Up Gray Concealer Spray product page, consumers can see how to best use the product and find the appropriate shade.
3. Dermablend
Cosmetics brand Dermablend utilizes enhanced content on Amazon to give shoppers answers to important questions unique to beauty brands. An examination of its product pages highlights several best practices for enhanced content.
Implement Interactive Features
Dermablend matches product shades to skin tones and offers tips on makeup removal. Using a three-step interactive shade finder, Dermablend Cover Creme Full Coverage Foundation determines which shade is best suited for consumers. As a final step, there is a helpful editorial depiction on how to set and remove the makeup.
Highlight Tutorial Videos
Dermablend uses video to show product use cases. Shoppers love learning from beauty experts, and video is an excellent way to highlight application techniques and benefits. The Dermablend Flawless Creator Multi-Use Liquid Foundation product page utilizes these tutorial videos to help shoppers achieve optimal application results.
Create a Unified Brand Experience
Dermablend and Amazon present a unified, uninterrupted brand experience. The Dermablend landing page is immersive, informative, and allows consumers to feel as though they are shopping a Dermablend-dedicated website. There are no distracting ads for other brands or other shopping categories, the experience is continuous from top to bottom, and there are interactive components throughout.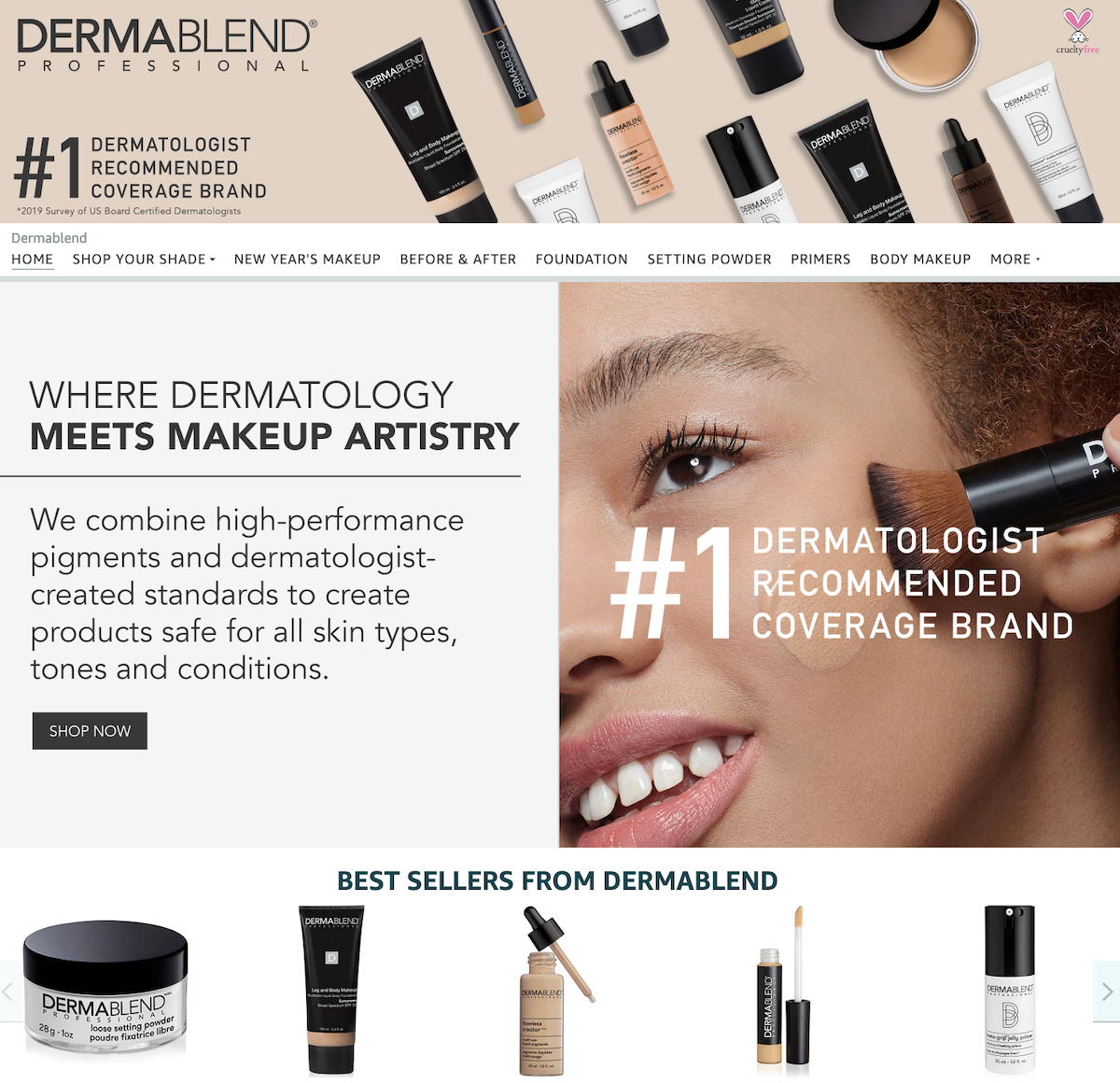 Image Source: Dermablend Amazon
Develop Engaging Product Experiences
Successful enhanced content strategies are tailored to the specific product listed and keep the needs of the consumer paramount. The bulk of a brand's enhanced content assets can also be created en masse, alleviating the heavy load in one strike. One home furniture brand, for example, was able to create and publish 800 enhanced content pages in just two days, saving almost $80,000.
Brands must continually ensure every product page experience feels fresh and personalized, driving consumer behavior and conversion.