Amazon A+ Content for Suppliers | Salsify
Jessica Qu | October 24, 2018
Brands on Amazon have a unique option for customizing listings with their own advertising. Amazon's A+ Content program lets you create your own marketing content for individual SKUs. A+ Content is there to help drive greater engagement and conversions. If you're a supplier looking to use A+ Content, here's what you need to consider.
the basics of A+ Content
A+ Content is all below the fold -- you'll need to scroll down to see it. Shoppers who are interested in learning more about your products will likely be looking there to see what additional details and information you provide. It's another great chance for marketing. Suppliers shouldn't waste this opportunity to improve the customer experience and give their products more visual appeal.
Here's what types of content you can use on your page:
Product Description
Logo
Banner Ads
Feature Copy
Video
Product Benefits
Product Features
Comparison Charts
Of course, you don't have to include every one of these categories, and not every category in this list may be appropriate for every product. That said, you do want this section to be filled with high-quality content that appeals to your market. This is something you'd want to invest effort in so it looks professional and attractive.
Amazon A+ Content can be basic or premium through Amazon Vendor Central. Basic is free and premium is paid. Sellers can also create A+ content, or Enhanced Brand Content for free through Amazon Seller Central.
Quality A+ Content can drive better conversions
With the right A+ Content, you can increase sales. You have more opportunities to tell your brand's story and connect with customers. If your content resonates with shoppers, that translates directly to better sales performance and a better shopping experience for your customers.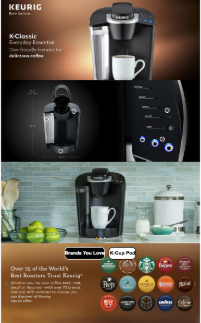 To take advantage of this opportunity, you need to focus on quality. Use clear, high-quality images, copy, and other multimedia when you create your page. Pay attention to the visual and design elements you include and make sure it all accurately reflects your brand. Consider placing images of the product, packaging, how it's used, and what it looks like in-hand or onsite with the customer. Use the content to tell a story of how appealing and relevant your product is.
For vendors, the reward is increased time spent by shoppers viewing your products, greater brand recall and familiarity, bigger transaction amounts, and greater engagement with your brand. A+ Content is all about shaping buyer behavior and brand perception. If it's done well, your page will reflect well on you. Poorly-designed, badly-written A+ Content is a waste and can harm your sales.