5 Beauty Brands Leading the Rise of Social Commerce
Lauren McMenemy | January 17, 2020
Beauty products are omnipresent on social media, and channels are quickly becoming new battlegrounds for market share with the rise of social commerce. Brands not already utilizing social media risk getting left behind.
Fifty-eight percent of U.S. retail sales will be digitally influenced by 2023, according to Forrester Research. Brands must follow the three principles for winning on the digital shelf: Engage shoppers everywhere. Execute commerce strategies fast. Be your customer's best partner.
The average internet user spends an average of two hours and 22 minutes on social media per day, according to a 2019 report from GlobalWebIndex. Shoppers meet your brand several times over multiple channels before making a purchase.
Social commerce capabilities allow leading brands to capitalize on the rise of social media, building relationships with shoppers that drive loyalty and increase market share.
1. Kylie Cosmetics and the Power of Influencers
American media personality Kylie Jenner launched her line of cosmetics in 2015 with massive success due to the strength of her online following. She recently sold a controlling stake of Kylie Cosmetics to Coty for $600 million.
"With a single social media post, Kylie can reach double the number of people who watch the Super Bowl every year," said Pierre Laubies, chief executive at Coty to The Irish Times. Digitally native vertical brands (DNVBs) frequently tap the increasing power of influencers to sell beauty products.
Kylie Cosmetics also taps into Generation Z's spending power, which increased by 23% in 2019, according to research from A.S. Watson Group, with 70% spent on beauty products alone.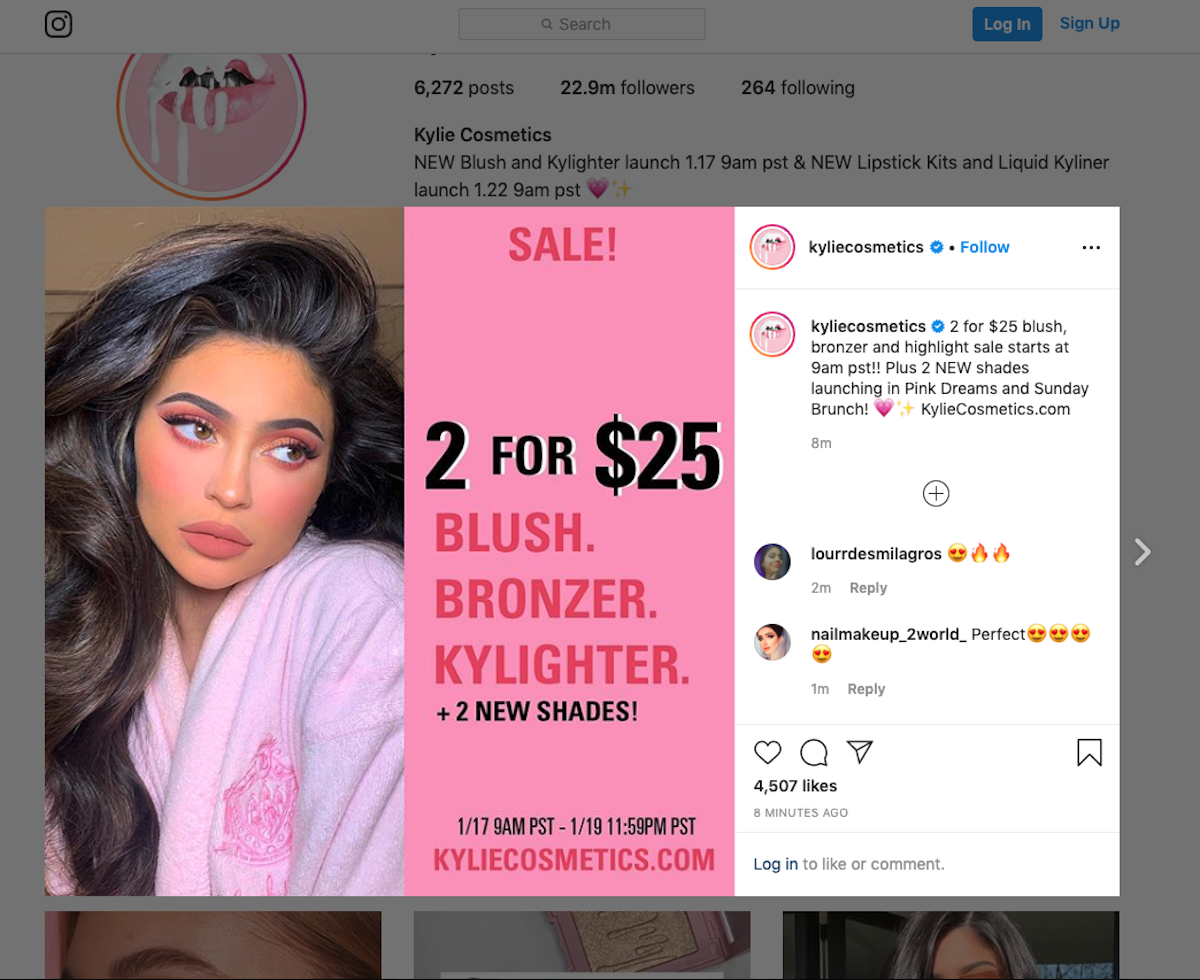 Image Source: Kylie Cosmetics Instagram
2. Glossier and the Power of Community
Glossier describes itself as a "content-first company," with social media encompassing a significant part of its strategy. Its direct-to-consumer (D2C) website connects directly with its Instagram channel that features influencer content and previews of new products.
But a significant portion of its content is created by its followers. Social media helped Glossier reach more than $100 million in revenue just four years after its launch in 2010, and its customers are frequently fervent promoters of the brand. The DNVB regularly features photos and reviews from its fans on its social media channels and promotes the belief that communities are the core of an effective social media strategy.
Its mantra? Glossier is listening. Shoppers have even shaped product design, with packaging and labels specifically designed to look good in photographs.
3. Fenty and the Power of Inclusivity
Beauty brand Fenty, owned by the singer Rihanna, launched in 2017 with a completely digital campaign built on its mission of inclusivity. Its liquid foundation comes in 40 different shades — significantly more selection than the average beauty brand.
"It was also important that every woman felt included in this brand," said Rihanna to Time Magazine. "We are all so different, with our own unique skin tones, so we started with the 40 foundation shades out the gate." Fenty drew 1.4 million Instagram followers within four days of its launch.
Video Source: Fenty YouTube
4. Dollar Shave Club and the Power of Social Proof
Dollar Shave Club gained its initial popularity with a viral YouTube video, "Our Blades Are F***ing Great," that saw over 5 million views within 90 days. Its relatable humor and tongue-in-cheek storytelling style, rare within the world of men's grooming, attributed to its initial success.
Dollar Shave Club has since used social media to prove its relatability to its audience, with shareable posts, hyper-focused on a value proposition and social proof.
Video Source: Dollar Shave Club YouTube
5. Sephora and the Power of Innovation
Beauty brand and retailer Sephora is a leader in both ecommerce and leveraging emerging technology, which expands into its social media strategy. The brand experiments with new forms of social interaction, such as quizzes to gain audience insights and deliver personalization and artificial intelligence (AI)-powered Messenger chatbots on Facebook that engage customers online.
Beauty Brands Leading With Social Commerce
Leading digitally savvy beauty brands capitalize on the rise of social commerce. Instagram alone has a significant influence on purchasing decisions, with 72% of shoppers saying they have made fashion, beauty, or style-related purchases after seeing products on the platform. Pinterest allows users to "shop the look" directly on its site. Facebook enables users to shop directly on brand pages.
Innovative brands are selling directly on social channels without sacrificing other channel investments. This experimentation helps brands develop online communities that build trust with shoppers.