Why Gift Guides Work — And How to Make Yours a Success
Ashley Krahn | August 18, 2016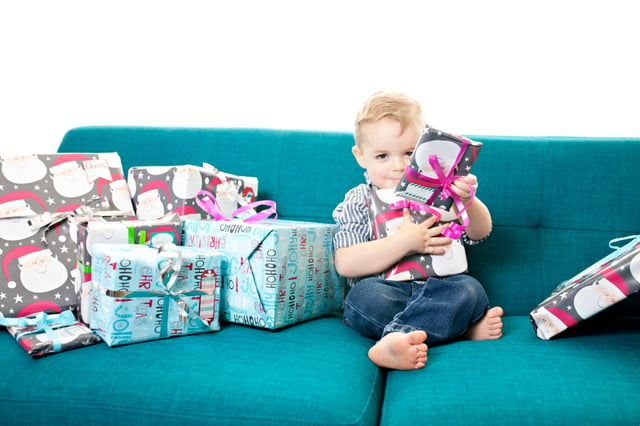 Create gift guides that will help you and your customers win the holidays.
Takeaway:
Gift guides can provide your sales a huge lift over the holiday shopping season. The challenge? Proving relevance and standing out against all the other noise of the season. Here are 6 ways to put gift guides to work for you.
Gift guides have long been a powerhouse retail strategy: For example, The Sears Wish Book, the retailer's famous Christmas catalog, got its start way back 1933, with featured items including, according to the Sears archives, the "Miss Pigtails" doll, an electric (battery powered) toy automobile, a Mickey Mouse watch, fruitcakes, Lionel electric trains, a five pound box of chocolates, and live singing canaries."These days, with online retail holiday sales reaching a whopping $105 billion in 2015, there is a huge opportunity to drive big sales by grouping gift opportunities: One survey of retailers found, for instance, that emails featuring gift guides generated a 48 percent higher transaction rate when compared with other promotional mailings. That comes as no surprise, as busy consumers seem to be turning to visual and social content on Google, Pinterest, Facebook, and Instagram to narrow down gift choices in what can seem like an endless universe of digital options.
The biggest challenge for retailers, though, is breaking through the noise and standing out in a sea of other gift guides, especially at holiday time. In addition, retailers have to overcome customer jitters about buying gifts online: A recent study found that the common reasons shoppers hesitate to buy gifts online including worrying about buying the wrong size, return hassles and getting gifts to recipients on time, as well as concerns about "getting it wrong" — two-thirds of online gifts are considered "hard to gift" items such as apparel, shoes and jewelry.
Top retailers have managed to make their gift guides a must-click for shoppers: Macy's offers gift guides for occasions ranging from back-to-school to housewarming, in a variety of price ranges, and even allows shoppers to send e-gifts instantly and provides recipients the chance to choose colors and sizes. Bed, Bath, and Beyond has savvy gift guides that group products into categories such as "hostess gifts," "secret Santas" and even "bad gifts." And J. Crew took its holiday gift guide up a notch this year with pre-roll videos; colorful, immersive content; claymation video clips touting customer service offerings including personal stylists and same-day delivery; and links to favorite holiday activities.
Want to make your retail gift guides soar to success? Here are six essential tips:
Use your data.
What products are trending best with consumers? Which categories are most important to shoppers? What delivers the highest profit margin? Use your data to research trends and sales numbers to help group your gift suggestions in the ways that best suit your brand.
Invest in rich product content.
Consumers may be price-conscious, but product content — everything from descriptions, features bullets and images to videos and reviews — is key to make them click "Buy." In fact, a Salsify survey found that 88% of consumers say that product content is extremely or very important to their purchase decision.
Make product content accurate and relevant.
Make sure your content includes plenty of clear, relevant detail — such as high-resolution images that show the product in use; clear sizing guides for clothes and age segments for toys; and an accurate reflection of available/on-sale inventory.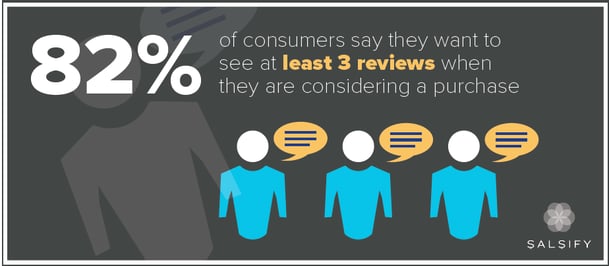 Download our consumer research report, "Cracking the Consumer Code," for more insights into shoppers' behaviors.
Keep the "Lucky 3s" in mind.
Don't skimp on showing off your product — include at least a trio of images and reviews. A Salsify survey found that two-thirds of consumers want to see at least three images of a product while shopping, while a whopping 82% want to see at least three reviews when considering a purchase.
It's not just about the December holidays.
Gift guides don't just have to be about the year-end holiday hullabaloo. In fact, they can even go beyond holidays — Back-to-school shopping, Valentine's Day, Mother's Day and the like — to focusing on special occasions such as back-to-school or birthdays, or even any-occasion options such as hostess gifts and thank you gifts.
Give extra help in hard-to-gift categories.
Online gift shopping can be tough when it comes to items such as shoes, cosmetics and jewelry. You can help shoppers avoid the wrong gift decision with extra options, such as free shipping; lots of try-at-home opportunities; virtual applications that show how a product looks and fits; and comparing products to something the consumer already owns and loves.
Looking for other ways to boost your sales in time for the holidays? Our new ebook - 9 Ways to Maximize will help you prepare your digital marketing and product merchandising strategy for the 2016 holiday season and beyond.