Whole Foods may offer tattoos in the near future
Peter Crosby | March 7, 2016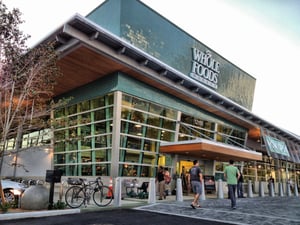 Whole Foods may offer tattoos in the near future
The Takeaway: Whole Foods is taking the customer experience to a whole new level with potential in-store tattoo services.
You're a young, health-conscious, eco-conscious shopper, and you need to pick up some groceries. So you head to Whole Foods. While you're there, you pick up milk, bread, some vegetables, some fruit and a tattoo.
Yes, that's right. A tattoo. That's one possibility, anyway - one that goes a long way toward showing why Whole Foods is so good at understanding its own brand and its customers. It also highlights how the company is able to get creative to deliver a unique, fun, satisfying customer experience.
Introducing 365
Last year, the company announced the creation of 365 by Whole Foods Market, a new initiative aimed at attracting younger shoppers. A big part of this strategy will be Friends of 365 - a partnership program with other businesses that will be based inside the stores. According to the website Whole Foods launched to explain and promote 365, tattoo parlors are a viable option for the Friends of 365 program, as are record shops.
According to Walter Robb, Whole Foods Market's co-chief executive officer, this strategy is geared toward expanding the company's customer base through unconventional means.
Friends of 365 will "reach more communities than we would be able to with our mother ship," Robb told Bloomberg TV.
"There's a number of smaller-store competitors out there that are doing a nice job," he added, according to the source. "We don't see any reason why we can't go participate in that part of the market as well with our 365 by Whole Foods offer - it's going to be unique."
It's safe to say that a tattoo parlor inside a grocery store would indeed be unique.
The first 365 by Whole Foods Market is scheduled to open In Los Angeles this spring. According to Mashable, that'll be followed shortly by locations in Oregon and Washington. By 2017, Whole Foods aims to have 10 of its 365 stores up and running.
"It fits perfectly with Whole Food's image as a forward-thinking brand."
Appreciating the customer experience
So what does Whole Foods' decision to introduce tattoo parlors and other non-grocery partners into their stores say about the company?
Here's the thing: A lot of companies claim that delivering a great customer experience is their priority. Many other firms like to talk about how they're embracing innovation for exactly that purpose. But despite all these declarations, most firms end up either playing it safe or failing to fully appreciate what it is that their customers are looking for. They might release a new app, one that makes shopping a bit more convenient and is ever so slightly irreverent, and they assume that that'll be all that is required to boost customer experience. But it's not enough. Not by a long shot.
Whole Foods' decision to bring independent and unusual businesses into their stores actually exemplifies these ideals. Even if shoppers aren't interested in actually getting a tattoo or buying a record themselves, consumers at these locations will enjoy an interesting, fun shopping experience just by virtue of the clever spin on grocery shopping. It's the kind of novelty that's likely to appeal to millennials and other shoppers. It grabs your attention and holds your interest, and it makes you more inclined to return the next time you need some produce and a little entertainment. And it fits perfectly with Whole Food's image as a forward-thinking brand.