Who should cover the last mile?
Peter Crosby | February 15, 2016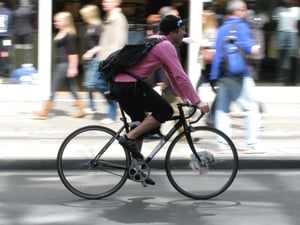 Uber Rush is a big deal, but is it the innovative solution that your ecommerce shipping strategy needs?
The Takeaway: Who should concern themselves with localized, same-day delivery when it comes to ecommerce shipping? Should it be third-party services like Uber Rush or should an in-house team (within retailers and brands) be responsible?
Now that we're able to buy pretty much whatever we want online, whenever we want, the last remaining frontier for commerce brands and retailers like Whole Foods, Gap, or Nordstrom to conquer is delivery. If brands and retailers want to give consumers what they want, which is decreasing the time that consumers have to wait for a product, they'll want to consider same-day delivery. However, when thinking about what to do, brands and retailers shouldn't be so quick to immediately turn to third-party services like Uber Rush or Favor.
Brands need to evaluate their needs as a brand and how much their customers care about a branded delivery experience.
L2 Inc's The Daily contributor Homa Zaryouni reported that Uber has joined forces with a slew of retailers: Cole Haan, Nordstrom, Rent the Runway, 1800Flowers and even Google Express. The goal is to deliver products the same day they're ordered in an experience that is seamless. Consumers will click, and their items will be dropped off by Uber Rush. Better yet, users don't have to do a thing besides selecting a delivery option - it's all done through through standard transactions - and they don't need an Uber account.
Uber Rush is a big deal. As Zaryouni explained, it's a cost-effective way to compete with Amazon's shipping program, especially considering how quickly packages are delivered when consumers have Amazon Prime.
"Brands need to evaluate their needs as a brand and how much their customers care about a branded delivery experience."
But Uber Rush is really just one of a few services that offer similar crowdsourced shipping capabilities. There's Favor, Hitch, and Deliv. So, it's clear that this trend is bigger than just Uber Rush. There are plenty of ways to cover the last mile without relying on UPS, FedEx or the Postal Service.
But do retailers really need to invest in new shipping strategies? Should you deliver your brand's products with something like Uber Rush? Or should you forego traditional shipping altogether and pull those processes in-house? That's harder to answer than you might think.
Customer expectations
The first thing you should ask yourself is whether your customers care if their delivery experiences are branded. They might want to receive their orders in a way that extends the shopping experience to their front door. For example, Edible Arrangements brings its fruit bouquets to consumers in a branded vehicle with employees wearing red shirts and hats. If that's what customers want, give it to them. According to a report from Barclay's, 45 percent of consumers would buy more products online if they could receive items in a fashion that aligned with their needs as a shopper.
You also need to consider what the whole customer experience is like and whether your brand using different delivery models fits with the product or service you're providing. Do customers order from your brand because they know you understand the importance of quick delivery? Or do customers buy from your brand because their personal identity aligns with the branded lifestyle you represent? Or are they buying your product because it represents a certain social status? If your brand concerns itself with social status, you might want to consider a branded delivery service since delivery ican be leveraged to create more status for the buyer.
Do you care?
At the end of the day, you should only explore new shipping options such as crowdsourced delivery if you care about providing that experience and if you can afford it. Therefore, it's important to ask yourself what your tipping point is: When do you start to care about improving shipping times or implementing a click-and-collect capability? At what point does a new approach to shipping work for your brand, financially, strategically, or otherwise?
The last mile is one of the most expensive aspects of your ecommerce supply chain, and this is one of the more important areas of retail you should improve, given the competitive benefits of cutting shipping costs. You need to know if you use Uber Rush or something similar whether the boost in sales is going to offset the price tag of those delivery services.
Your brand will be safe if you take this business-first approach to shipping strategy. In a guest post on Forbes, Tim Laseter, Matt Egol and Scott Bauer of PWC's Strategyand asserted that consumers will be OK with whatever innovative delivery service you use. The authors argued that instead of reacting to behaviors, you can influence them and get them to buy into your last mile strategy. That is certainly an important piece of this puzzle to consider.