How Leading Toy Brands Are Activating Content to Win Across the Digital Shelf
Carrie Dagenhard | January 8, 2020
Activating product content online could make the difference between brand survival and extinction. Enter Toys "R" Us. The toy retailer filed for Chapter 11 bankruptcy in September 2017 after decades as a successful retail chain — beloved by children and Wall Street alike. By mid-2018, the company closed the doors to all 800 of its brick-and-mortar stores.
While the closure shocked many consumers, industry insiders weren't surprised. The market has changed dramatically since the Toys "R" Us heyday of the 1980s and 1990s. The way parents (and their children) shop for products is radically different. Like for most commerce, the lion's share of toy buying happens online.
Shifting Consumer Behavior Requires Toy Brands to Be Agile
Forty-seven percent of toy-purchasing adults said they planned to buy toys from online-only retailers like Amazon during the 2019 holiday season, according to market research from Civic Science. Another 12% said they'd make those purchases from big-box stores' websites, and 30% said they'd make purchases in-store from places like Target and Walmart. Only 11% expect to buy from local toy stores.
Toy brands understand it can be challenging to keep up with shifting consumer behaviors. But if there's one thing they must do to survive (and thrive) in the new decade, it's making sure brand content stands out online. And that means making the most of product pages across online retailers' sites.
Here are five examples of toy brands leveraging content to drive lasting value.
1. Manhattan Toy Company
Since its foundation in 1978, Manhattan Toy Company has strived to manufacture high-quality, timeless, affordable, and safe toys for kids of all ages. Today, the brand is well-known by parents spanning multiple generations and maintains a strong presence across the web with numerous retailers.
But the company also recognizes the value in making the most of the product page real estate available — which often means using different content for each retailer.
For example, the Amazon page for its Skwish rattle and teething toy starts with a brief bulleted list. It then uses the manufacturer space to share several images of the toy, background on the company, and specific details about the toy, its use, and why someone may choose to buy it.
On the Target Skwish product page, however, the brand sticks to the basics. Because there's less space for personalization, Manhattan Toy Company outlines a few key points and one-paragraph description.
2. Guidecraft
Wooden blocks are a timeless toy, long used in homes and classrooms to help children develop cognitive and decision-making skills. Guidecraft, a brand that manufactures educational, STEM-based toys, took simple wooden blocks one step further with a product called Rainbow Blocks.
The toy set is simple: wooden framed blocks in a variety of shapes with inset colored acrylic windows that catch the light. Much like the product, the brand also keeps its product page descriptions straightforward and easy to understand.
On the Walmart product page, for example, the brand relies on captivating imagery to tell the story (since the blocks are, after all, a visual toy). In the "About This Item" section, Guidecraft shares a basic description through a short, bulleted list covering what parents want to know most: What its made of, how it benefits kids, and the suggested age group.
On the Amazon Rainbow Blocks product page, the brand aims to use even less language, again relying on images to communicate the merits of the product. Additionally, the brand focuses on reviews, encouraging buyers to share their own photos of their children's creations.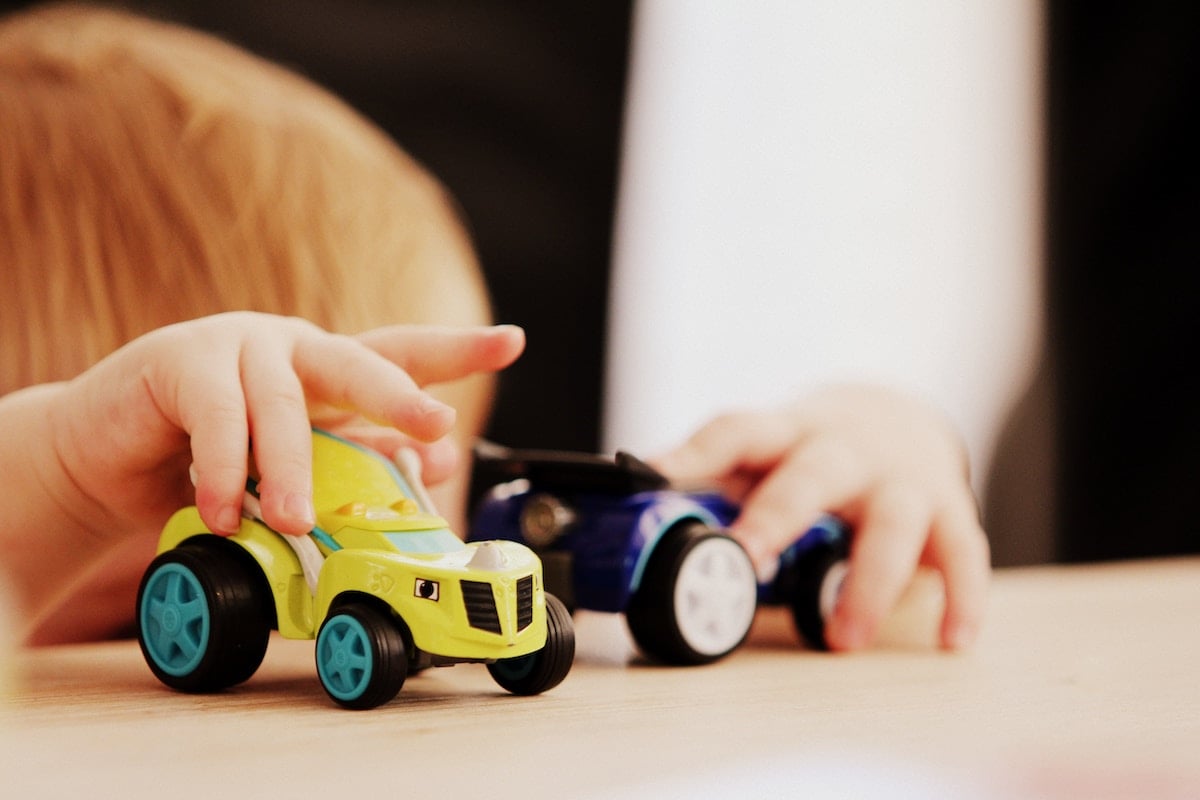 Image Source: Pexels
3. Learning Resources
Knowing how to code is an essential literacy skill in our digital age, and it's never too early for children to begin learning the fundamentals. This is why Learning Resources, maker of educational tools, developed Coding Critters.
Unlike the Guidecraft blocks, though, these toys are slightly more complex and require plenty of explanation. But because not all retailers offer the same amount of space, manufacturers like Learning Resources have learned to make the most of available real estate on each site.
For example, on the Amazon Coding Critters page, the brand uses the full manufacturer section to display high-resolution interactive images, a minute-long explainer video, background on the company, side-by-side product comparisons, and testimonials pulled directly from well-known media outlets.
The Kohl's Coding Critters product page, however, offers much more limited space. In this case, the brand adheres to a more straightforward format with a product details section, features bullets, and, because there is no place for a video, uses static imagery to explain how the product works.
4. Alex Brands
Crafting is an activity that can help kids develop creative hobbies and foster their imagination — which is why the My First Sewing Kit by Alex Brands is such a hit.
This set includes yarn, ribbons, lace, felt, buttons, and other materials kids can use to make their own unique creations. Because the concept is relatively easy to understand, the brand relies mostly on visuals to captivate potential buyers.
On the Amazon product page, the brand uses enhanced features to activate product content, including a tablescape to show what's in the kit, a list of its contents, and a high-level overview of how children can use their kit.
But without the opportunity for as much content on the Target product page, Alex Brands sticks to high-resolution imagery, a one-paragraph description, and a handful of bullets.
5. Goliath Games
If there's one thing that hasn't changed in recent decades, it's the fact that kids love gross humor — which is why Gooey Louie, by Goliath Games, has become a favorite among kids ages four and older.
The simple game, which requires players to take turns pulling boogers out of Louie's nose until he "sneezes his brain out," is the perfect gift to set up and play immediately. It also doesn't require a lot of description to understand.
The bulleted descriptions are mostly identical between the Amazon Gooey Louie product page and the Macy's product page, but, again, because Amazon offers more space, the manufacturer uses it.
On Amazon, enhanced content that highlights key benefits — like the fact that it doesn't require batteries, helps develop hand-eye coordination, and keeps kids engaged with exciting action.
How to Quickly Activate Product Content Across the Digital Shelf
For toy brands, it can be challenging to keep up with all the retailers selling their products and understanding how to get the most from product page real estate. With so many differences between pages, how can brands make sure they provide the necessary details through captivating, enhanced content?
Brands must be able to centralize product information and efficiently deliver it to multiple endpoints in the correct format for each channel. This way, they can scale business while developing and maintaining better retailer relationships. With a holistic view of performance across channels, brands can also easily see which tactics work best and where to optimize for better conversions.
The way people shop for toys is evolving and, in the coming years, it's likely habits will only continue to become more digitally centered. By scaling efforts across the digital shelf today, brands can outpace competitors and increase brand recognition long-term.