5 Truths from the Forrester Consumer Marketing Conference | Salsify
Peter Crosby | April 11, 2018
You'd better be ready to have a conversation with your consumers.
This was the Big Theme at the 2018 Forrester Consumer Marketing Conference:
Over the next few years, the way we interact with consumers will change dramatically. If brands embrace that change, you will build trust, loyalty, and earn your margins. I can hear you thinking, "Gee, thanks for the advice, Forrester. Now what do I do about it?" Well, that's what the two days was all about - building a road map to the future of conversational commerce and providing example of brands who are doing it right. Here's the 5 big Truths from the conference.
1. Bad data, bad conversations.
Melissa Parrish, VP, Group Director at Forrester, pointed out that on average it takes 20 data streams to understand your customer. Whether the channel is web pages, chat, voice assistants, Instagram, or some future VR glasses, it's the underlying data that will allow you to have emotion-rich conversations with customer at scale. Getting that data organized and accessible across your marketing tech stack is priority one.
2. Amazon has invaded the ad industry. It's the new SEO/SEM platform of the decade.
Your consumers are searching on Amazon, and they are doing so because they like the answers they get. The ad platforms Amazon is providing are your opportunity to put your brand front and center in a targeted way with one of the best data platforms in the world. Collin Colburn, an analyst on Forrester's B2C marketing team, predicts that significant amounts of ad dollars will switch from more traditional sources over to Amazon. Right now, 44% of marketers say they are using Amazon for advertising - that number will grow steadily throughout 2018 and beyond. You will want to take early advantage of the opportunity to stand out. Think Google 2009.
3. The consumer tech stack is once again driving yours.
James McQuivey, VP & Principal Analyst at Forrester, pointed out that, as in the shift to mobile several years ago, consumers are leading the way. Their tech stack is filled with apps that are built around ongoing conversations with their community, and they expect that from brands that want to earn their loyalty. The sooner you upgrade your tech stack to power those conversations, the faster you will differentiate yourself from your competition.
4. "Find your brand voice. Literally."
This quote came from Dipanjan Chatterjee, a Forrester Principal Analyst serving CMOs. He and I got to sit down for a 1:1 chat to really dig in on how marketing leaders are preparing their organization for these conversations.
This is actually the fun part. As part of this journey, you and your teams get to spend some time really digging in to what your brands stands for and how you communicate that through every interaction.
In truth, that means not "thinking about your brand". It means thinking about the jobs your consumers are trying to get done and how your brand will help them. Every step along the way. Those conversations will become your brand energy.
Proof Point: Meet Rose, the Cosmopolitan's digital chatbot concierge
When you check in at the Cosmopolitan, you will be handed a card with a phone number that says: "Know my secrets. Text me," and "I am the answer to the question that you never asked." Rose, the Cosmopolitan's flirty chatbot Rose becomes your insider friend to all of a Vegas' secrets. Or at the very least can get you more towels.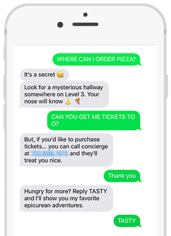 Mamie Peers, VP of Digital Marketing The Cosmopolitan of Vegas, presented a case study of how they brought their brand to vibrant life in a chat context to give every guest the experience of a personal host. And in doing so, measurably increased revenue, loyalty, and service efficiency. She is literally the brand voice of the Cosmopolitan and even in these early days has already demonstrated the power of that differentiated experience.
What does this mean if you make power tools or aspirin? That's what you need to figure out, because conversations are going to happen, and you want your brand to be there.
5. Emotion is your differentiator.
There are three elements that represent your brand in every interaction, according to Jennifer Wise, Sr. Analyst and Samuel Stern, Principal Analyst at Forrester. They are:
Ease: how simple is it to get the job I want done in this interaction with your company?
Effectiveness: did I get my job done or the answer I want?
Emotion: how do I feel about that experience?
The first two are table stakes. The third is what people will remember from the experience, cause them to return, and tell their friends about. Assuming it's positive. If it's neutral, you give them no reason to come back. If it's negative, they won't come back and they'll tell the people they love all about it.
Figuring out the emotion of your brand and how it is expressed in every interaction will be the key to earning your margins and building market share in the years to come. It's a world where you will need and want to build direct relationships with your customers, where you can. Where you can't, these emotions will be communicated through the words you use, whether on a product page, in a social channel, or through a voice assistant.
Or maybe, someday, the images you show them on those cool glasses. Or maybe that chip in their head. Kidding about that last one. I think.
The bottom line
In this new conversational world, experience will be the difference maker. The foundation of that experience will the product data that represents your brand, and how you inject your brand voice into every interaction with a consumer.
Make sure you have a strategy to build and optimize the foundation of product content to drive those experiences, now and in the future. This white paper may help.