The nation's largest retailer, Walmart, has been a leader in providing suppliers an open-source API to enable stronger product pages and syndication for content on their website. Salsify began working with Walmart before 2015 and continues to work closely with them today to empower brands to deliver best-in-class product experiences to consumers on their site.

Recently, Kathryn Flaschner of the Content Acquisition Team at Walmart joined members of the Salsify team to discuss how brands can Take Control of their Walmart Product Experience. Take a listen to the 30 minute webinar to find out how you can improve your product pages on Walmart - and ultimately drive more sales to grow your brand's market share on the nation's largest retailers site.
Consumers are more in control of their shopping journeys, so "content impacts sales across the spectrum" Flaschner emphasized during the webinar. The company utilizes content supplied by brands to determine where to place your product in store and online in addition to providing the best experience for consumers. Understanding their content strategy and how to deliver to them is critical for brands to succeed on their digital aisles.
Walmart wants brands to create robust product pages in an automated format to engage consumers on their digital aisles. Partnering with a Product Experience Management platform like Salsify provides brands a simplified and actionable method to deliver best in class product pages.
One of the many benefits of Salsify's partnership with Walmart is being included in beta testing and new releases of their API since 2015. Walmart's forward thinking digital mindset aimed to empower brands to automate content distribution with a Content Service Provider (CSP). A basic CSP sets up a brand's digital catalog, scale assortment and brands their items. As one of Walmart's preferred CSPs, Salsify has evolved alongside Walmart's shift in continual improvement of product information online.
Walmart's open API and content delivery systems aim to "empower brands to be nimble in the face of ecommerce landscapes and own [their] own stories," says John Apicella, Salsify's Walmart Product Manager. Our platform compliments Walmart's API and content requirements by delivering high quality content to Walmart.com, providing a brand with a Grader to provide insights into how to make your content work better, and syndicating content across channels. Salsify makes it easier to optimize the digital shelf, iterate across the eCommerce ecosystem and deliver a unique brand experience to consumers.
Walmart prioritizes brands utilizing CSPs to deliver content to their site. With their open-source API and emphasize on eCommerce, Walmart noted they are prioritizing brand manufacturers using Content Service Providers to streamline content delivery to the site. "Content via CSP impact your overall success at Walmart" and Walmart wants suppliers to send quality content to them in a seamless fashion Flaschner explained during the webinar. The better your content is the more value your brand will see out of Walmart.com in 2018 and beyond.
Salsify customer, Kidcraft, optimized product pages on Walmart.com and saw significant increases on critical KPIs.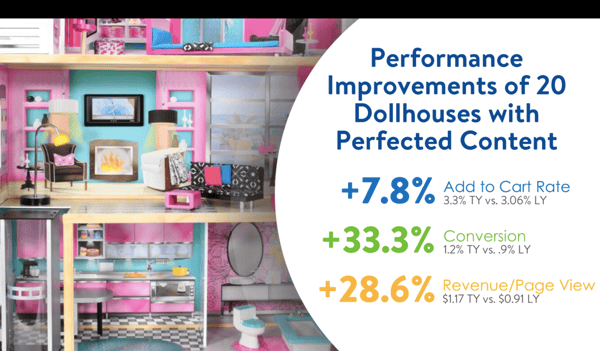 Content is driving the bottomline for Walmart, and brands who leverage a CSP will be rewarded by Walmart and consumers. We recommend watching the webinar as Flaschner walks listeners through an example of outstanding product page by Salsify customer KidCraft and how they've optimized their Walmart Digital Shelf by prioritizing the two main pillars of a strong product pages on Walmart.

The Pillars of a Strong Product Page on Walmart.com

Creating a brand experience on a product page sounds daunting, but Walmart provided us with the "two main pillars" of robust item pages and how they prioritize CSP distributed content:

1. Adding attributes to item pages. Attributes, such as Product Names, Images, Shelf Descriptions that live above the fold on an Item Page are critical for search within Walmart.com; the more attributes and categories your brand attaches to a product, the stronger the site experience will be for a customer. Flaschner of Walmart's Content team emphasized "customer will abandon an item page if the content is not robust and specific to their search terms."

2. Rich Media provides an in-store experience online Taking advantage of rich media modules on Walmart enables brands to elevate consumer experiences on product pages. The inclusion of multiple images, video, comparison guides & charts, feature tours and guides all provide an enhanced branding opportunity for brands. Consumers demand their online shopping experience to be robust and item pages to address concerns and questions they may have about your product. Rich media provides brands opportunity to tell their story and sell effectively.


Great content can have a significant impact on performance and these two pillars, Attributes & Rich Media, are strong short term tactics to improve conversion rates on Walmart.com.

Brands need to be actively reviewing product pages and take action based on recommendations and areas for improvement. Set it and forget it mentality needs to be replaced by set it and optimize constantly. Product Experience Management (PXM) platforms like ours simplifies winning the digital shelf by automatically and seamlessly distributing content to retailers in the eCommerce ecosystem and giving brands insights on how to create robust product experiences based on data. Brands must evolve as consumers continue to gravitate to spending their money online, Walmart and Salsify are here to get you in first place.