Product Page Breakdown: 3 Winning Furniture and Home Goods Brands
Salsify | June 16, 2020
For furniture and home goods brands, there are additional considerations that must be taken when setting up a product display page (PDP). Consumers consider purchases within these categories to be "high-involvement purchases," which means shoppers feel they must go through a multi-stage process to gather detailed information about each product.
While shoppers looking for consumables like snack products or household cleaners may stop after reading a short product description, furniture and home goods shoppers have a long list of questions:
What are the dimensions of the product — and will it fit in my home?
How will it look it my home?
Does it match my personal aesthetic and lifestyle?
How does this product work?
Does this product have special features?
How much does it cost?
Problems with product content keep 79% of shoppers from making a purchase, according to a Salsify 2020 consumer research report — with 58% pointing specifically to a lack of information or details. Engaging product content is vital for furniture and home goods brands to increase conversion and give shoppers the information they seek online.
3 Winning Furniture and Home Goods Brands
Winning PDPs require consistent product information across channels, an understanding of your audience, and engaging enhanced content. Here are three furniture and home goods brands that have winning product pages, highlighting important best practices for creating engaging online content.
1.POLYWOOD
Furniture brand POLYWOOD greets customers with a brand landing page on Target, complete with details of its full collection, brand storytelling, and product and material descriptions. The first impression is a cohesive, polished, and modern product experience.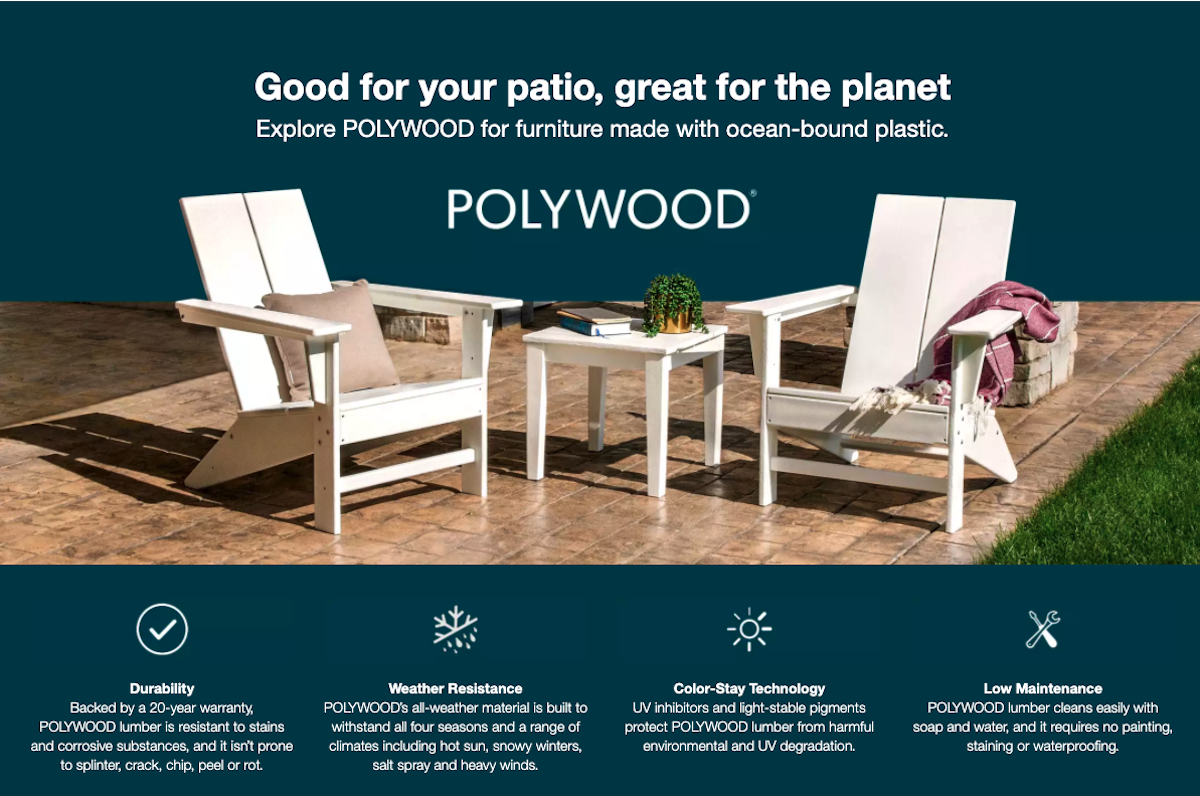 Image Source: POLYWOOD Target
Use Video to Share Key Details
Using video helps to amplify the consumer experience and keeps shoppers on the page longer on individual product pages. But make sure your brand uses this space and time wisely. While having a video featuring the key points about the brand is excellent — but a video explaining and showing how to use, style, clean, assemble the product is even better.
Better: Branded videos
Best: Product-specific, how-to videos
Video Source: POLYWOOD YouTube
Highlight Clean, Clear Storytelling
Consumers have adapted to scrolling. Give them the inspiration and aspiration they desire with in-depth details on where the product is made, materials, maintenance, and assembly. Align this information with product images. The result is informative, useful eye candy.
Better: Lots of images
Best: In-depth product information with editorial images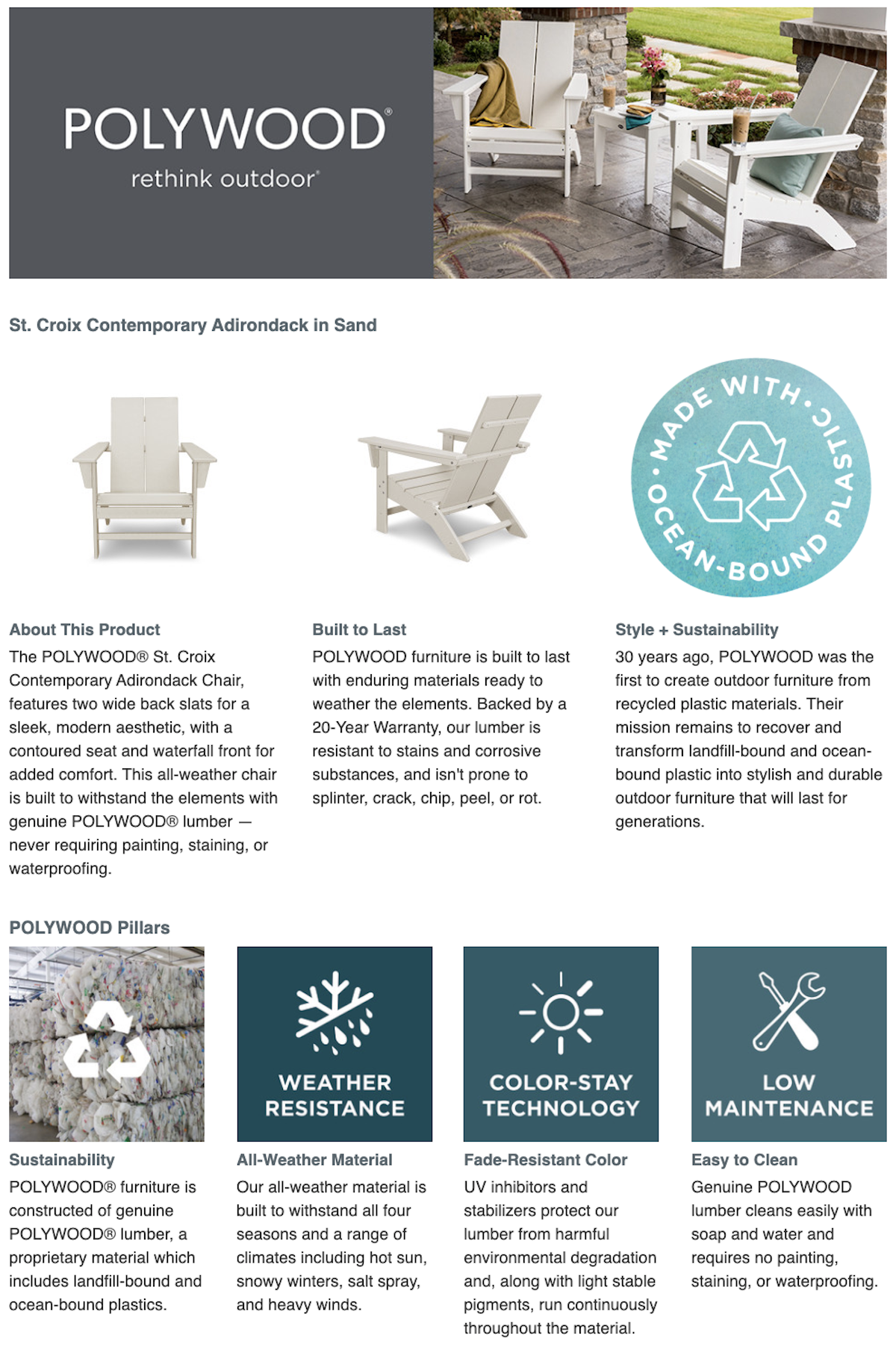 Image Source: POLYWOOD Target
Implement Graphics and Icons to Aid Product Research
Quite simply, easy-to-see and understand icons with attributes help consumers digest product information and features faster.
Better: Product detail bullet points
Best: Digestible icons and product detail bullet points
Include downloadable PDFs
Think about all the product information that comes inside the box: Assembly instruction manual. Materials list. Warranty information. Maintenance tips. Your brand already has these product items in-house, why not put them to further use on the product page?
The information on these downloads is helpful to consumers both as they are researching and with after-purchase satisfaction when instruction manuals often get tossed and users have further product questions.
Better: In-box instruction materials
Best: Showing the consumers the instructions upfront and include in box for later use
2. Libbey
Glassware brand Libbey uses its Amazon landing page to show its expansive product catalog. When researching, not all shoppers know precisely what they want to purchase and need guidance and brand expertise. This information is essential to expanding the consumer understanding of use.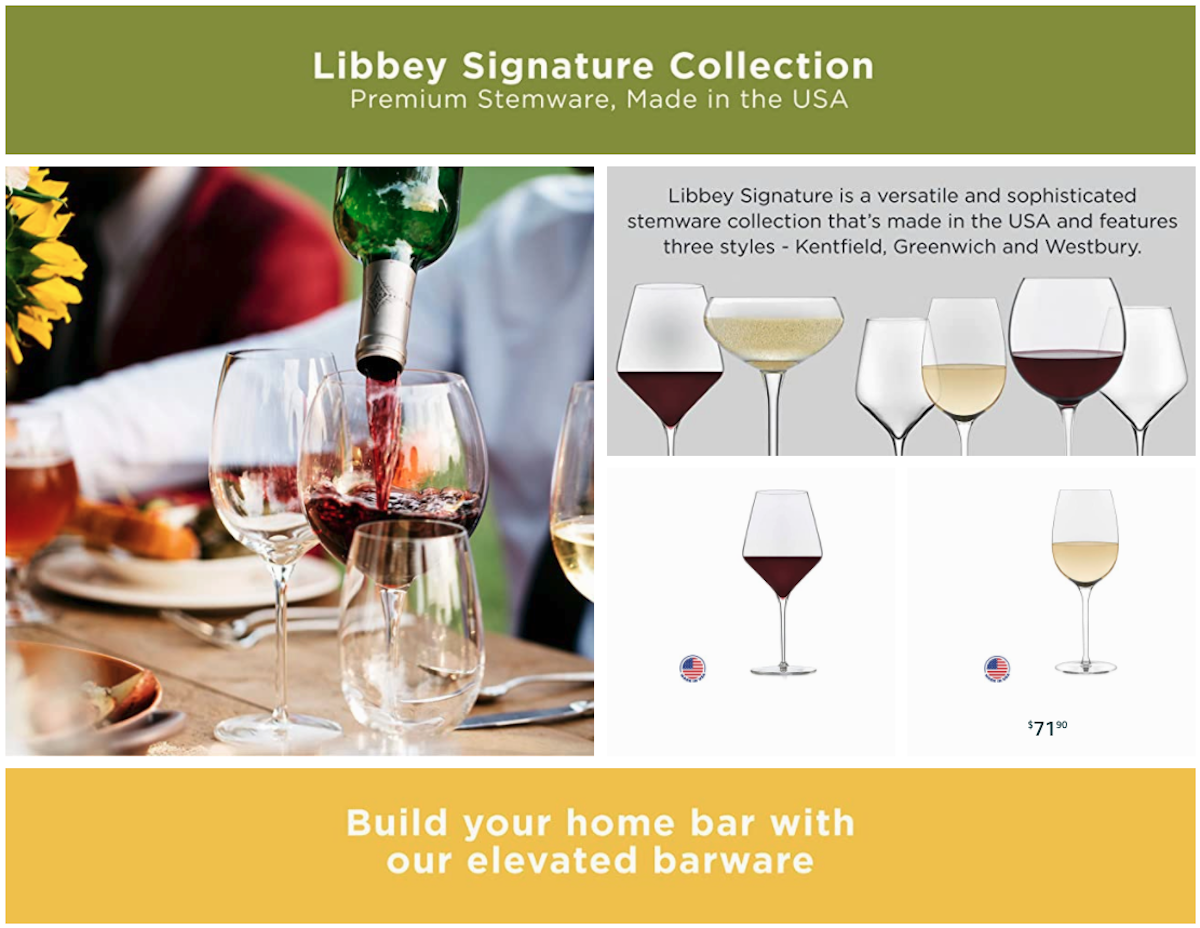 Image Source: Libbey Amazon
Inspire With Editorial Images and Captions
Stylized photos offer home display ideas and help consumers envision how they will use the products in their day-to-day lives and while hosting.
Better: Image galleries
Best: How-to storytelling using stylized photos
Highlight Products Origins
Telling the story of where products are made is an important detail to emphasize with enhanced content. Consumers love local vendors or handmade artistry. Where relevant, include these origination details that will elevate the specialness of the product.
Better: A bullet with product origins
Best: Expanding on how and where the product was made
3. Goliath Games
Board game brand Goliath Games manufactures a wide range of products for families and children. Within this section of the home goods category, parents often seek more detailed information about the educational value
List and Show What Comes in the Box
Many adults have left the store with a toy gift only to realize the product does not come with batteries or another essential item. Enhanced content is an ideal place to show, outline, and explain exactly what can be expected when the packaging is open. It's also a good place to ensure choking hazards are emphasized.
Better: Use an image to show box contents
Best: Show, outline, and explain box contents and how they are used
Video Source: Goliath Games
Include Comparison Charts
When researching, consumers are often flipping back and forth between multiple products. Make their shopping journey a bit easier by including a chart that compares products within your own catalog.
Tailor the chart features to your category. For some products, size specifications, end-use, included items, materials, and product weight are all important attributes. When it comes to games, the number of players, age ranges, game rules, and game-playing nuances are essential.
Better: Retailer-created comparison charts
Best: Comparison charts focused on items within your own catalog
Highlight Educational Features and Age Groups
Shoppers want to know the benefits of having yet another toy in their homes. Use enhanced content to highlight the educational features and which age groups will benefit the most. Give as many reasons as possible for consumers to want to welcome the product home.
Better: Listing age groups
Best: Further explaining what the game or toy can teach children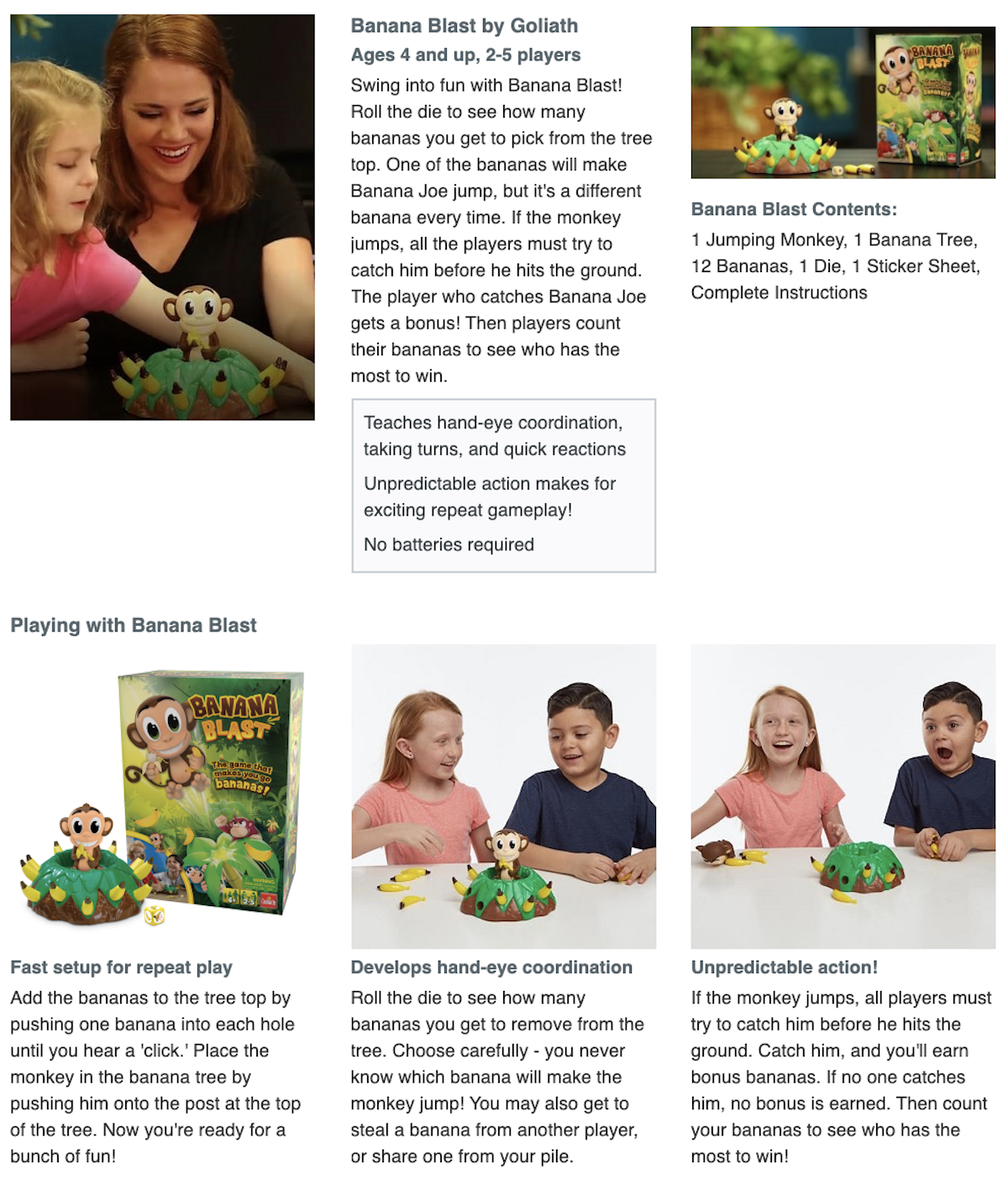 Image Source: Goliath Games Target
How Enhanced Content Drives Conversion
According to 2019 Salsify internal data, enhanced content can increase conversion by 10% across most categories. Consider your own online shopping experiences when thinking about why below-the-fold content can help drive conversion.
Images, videos, 360-degree image spins, comparison charts, PDF downloads, and other enhanced content features help brands not only provide the information customers seek — but they also help create an engaging product experience that informs and enriches the online shopping journey.