The digital world is one of rapid change. Our 2019 Trend Analysis Report: How Leading Brands Transform to Win Market Share sheds light on how brand leaders are adapting to win amid such fast-paced commerce. This report outlines common roadblocks to speed and efficiency as well as insights into opportunities on how to lead the market and win the digital shelf.

In today's digital world, brands overwhelmingly understand they must compete on more than the standard price, promotion, and product alone. Nearly all organizations agree that product content is important to their sales growth, up from only 75% understanding that connection last year.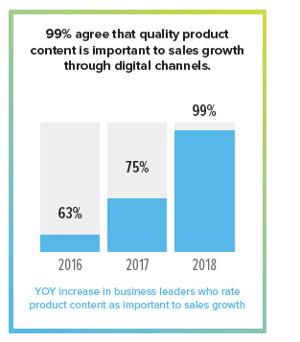 But while everyone agrees that content matters, success on the digital shelf relies on the ongoing content optimization of product content. In fact, 61% of brands believe they should be pushing new content to their sites daily or weekly. Our data shows brand manufacturers that are pushing new content to online retailers daily are reaping competitive advantages.
A major roadblock in optimizing product content on a continuous basis is having the dedicated team and trained staff. Employees should be entrepreneurial, skilled in digital, with management that has strong cross-functional skills to drive agility in the process across all teams. We found that 66% of brands plan to hire product content staff in the next year.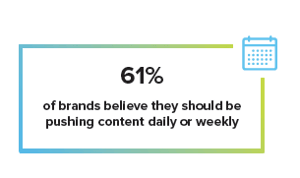 In a world where AI is driving a lot of the merchandising decisions, your organization needs technology that can move and react just as quickly and intelligently. Our data shows a marked trend across those brands that have invested in automated ways to manage product content and a larger increase in annual revenue. In fact, a majority of the brands with a technology investment grew sales across their online channels by more than 25%.