3 Goals for Your E-Commerce Content Strategy in 2018
Cara Wood | January 19, 2018
It takes a lot to find the perfect pair of jeans. The style, color, desired leg shape, rise on the waistline, and stretch of the denim all play a role. Levi's took each of these variables into account with the launch of its new virtual stylist program – and delivered a new kind of digital product experience.
"You have to make the basic promise to the fan and consumer to meet and exceed expectations. That the product is there, the size is available and that you help them find the fit that works for them. That has never been more important than it is today," said James "JC" Curleigh, President of Global Brands at Levis during a keynote presentation at NRFs The Big Show.
Levi's leveraged artificial intelligence (AI) to launch a virtual stylist program that uses an AI chatbot which can assist customers with purchasing decisions. It answers question 24-hours a day whether they are shopping via online, mobile or on Facebook Messenger. The AI incorporates the sales staff training and is programmed to ask questions about a shopper's fit preference so that it can deliver the right product information and recommend the perfect pair.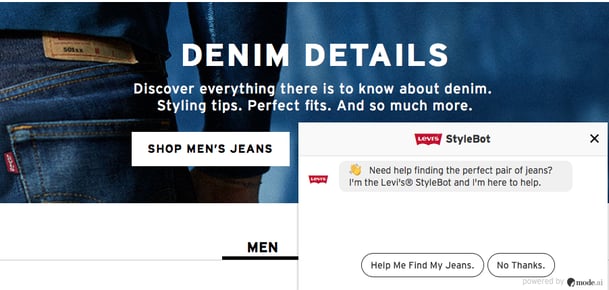 "No matter where the consumer chooses to shop, we want to give them a personalized experience that leverages our expertise in fit and style to address the biggest challenge of finding the pair of perfect-fitting jeans," said Marc Rose, Executive Vice President and President of Global Ecommerce at Levi Strauss & Co.