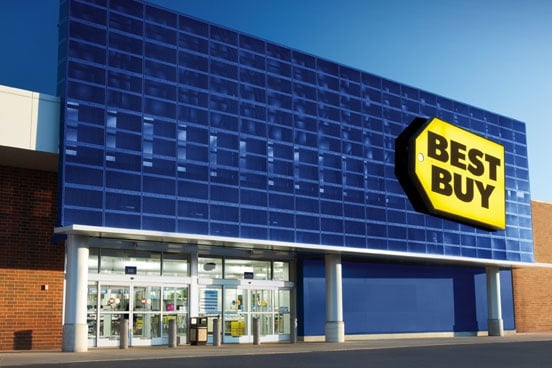 Takeaway: Retail apocalypse they say? Best Buy has managed to prove analysts wrong with a promising rebound both online and in-store. The secret to their sauce has been a mixture of these five tactics with, you guessed it, digital commerce at the forefront.
There were a lot of doubters and naysayers, but Best Buy pulled off what many analysts thought was impossible: a turnaround, thanks to a 22.6 percent year-over-year increase, going from $832 million to $1.02 billion in online sales in just 12 months.
Thinking of some copycat action? We don't blame you, so here's a look at the complementary strategies and tactics we think attributed to Best Buy's new footing.
1. Use stores to support digital, not the other way around
Instead of viewing digital primarily as a method to drive consumers in-store, Best Buy bought into the 'showrooming' concept, utilizing their stores as a key part of the consumers' research stage, not necessarily the purchase stage. Then, the retailer altered their fulfillment methods to use stores as effective, miniature distribution centers.
2. Streamline omnichannel snags
We know shipping options and delivery speeds are critical to consumers. After offering same-day delivery in 13 cities via Deliv and taking successful measures to halve delivery time to 3.3 days according to Slice Intelligence data – effectively giving Walmart and Amazon a run for their money – Best Buy ran into inventory issues. A good problem to have, but a problem nonetheless. Their next step was to clean up in-store inventory depletion as a result of this speedier ordering and delivery by more accurately forecasting product demand both online and off.
3. Unify pricing across all platforms and channels
For a while, Best Buy was promoting better prices online than in-store, which confused and frustrated the consumers who might have gone to the store to finish the research they conducted online. Best Buy unified and sharpened their prices to be competitive across all diversified and omnichannel platforms. On top of that, they enhanced their price match program, enabling consistency with Amazon's prices, which as the Wall Street Journal explained, "paid dividends now that shoppers can instantly check prices on their smartphones."
4. Clean up their messaging
Taking a more proactive approach to messaging, Best Buy was one of the first retailers to head into the holiday season by announcing their 2016 seasonal promotions as early as October 6. Additionally, their product content is consistent and complete across all their platforms, making the discovery and research of products easier and more trustworthy in the consumers' eyes. Finally, they expanded messaging into Canada and Mexico. Essential to this was regional-specific and multilingual product content software that houses data connected to the same SKU in several languages and maps it to the country of sale as needed.
5. Personalize the shopping experience
Based off past shopping habits and search keywords, in 2015, Best Buy incorporated a "recommendation engine" that serves up product suggestions. Using product content within the product information, these landing pages aggregate items consumers have shown past interest in and display them upon coming to the site.