How Top-Performing Office Product Pages Win on Amazon & Walmart
Andrew Waber | May 29, 2019
When it comes to online purchases, office products are increasingly bought via mass merchants, rather than dedicated office supply retailers. One Click Retail cataloged Amazon's office supply sales reaching nearly $3 billion in 2017, having grown more than 30% year-over-year, and leading all retailers in terms of sales share. Meanwhile, Walmart's share of online sales for office supplies now outpaces Office Depot and all other dedicated office supply retailers. In this environment, brands selling office supply products need to execute especially well on Amazon and Walmart.com in order to significantly grow sales and effectively capture market share.
Enhanced Content is Associated with Top-Selling Product Pages
Top performing office product pages across both Amazon and Walmart.com are significantly more likely to have enhanced content than poor-selling pages. Across every price point on Amazon, between 35 to 43% of top-selling office product pages have enhanced content. Meanwhile, on Walmart.com, top-selling office product pages have enhanced content at rates roughly twice to 10X that of poor-selling products.
Images Matter - But Resist Going Overboard on Walmart.com
On Amazon, the average number of images present on top-selling office product pages are substantially higher than poor-selling products on the site, regardless of price point. However, on Walmart.com, top-selling pages at higher price points actually have slightly less images on average as compared to poor-performing ones. Instead, the higher priced products winning more sales on Walmart.com are separating themselves with enhanced content, more reviews, and more descriptive titles to draw consumers in.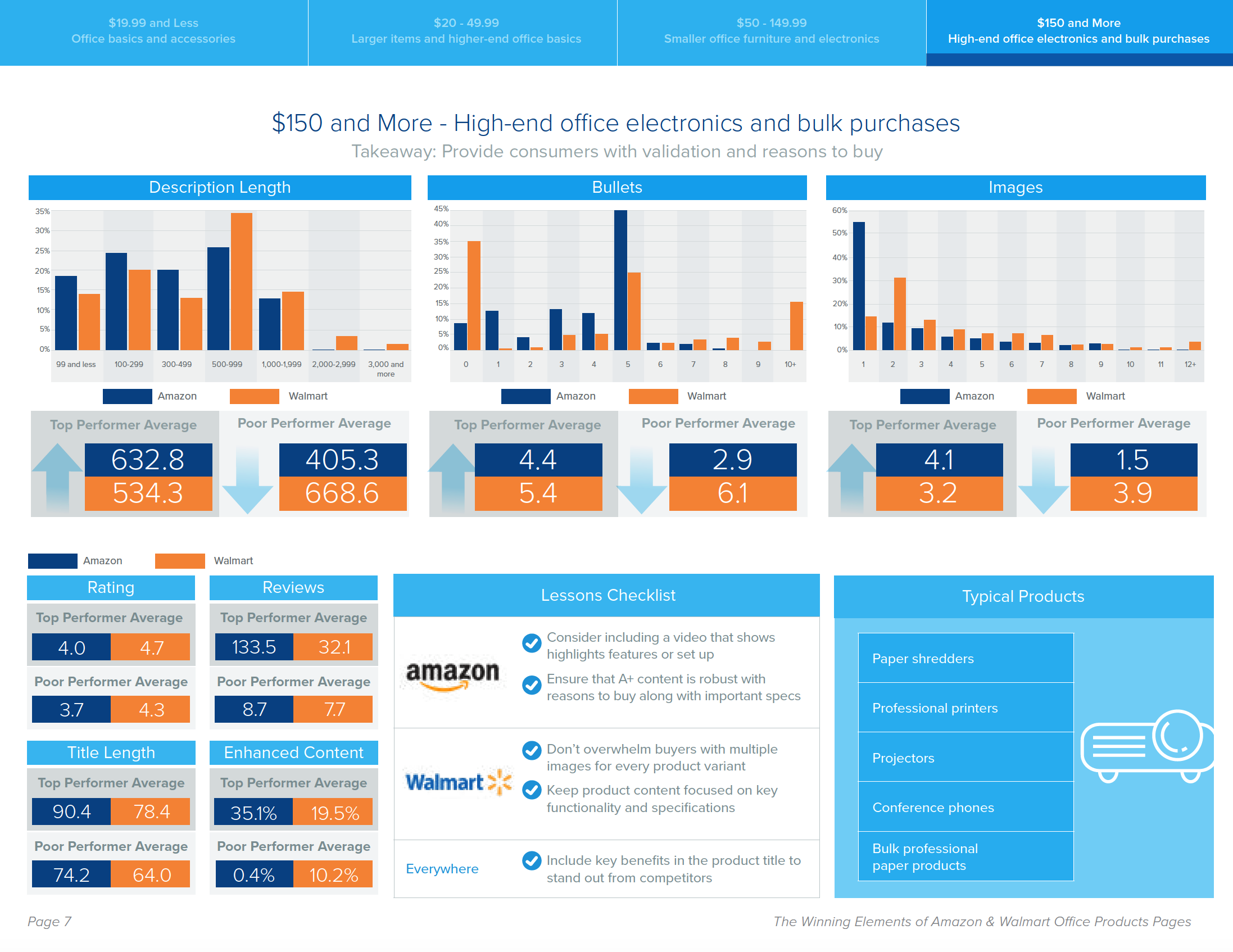 Brands Should Focus on Review Counts, Not Star Rating
Regardless of retailer and price point, the raw number of average reviews amongst top-performing office products is consistently much higher than that of poor-performing products. However, the difference in average star rating is much closer, and in some cases, negligible. When shopping across competing products, a significantly higher review count means consumers have more assurance that they won't be "guinea pigs" for a product, even if that product's star rating may be slightly lower than a competitor's.
Ultimately, your Amazon and Walmart.com product detail pages are one of the best chances you have to make buyers understand the purpose, benefits, and why they should buy from your brand, at a glance. By understanding the tactics used by top-performing pages at every price point, you can adjust your own strategy and stand out across the digital shelf.