New Guide: How to Make IT Investments for Digital Transformation
Cara Wood | January 22, 2019
Product data matters more than ever. It's no longer enough to have accurate product information stored in a centralized database or master data management (MDM) system. Consumers make their purchasing decisions based on the information they find on the digital shelf – and they expect that information to be relevant to them in the moment they discover it. This requires an agile approach to product information management.
Our new ebook, Fast vs. Slow Data: How to Manage Product Information for Digital Commerce, can help you manage the new pressures for speed and agility. Business users accessible tools that are easy to use and have functionality that will support their daily work.
Here are three principles to guide your support of business users.
1. Align Technology to the Business Needs. The marketing and sales users at your organization need to answer channel-specific requests across different channels, geographies, and product categories.
2. Provide Users the Ability to Self-Serve. Give users an easy-to-use workflow design that drives in-app collaboration across a variety of teams. Create permission levels so that the right people have access and you're not sacrificing governance or security.
3. Arm Users with Actionable Data Insights. Your product's position on the digital shelf is determined by an algorithm. Business users need market feedback to test, optimize, and learn quickly to drive increases in sales.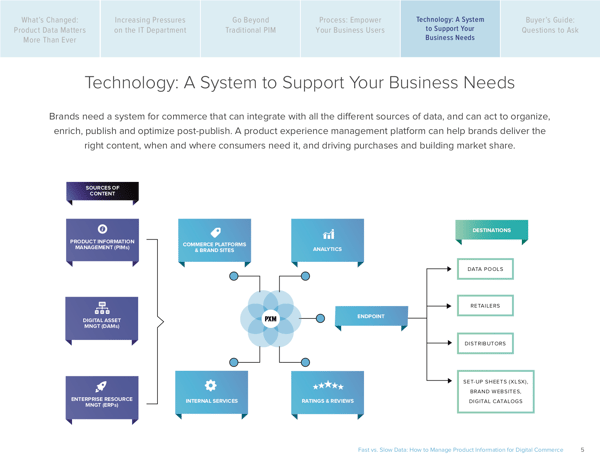 Your organization needs a flexible way to deliver the engaging product experiences that consumers demand across every relevant channel efficiently and effectively. This requires a new approach to product information management (PIM) that combines true agility without sacrificing the necessary data governance. This guide will prepare you to transform your business to drive internal efficiency and communicate the value of data in a rapidly evolving digital marketplace.