5 Tips for Home and Garden Brands to Bring the In-Store Experience Online
Barb Mosher Zinck | May 14, 2020
As shoppers adapt to life at home amid the COVID-19 crisis, there has been a boost in demand across select home and garden categories due to this ongoing crisis. According to an April 2020 survey from market research firm Numerator, COVID-19 was the reason for 50% of new purchases within the bathroom, kitchen, and dining departments.
Within the durables category as a whole, 37% of purchases were influenced by the outbreak in some way.
Select home and garden brands have seen record online sales. LD Shoppe saw a boost in sales of 300% year-over-year, and digitally native vertical brands (DNVBs) like The Sill saw a recent 50% boost from before the outbreak.
Even before this ongoing crisis, the percentage of customers who bought home and garden products online was steadily growing. With online and click-and-collect purchases of home and garden products on the rise, brands must be prepared to meet these new digital demands and accept that this is a catalyst moment for commerce.
Offering customers an engaging online experience using technology can help them get the information they need to make final buying decisions. Here are five tips for home and garden brands looking to bring the in-store experience online.
Tip 1: Take Showrooms Online
Home and garden shoppers are driven by experiences, which is why many choose to go in-store to see products in person. Holding a wine glass, sitting on a couch, checking the firmness of a mattress — these experiences are what make showrooms so crucial for shoppers.
But brand manufacturers can bring this showroom floor experience online. IKEA has successfully transitioned its in-store showroom experience to its direct-to-consumer (D2C) site. With its mobile app, customers can use augmented reality (AR) to see what products look like in their homes in real-time.
The IKEA Home Planner and Wayfair Room Planner tools both allow customers to build virtual rooms using their own home dimensions and decorate using products from the retailers. Once the layouts are created, customers can then purchase the products within the rooms.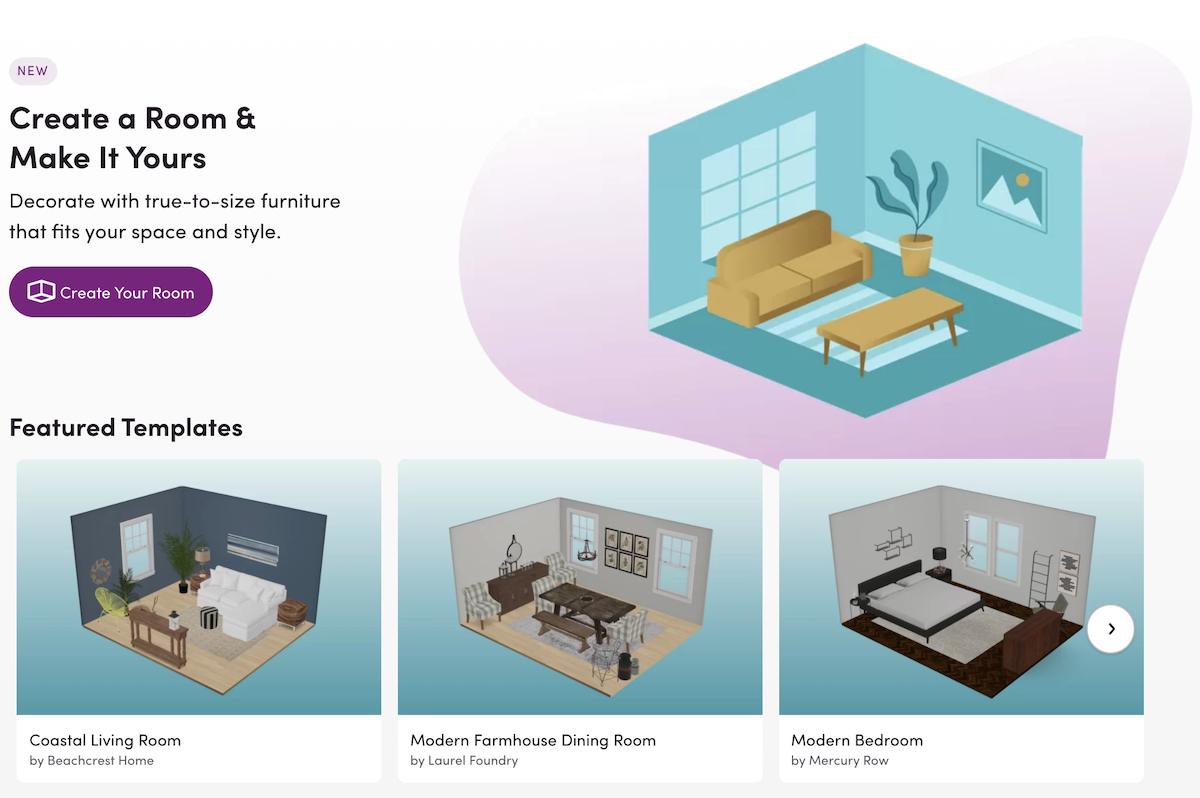 Image Source: Wayfair Room Planner
Tip 2: Create Excellent Content
Stop building boring product pages. Consider the in-store experiences that helped you make your last home and garden purchase, and use content to recreate that experience online.
From videos highlighting the many features of a new home appliance and image galleries comparing the photo quality of various camera models to a 360-degree image spin of a new sofa, there are so many ways content can help customers experience products virtually.
Glassware company Libbey, for example, uses videos to highlight the quality and unique features of its products. These videos help establish brand quality and give insights into the real-world application of its products.
Enhanced content has even helped brands across categories increase conversion by up to 10%, according to Salsify 2019 internal data.
Tip 3: Enrich Content With Storytelling and Personalization
Storytelling is vital for reaching and engaging customers — and shopping for home and garden products is no exception. Whether your brand sells furniture, home decor, mattresses, pet supplies, or storage solutions, brands can leverage their origin stories and missions to boost conversion.
These stories must also be consistent across sales channels. Whether a brand sells solely on its D2C site or also sells across 20-plus top retailer sites, customers trust brands with consistent content.
Brands can also utilize personalization opportunities to boost engagement. Offering customers recommendations based on their search — such as "you might also like" or "visitors who looked at this product also looked at " — can help them feel like the experience is personalized to them, pushing them further along the conversion path.
Video Source: Libbey YouTube
Tip 4: Test Conversation Commerce
Chatbots and virtual assistants are one of the latest innovations driving an increase in online home and garden product shopping. These tools can support both the shopping experience and provide customer support and service after the purchase.
Real-time access to sales and support people through chatbots and virtual assistants can mirror the experience of an in-store sales consultant — as long as brands build the chat experience correctly.
Not all brands can have a real person at the other end of a chat 24/7, but advanced in AI and other chat technology can enable them to create an equally effective conversation flow that meets the needs of customers.
Tip 5: Give Customers Choices
When customers walk into a showroom at a physical store, they can see and touch the home and garden products they are considering. While there is currently no way to duplicate the experience of touch online, there are many other ways brands can build an online experience that parallels the in-store experience.
Customers demand choice. They also want tools that give them the ability to see how products look and might work in their homes. These options can help bring the in-store experience online, helping brands boost conversion and build brand loyalty.
The key to making these online experiences is having engaging content and consistent messaging live across every priority channel, ensuring brands meet customers wherever they are online.