Digital Shopping is Changing the Furniture Market. Are you ready?
Evelyn Hartz | May 10, 2016
Furniture is a large and personal purchase. It's rare that someone would buy a $3500 couch without going to see it in a store. Consumers have lots of questions that need answering before investing in a piece of furniture: Will I like sitting on it? Will it fit through the door of my 4th floor walkup? Will it hold up to the next five years of my kids using it as a trampoline?
All very important questions the internet cannot always give you tangible evidence for.
However, if you are a player in the furniture industry, and you are not making your online presence a priority, we at Salsify would argue that you are missing out on a huge opportunity to drive your in-store sales by increasing and improving your product content online.
Consider these two significant shifts in the last couple of years:
In 2014 online sales was a $100B industry. Only 5% of these sales were in furniture. The

market is ripe for the taking

, as retailers like Wayfair and brands like

Simpli Home

have realized. It is estimated that 70% of furniture suppliers have not entered the online marketplace in any meaningful way. An opportunity like this in the furniture industry will likely not exist again for a very long time.
Also, in 2014, for the first time, the generational shift in purchasing furniture finally occurred. Millennials became the largest furniture-buying group (from 14% in 2012 to 37% of buyers in 2014) AND the total dollars spent on furniture increased for that group by 142% from 2012 to 2014. In comparison, Generation X consumers dropped from 42% to 30% of buyers, and the total dollars they were spending dropped by 17% in the same time period.
Taken together, these stats spell an incredible opportunity for furniture suppliers. Millennials have been written about endlessly in the media, both positively and negatively, and as we know about any generalization, not all of it is true. However, in terms of online savvy, the data gives us the message loud and clear: this group is using the internet for research in a way previous generations did not. In addition, they are influencing other generations in their online habits. Think about the parent/grandparent that calls up their kid to ask their help buying something online. Sound familiar?
Consider the following:
90% of Millennials report conducting research online, in addition to 66% of other groups. This means that regardless of the consumer's generational group, the large majority of any group are

conducting research online before buying.
63% of consumers report taking more than two weeks and visiting multiple furniture sites online to research a furniture purchase before even stepping into a store. Nearly a quarter of buyers are actually purchasing furniture online.
The graphic below from Deloitte (2015) shows that consumers who are buying furniture use online resources (computer, mobile, and tablet) to find inspiration, browse and research, and validate their purchase through reviews or other metrics. So, yes, the sentiment about furniture purchasing online is partially right: online

sales

in furniture are not as important as your brick and mortar

sales

. It's a small percentage. However, the degree to which your

brand's online product content is influencing shoppers is huge

.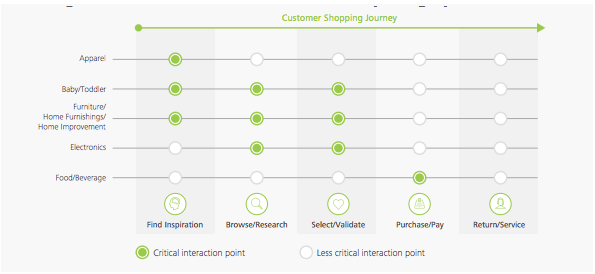 So what does this mean for today's furniture supplier?
Even if you don't sell online, you need product content online.

If your products are not showing up in online searches, your consumers will not consider your product. The number of consumers who walk into a store only to try out what they've been looking at online is only increasing. When Salsify customer, Bosch, simply

listed

their products online using Salsify (no buy button), they saw their sales increase by 4%. FOUR PERCENT!
Quality product content is king

. Because you can't touch or try out furniture online, you can't have your dog roll all over it, or see if it matches with your paint, a brand needs to provide as much product content information as possible. Basic: sizes, dimensions, color, etc. More complex: reviews, descriptions, visuals, samples, etc. Imagine your target consumer: What are they worrying about? What function do they need the furniture to fulfill?
Consistent product content will ensure you don't lose sales to frustrated consumers

. Consumers who are confused by the product's online information walk away from the sale. If your content is showing up differently on various sites, Salsify research shows that when searches turn up inadequate or inconsistent information on a product, 94% people simply walk away from the sale.

94%

!
Want to get online? Looking to improve your online presence to drive your overall sales? We're helping best of breed furniture companies take advantage of this opportunity.