Cadet Heat: An unlikely hero in ecommerce
Jenni Lee | February 18, 2016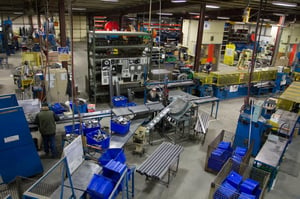 Cadet Heat: creating jobs in the US and leading the charge in consumer-centric commerce.
The takeaway: Cadet is among the growing number of companies who recognize that the buying process starts well before customers enter the store because they're doing product research before they buy; and they're doing something about it.
Even the soundest, most successful business models need to evolve to keep up with the times. Some companies are too stuck in their ways to adapt, and they end up falling behind, losing market share, and sometimes at its worst, going out of business or become obsolete. Others dive in headfirst.
Cadet Heat clearly intends to belong to the latter group, and it's making a lot of progress in that direction. A producer of electric heaters based in Vancouver, Wash., Cadet Heat recognized that it needed to embrace a more consumer-focused approach to survive - and thrive.
Cadet Heat, then and now
Writing for The Columbian, Cadet Heat's president, Hutch Johnson, recently detailed just how much the company's had to change over the past 50-plus years.
Johnson explained that in the 1960s, Cadet made all of its sales to electrical distributors, which in turn sold to contractors. Everything was geared toward serving these professionals. That's no longer the case.
"Well, guess what? The world and the customers changed," Johnson wrote.
How so? For starters, big-box retailers started to offer electrical products to consumers, and Cadet recognized the importance of embracing this trend in order to drive more sales. That meant developing a consumer-facing marketing strategy and all of the assets that entails.
Now, there's even more change afoot. Today's consumers want to buy products directly via the internet, and Cadet once again rose to the occasion.
"The Cadet online experience needs to be seamless and frustration-free, and we need all our e-marketplace partners to duplicate that Cadet experience on their sites," Johnson wrote.
Cadet continues to rely primarily on retail and electrical distributor channels for its core business, but ecommerce is now a growing focus and Johnson emphasized that innovative strategies remain critical.
Getting it right
Clearly, Johnson's testimony highlights the fact that Cadet Heat is doing a lot of things right in our modern commerce, and increasingly ecommerce, environment. Let's look a little more closely at these admirable efforts.
- A focus on the consumer: Cadet Heat recognizes that the shopping experience today is all about the consumer. Brands can't sit back and assume that retailers will take care of this aspect for the production companies - they need to be proactive. Cadet has done this by revamping its packaging and website, as well as embracing ecommerce.
- A more holistic product content experience: Johnson noted that younger customers want "their entire buying journey to happen on their smartphone, tablet or computer from the comfort of their home or truck" - that means the content experience needs to be the same across every platform. Ahhh, this is music to our 'distributed commerce' ears.
"30% of shoppers buy products online and pick up in-store."
Perhaps the most impressive aspect of Cadet's efforts is that the company has made these changes and commitments despite continuing to rely on its brick-and-mortar business. That's a key point: The digital realm matters tremendously even for companies with a predominantly physical presence. Shoppers today are doing a huge amount of research online before setting foot in the store. What's more, 30 percent of shoppers buy products online and then pick up in-store, according to the most recent Retail Info Systems News Shopper Experience Study.
Brands need to make sure that consumers have access to all the information they need to make a confident decision before they step foot in the store. This begins with an ecommerce, digital strategy with robust product content.
Going further
All that being said, it's also worth noting that Cadet Heat could take their emerging ecomemrce strategy further. Most notably: Cadet - and other companies like it - need to focus even more on developing richer product content for distributed channels. A study from Comscore and UPS found that 73 percent of regular online shoppers consider detailed product information to be the most important factor throughout the search and selection process.
That means it's not enough to develop a website with basic product descriptions. Brands need to make sure that all of their information is accurate, well-rounded (multiple images, usage bullet points, etc.), and that it is consistent across every channel. Johnson recognized this, but there's room for growth. After all, 55 percent of consumers compare prices on mobile devices, according to the RISN survey. As shoppers conduct these price comparisons, they need to come across the consistent product info.
Cadet Heat is a great example of how important adaptability, and particularly a deep focus on the consumer experience, is to today's retailers. It's also a great example of the need to continue pushing forward in these efforts. Whether you're in the business of heaters or hot sauce, a focus on consumers via product content is a direct path to achieving success in our click-and-brick commerce world.