5 Most Innovative Strategies for D2C Apparel Brands
Barb Mosher Zinck | December 17, 2019
With over 400 direct-to-consumer (D2C) brands like Casper, Warby Parker, JustFab, Everlane, and Bonobos offering a range of consumer goods, D2C brands are predicted to account for almost 40% of online purchases in the U.S. within the next five years, according to a 2019 eMarketer report.
The market is becoming increasingly competitive, which is why innovation is critical for D2C apparel brands. Here are the most successful strategies D2C apparel brands implement to win mindshare — and market share.
1. Leverage Content to Create a Lifestyle Brand
Successful D2C brands don't focus solely on selling products. They also focus on promoting a unique lifestyle where their product is beneficial. Consider whether your brand stands for something bigger than your products.
Content marketing recognizes the values and ideas of customers and tells stories about those values. It demonstrates to customers that a brand stands for something important — something more significant than a product.
Outdoor Voices is a D2C apparel brand that sells technical exercise apparel. The brand operates with the mission of getting people moving. For this brand, it's not about being the most athletic or the strongest — it's about what makes people happy and healthy. Outdoor Voices publishes The Recreationalist, an online magazine that provides a wealth of content around being active.
Think about how your brand can adopt storytelling to promote the things you stand for and how it could relate to your customers. This tactic could be in the form of a blog, community forum, or anything that would connect to your unique brand mission.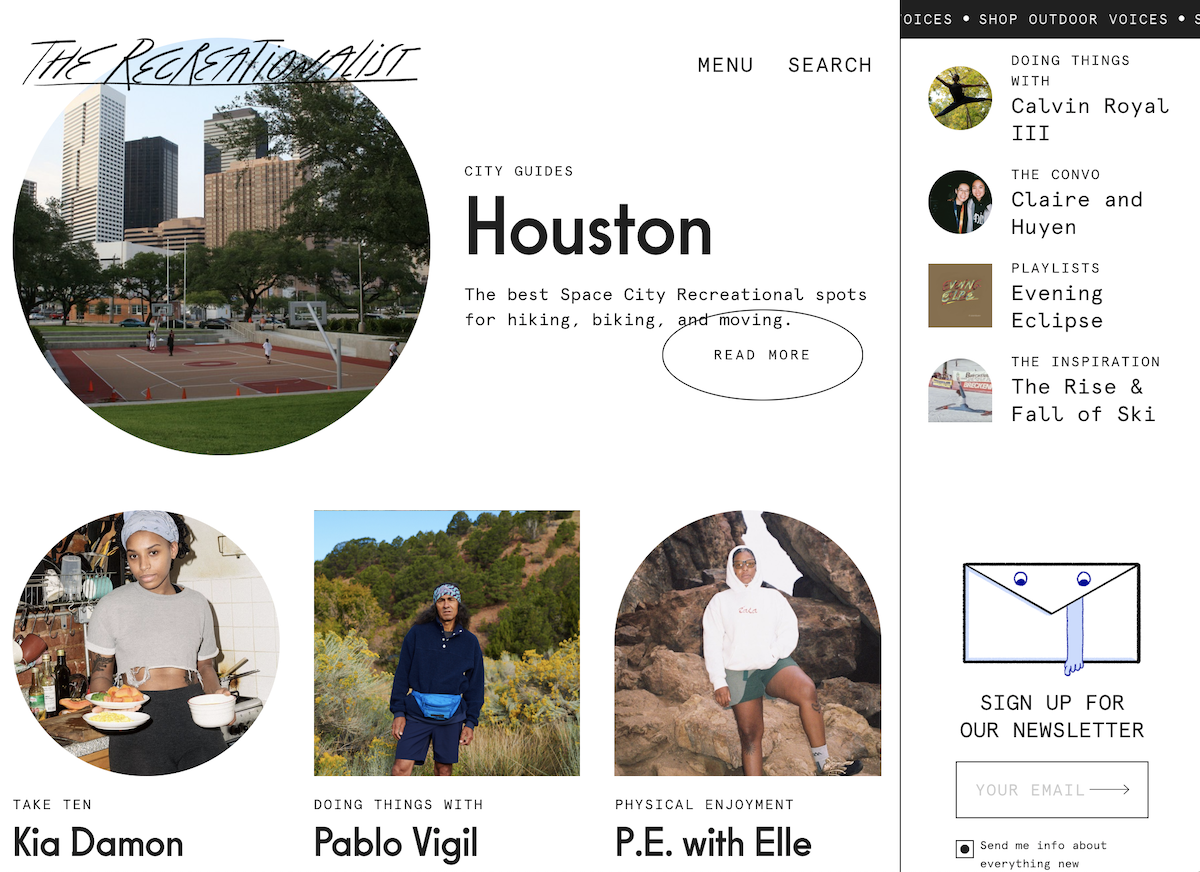 Image Source: The Recreationalist
2. Focus on a Single Product Line — at First
The most successful D2C apparel brands focus on a single product line to start. Bombas started by only selling socks, ThirdLove sells bras, and Bonobos started by selling pants. This strategy allows brands to hyper-focus on creating the best quality product.
According to CB Insights, this allows brands to "cut through the noise and get people's attention, to brand your product as 'the best.'" With so many options available on retail websites like Amazon, selling just one product is a prestige move that establishes a brand as the best. This strategy also gives brands time to perfect the product to ensure they are delivering what customers want.
"We set out to rethink a product that was an afterthought in the marketplace," said Bombas on its website, "Two years of research and development led to seven material improvements to the design, performance, and comfort of the everyday sock. And we continue to innovate with each successive production run."
3. Champion Social Awareness
For every pair of socks or t-shirt Bombas sells, it donates a copy of the same item to a men's shelter in the U.S. It has donated over 28 million items because it saw a need to bring awareness to an issue within its community.
There are also D2C companies that factor in environmental or social concerns into the creation of their product lines. Summersalt, a D2C apparel brand that sells bathing suits and travel wear, is committed to sustainability, stating that both its clothing and its packaging are eco-friendly.
For brands that are true to their values, loyal customers will come, and they will often pay a premium. A 2019 eMarketer webinar, "D2C Brands: How Digital Natives Are Disrupting Traditional Brands and Retailers," stated that 36% of Gen Zers and 27% of millennials are willing to an extra 6 to 8% more for socially-compliant products.
4. Support Multiple Distribution Models
Some D2C brands start by selling directly to customers through their websites and later move to also offer products through additional distribution models, such as online marketplaces like Amazon or at physical stores.
While Bonobos started by selling pants D2C, it now has Guideshop locations where customers can get personal fittings. It also makes its products available at Nordstrom and other specialty stores. A multi-distribution model can give brands the best of many markets.
Brands must ensure consistent customer experiences to ensure this strategy's success. A product information management (PIM) system can help brands manage product and marketing content in a central location. PIM helps brands remain agile in their approach across channels and easily update content to adapt to changing retailer requirements.
5. Implement Influencer Marketing
D2C apparel brands often avoid traditional marketing channels to promote products, opting instead to focus on social media and other digital marketing tactics to build awareness. Influencer marketing is one of the most popular social media tactics, and it's having a substantial impact on many D2C apparel brands.
According to a 2019 survey from the Interactive Advertising Bureau (IAB), four in 10 D2C shoppers in the U.S. became interested in a brand after following a celebrity or other paid influencer on social media. These shoppers were also almost three times as likely to have their perceptions of a brand impacted by this interaction.
If you don't have the budget to hire one of the Kardashians to promote your products, your brand could consider a micro-influencer. A micro-influencer is an individual who has a smaller following than most celebrities — generally between 1,000 to 1 million followers — but is regarded as an expert in his or her niche.