How Leading Beauty Brands Activate Content to Win Across the Digital Shelf
Carrie Dagenhard | January 28, 2020
Fledgling, direct-to-consumer (D2C) startups have recently disrupted some beauty brands with generations-long legacies. Select store brands have also unseated trendy, high-end manufacturers in consumer popularity. Rapid and unpredictable change is the new norm for the market — all thanks to digital transformation.
The way shoppers learn about brands, research products, compare options, and make purchases often happens with little-to-no face-to-face interaction. A buyer may never even step foot in a store in some cases.
As more of the buying journey happens online, it's easy for brands to feel like it's out of their control. But brands have more power than they may realize, as activating content can help brands across industries win on the digital shelf.
Activation for Digital Shelf Success
Leading brands utilize activation, which helps brands unify in-store and online workflows, create engaging product experiences, and connect with their entire commerce ecosystem. But retailers want unique online experiences, leading to continually shifting requirements and time-consuming processes for optimizing product content.
Implementing a syndication solution can help beauty brands not only move content but also ensure they can keep up with these changes. Successful content activation includes everything from images, video, comparison charts, and other critical product information. From the descriptions brands share to the quality of their product photos, successful brands maintain a cohesive brand identity customized to every retailer audience.
Here are five examples of brands that are activating product content in a way that engages every audience while maintaining brand consistency across the digital shelf.
1. Q-tips
Just because a brand has become a household name doesn't excuse them from providing detailed product descriptions and rich media to assist shoppers in the decision-making process. Personal care brand Q-tips understands this fact.
The popular cotton swab, manufactured by Unilever, offers consumers a wide variety of uses — all of which are explained in their detail-rich product pages. The brand acknowledges its most common and well-known use as a personal care tool, as well as its applications for creativity and crafts, cleaning electronics and jewelry, baby and pet care, and more.
Q-tips also recognizes that, when consumers are shopping for daily hygiene products, they want something familiar and reliable. It's images clearly depict the product, and give an idea of its relative size for those who may not have purchased Q-tips before.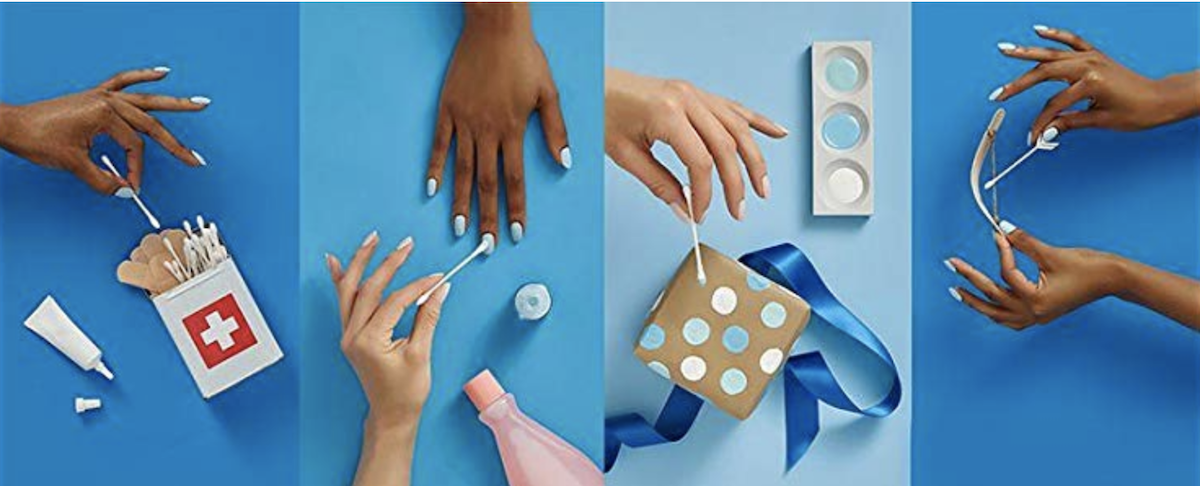 Image Source: Q-tips Amazon
2. TruSkin Naturals
When a shopper compares facial treatments, cleaners, or supplements, he or she is usually looking for two key pieces of information: What's in the product? How will it fit into his or her daily routine? TruSkin Naturals, a skincare line that specializes in serums, cleansers, moisturizers, and toners, takes care to acknowledge these concerns up front.
As one of many skincare lines available today, TruSkin Naturals recognizes the importance of standing out, capturing shoppers' attention, and giving them everything they need to make an immediate purchase decision.
On Amazon, the brand starts by providing above-the-fold bullets describing how and why customers use the product, primary ingredients, its cruelty-free status, and its manufacturer guarantee. By answering the most frequently asked questions up front — and encouraging reviews — the brand brings buyers closer to converting.
3. Oral-B
Dental hygiene is an essential part of personal care routines, and electric toothbrushes make it easy and effective. But because this is a more significant investment than a standard disposable toothbrush, consumers often compare multiple options before completing a purchase.
Oral-B took these consumer habits into account when activating product content for its "Oral-B White Pro 1000" rechargeable electric toothbrush. In addition to providing critical facts via bulleted descriptions, the brand made use of the product page real estate unique to each retailer.
The brand used the allotted manufacturer space on Amazon's product page to share eye-catching images, straight-forward product details, and side-by-side comparisons with other models. To beat out different brands, Oral-B doubled the image count of its competitors and encouraged verified buyers to leave reviews.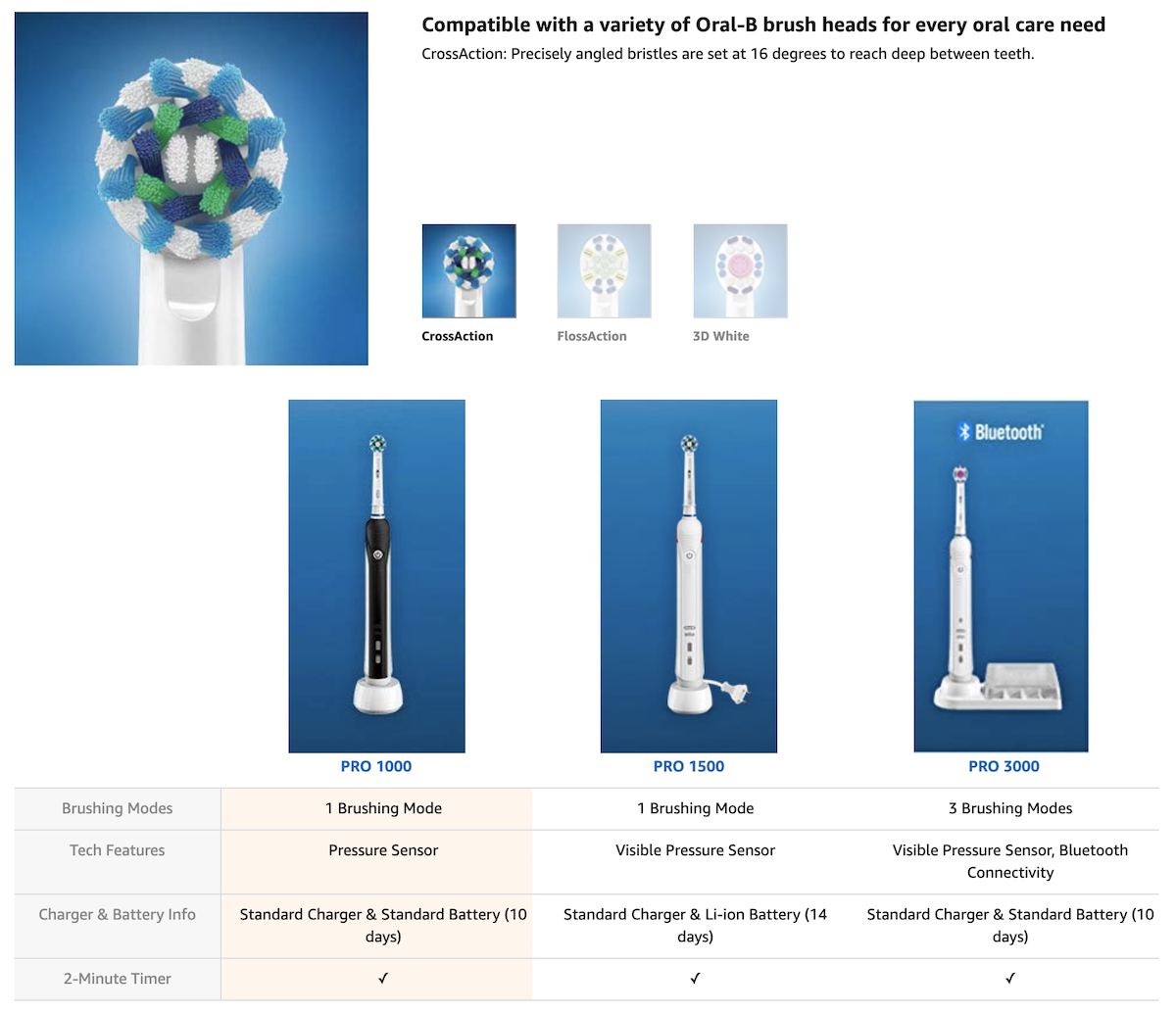 Image Source: Oral-B Amazon
4. Ultrax Labs
There's a reason the haircare section of most drugstores and cosmetic stores is one of the biggest: There are countless combinations of hair types, textures, and needs to meet. People often spend a great deal of time searching for a product that solves their unique hair challenges, especially when looking to overcome hair loss.
Ultrax Labs manufacturers a hair growth stimulating shampoo, conditioner, and supplement made with caffeine — which it says helps reduce hair loss and stimulate growth by blocking testosterone within the skin.
To set the brand apart from the many other hair growth treatments, Ultrax Labs starts by leveraging the product title field to communicate its claim. The brand then used the Amazon product page's manufacturer space to address common questions and delve deeper into the science behind its active ingredients.
Asking customers for feedback also earned the brand 7,700-plus reviews on Amazon, including several convincing before-and-after images.
5. Braun
When shoppers spend $100 or more on grooming equipment, they're seeking high quality, high value, and a brand they can trust. Braun, a nearly 100-year-old German manufacturer of consumer products, has a legacy of developing reliable technology. But, just as with Q-tips, it takes more than a well-known name to set a brand apart online.
Instead of creating a large volume of product information, the brand focused its attention on highlighting only essential, key features. It then allowed its aesthetically pleasing imagery, captivating videos, and customer reviews to tell the rest of the story.
Doing this freed up product page real estate on retailers like Amazon, Target, and Bed Bath & Beyond for more extensive comparison charts and details about brand values.

Image Source: Braun Amazon
Memorable Brand Experiences
Roughly $2.9 trillion in consumer spending will be digitally influenced by 2023, according to data from Forrester Research. It's increasingly critical for brands to keep product content consistent. Whether a shopper uses Amazon, Walmart, CVS, Walgreens, Costco, Target, or another retailer, they should enjoy the same high-quality and memorable brand experience across the digital shelf.