36% of the Top 25 Food Brands are Salsify Customers
Andrew Waber | December 12, 2018
Salsify-enabled brands like Campbell's, Barilla, McCormick, and Heinz achieved top-25 ranks in a recent L2 study on high-performing food brands. Product page and Amazon performance were a key part of these brands' high scores. But there's even more to glean about the winning behaviors in this group, that any brand can adopt.
Brands using Salsify account for 36% of the 25 highest performing food brands on digital channels. When a brand brings on Salsify, it's the product of multiple teams and leadership aligning on a digital-focused path for growth. Companies using our platform often invest in other initiatives on the marketing side of the house to aggressively capture market share.
There's a lot to unpack in L2's reporting, but it's clear that high-performers execute exceptionally well on elements like merchandising on product pages drive positive impacts beyond just a specific retailer. The latest in L2's Digital IQ report series acts as a granular breakdown of the digital strength of a brand's presence across 19 criteria within site and ecommerce, digital marketing, social media, and mobile. You can see a breakdown of the methodology below, with L2's weights for each criterion located under the corresponding icon: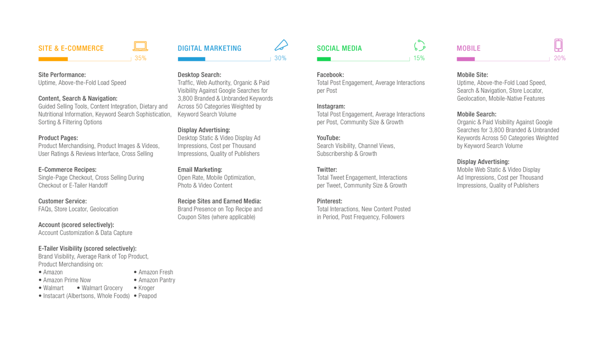 Within the report, an L2 graphic shows how Google is amplifying the impact of these top product pages via the retailer's own strength on the search engine, including both paid and organic search.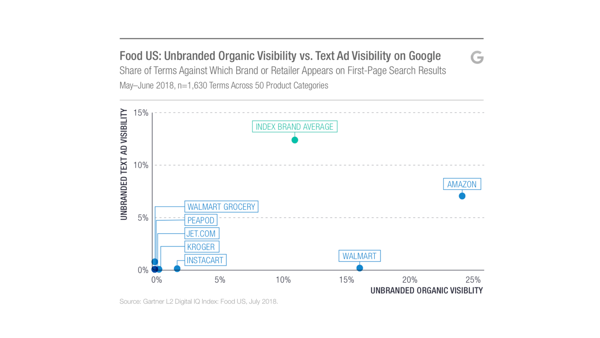 This is particularly true for Walmart and Amazon, as L2 explains in the report text, "Rather than compete with retailers that sell their products, brands playing in these categories have an opportunity to take advantage of the visibility of these ecommerce platforms and coordinate their investments for customer acquisition."
As we've observed, average consumers trust Amazon and Google to give them proper product recommendations at rates that significantly outpace brands themselves. Winning brands are aligning their efforts with this reality, giving themselves increased visibility on key, unbranded search terms via their strength on retailer sites, while utilizing deeper content like recipe recommendations to further separate themselves from the pack.
As these top brands show, winning on digital channels requires a broad effort across the organization, and an intelligent utilization of resources to execute quickly on key elements to drive the most sales impact. It helps to have tools like Salsify, which analyzes product page performance and provides recommendations into things like newly-popular related search terms, that can help guide efforts for product page content updates right within the platform, while also providing additional ammo for SEM or D2C efforts that may lay outside of the core ecommerce team.