2020 Ecommerce Data: What Do Top-Performing Brands Do Differently?
Salsify | March 26, 2020
Ecommerce sales in the U.S. grew by a sizable 14.9% in 2019, according to the U.S. Department of Commerce, contributing to the over $600 billion generated by digital brands and retailers. While there are still many questions about how recent shifts in consumer demands will impact shopping behavior in the long term, early signs have shown that ecommerce will only continue to expand.
For those hoping to grow their digital shelf presence, much can be learned from top-performing brands. These brands, regardless of vertical, share the same focus area: product content.
Between developing engaging content experiences and activating those experiences at scale across new retailer channels, these brands understand that content is more important than ever.
Our 2020 research using our proprietary content grader compared top-selling products on Amazon and Walmart to the lowest-performing products to identify what top brands do differently. We found that top-performing brands have capitalized on content by ironing out their internal processes and strategies to ensure it's prioritized within their organizations.
Engage Shoppers With Compelling Product Content
Top-performing brands understand the high levels of competition on the digital shelf and take proactive steps to make their products stand out. For many brands, this entails creating engaging product experiences across channels.
From 360-degree image spins and comparison charts to editorialized content, videos, in-depth images, and graphics, enhanced content offers more information to shoppers than a basic product page. Enhanced content, which is also known at A+ content on Amazon and rich media on Walmart, merges brand and product storytelling with an immersive consumer experience.
Consumers like the highly engaging and customized feeling of the experience. Beyond making the shopping journey more colorful, the consumer gets the information they are seeking in an on-brand way. As a result, enhanced content can increase conversation rates by up to 10% in most categories, according to Salsify 2018 internal data.
Based on our 2020 research, the top 10% of brands on Walmart stand out using the following:
Percentage of pages with enhanced content: 35%
Average title character length: 61
Average description character length: 645
Average number of bullets: 7
Number of images: 7
Average number of reviews: 573
Compare those averages to those of the lowest-performing brands on Walmart:
Percentage of pages with enhanced content: 6%
Average title character length: 61
Average description character length: 462
Average number of bullets: 5
Number of images: 4
The average number of reviews: 31
During our research, we also noted 62% of the top-ranked product pages under Walmart's beauty category use rich media. On Amazon, this number is 30%. For low-ranked product pages, a mere 14% of Walmart's beauty items and a staggeringly low 0.70% of Amazon's beauty and personal care items use enhanced content.
If that's not convincing enough, look at the toy category. On Walmart, 62% of the top-ranked toy product pages use rich media and a meager 4% of the bottom-ranked. On Amazon, the story is similar with 35% of the top-ranked pages using A+ content and 0.50% of the bottom-ranked.
It's clear to see bottom brands have not made content a priority. Bullets are incomplete, there aren't enough images and information, and consumer questions are left unanswered. As a result, their bottom-of-page rankings — and presumably sales — indicate the lack of effort.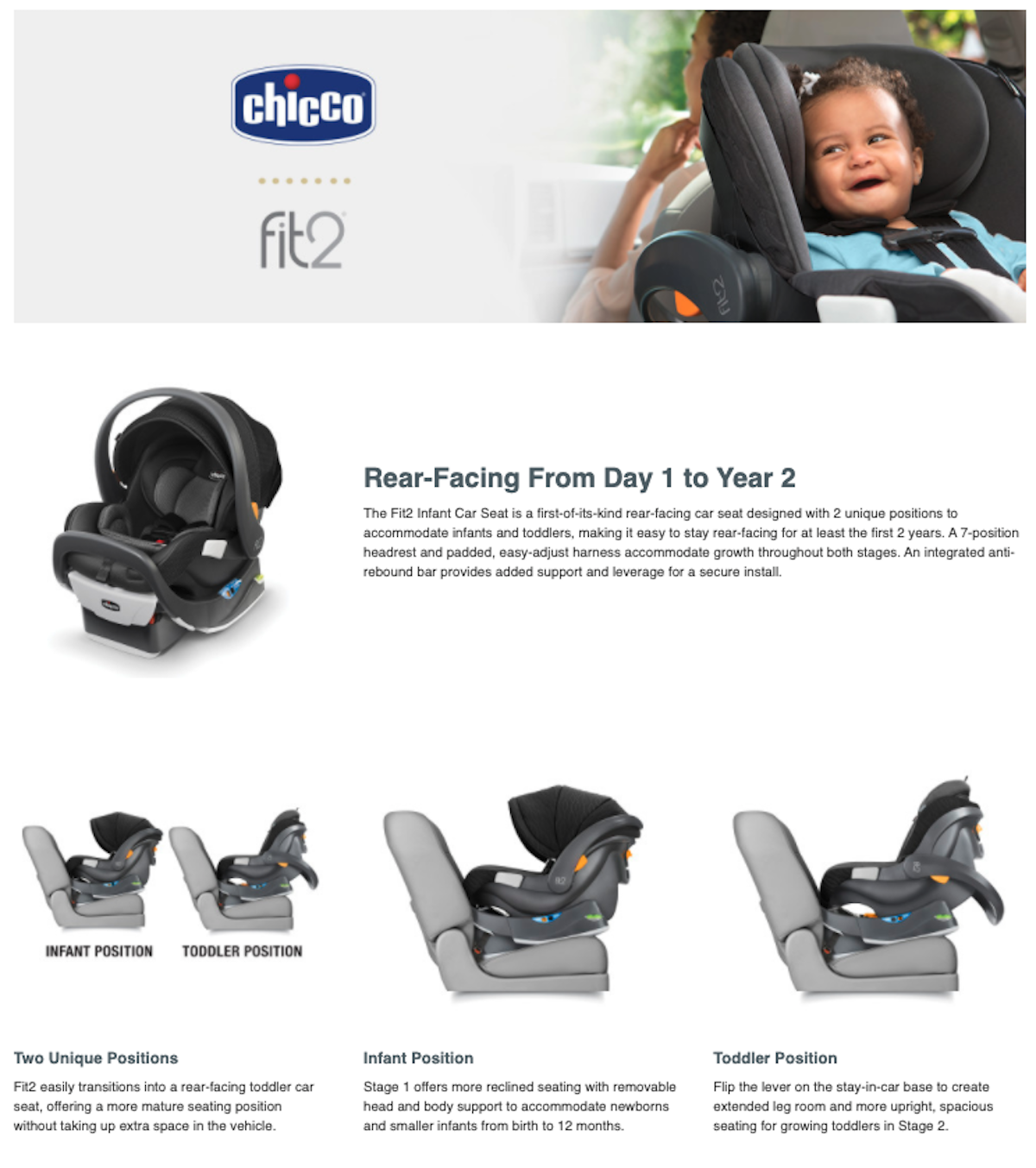 Image Source: Chicco Walmart
Centralize and Activate Content With Speed and Accuracy
The overwhelming majority of shoppers (88%) rely on digital product content to decide where to buy, according to our 2018 study. Every moment a product is not listed online is a missed opportunity to connect with shoppers. Top-performing brands know this and have enacted internal measures to quicken the time it takes to get a product live.
But for some brands, there's a different reality: They face problems with scattered product information within the very walls of their own company. Tracking down product content can lead to back-and-forth emails, endless spreadsheets, and uncertainty about content accuracy.
Many top-performing brands rely on a product information management (PIM) platform to centralize critical product information, creating a hub for teams across departments to pull the most accurate and up-to-date information quickly.
Navigate Retailer Requirements to Activate Product Content
Once you've created and centralized your product content, it might seem that activating it across your channels would be simple. But every retailer has different requirements, which forces brands to maintain multiple versions of product content. The final push to get content live on a site can be one of the most challenging steps.
Syndication is just one essential part of a successful content-management process, as it allows brands to manage multiple versions of product content at scale. This process allows for better retailer relationships and gives brands the agility needed to keep content current, current, and consistent — across the digital shelf.
Top Brands Know Content Is Never 'Done'
During our research, we concluded that every brand has room to improve its content. Retailers shake up their algorithms. Consumer expectations evolve. As such, optimization and content improvement are ongoing efforts.
Brands that win time and time again on the digital shelf are continually anticipating and responding to shifts in the retail ecosystem. They can do so because they have the foundations of product experience management (PXM) in place.