What's unified commerce and how can it improve your sales?
Josh Mendelsohn | February 17, 2017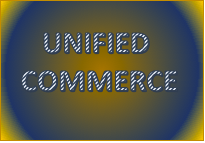 Takeaway: The days of disconnected retail silos are numbered: 85% of retailers agree that unified commerce is a major priority for their businesses. So what exactly does this approach mean to you and your business? Here's a hint: The consumer is central.
Quietly cropping up in many conversations about digital commerce and marketing over the past few years, the talk about unified commerce is now more of a rallying cry. Centralizing the point of sale around the individual consumer, and incorporating the systemic and technological changes unified commerce requires is a big, important job for meeting and surpassing consumers' expectations.
But first, let's back up a minute and understand what unified commerce means.
The individual consumer is the point of sale
Each individual consumer is the channel, and the
The consumer is technologically and figuratively central to sales. It's important to note this is not just rhetoric. Take a look at the
There is one version of the truth, maintained in real time
In-store transactions, saved digital cart items, mobile promotions, and other touch points unify and tell one story about the shopper. All of these details are connected and serve up relevant data, purchase history details, and promotions, to pave the way for the most consumer-benefiting transaction, regardless of the shopper's location.
A single, centralized commerce platform connects every purchase and engagement touch point
Consumer data, inventory distribution, order management, and merchandise planning are controlled by one system for everything: mobile apps, social media, POS, call center, web, partner sites, ad placements. How important is this? Forrester estimates that digital touch points impacted 49% of total U.S. retail sales in 2016, and that number is only growing.
Inventory availability is visible across all shopping channels, and each channel can pull inventory from the other as needed
If 80% of consumers expect to see local inventory availability online, it's time to make it happen.
Product content is uniform everywhere the consumer sees it
There is great importance in unifying your messages across all the digital channels and having one easy method of doing so. As omnichannel evolves into unified commerce, trying to keep up with product content updates across many channels risks creating multiple versions that require manual updating. These versions can easily get out of date. As your company moves toward unified commerce, your product information is connected in real time across each retailer or brand platform. Companies will still need to have a system that keeps content consistent for products that are sold across multiple retailers.
It's easy to become bewildered by the ever-changing list of buzzwords. As a quick refresher, here are the high-level differences between distributed commerce, omnichannel, and unified commerce.
Distributed Commerce is a more modern interpretation of e-commerce that includes the ability for shoppers to purchase directly from blogs, social media, articles and other media, without being redirected to another website. Omnichannel is a view from the consumer standpoint, where the shopping experience across all channels appears to be seamless and consistent, even if the backend technology is siloed and maintained by channel.Unified Commerce encompasses both omnichannel and distributed commerce, and even the non-consumer-facing technology is centralized.
Today would be the appropriate time to assess if 'channels' still dominate the mentality and nomenclature of your company, with an eye on how the internal teams are structured, how the creative is completed, how product content is maintained, how the technology aggregates consumer details, and how inventory is managed. After all, 'unified commerce' is another way of saying 'unified everything.'