What is product content? Thanksgiving edition
Josh Mendelsohn | November 23, 2015
For those of us who don't work at Facebook or CVS or Microsoft or some other mega brand in the advertising department, Thanksgiving can be stressful when someone asks "what are you doing for work these days?" It's a well intentioned question of course, but is often met with a response like "oh, I work at a tech company or I work in marketing for _______" without getting into the details. The problem is you can end up feeling bad about your job and your legitimately interested relative has no idea what you do. Pass the pumpkin pie.
I'm here to help. If you work with product content here are three steps to explaining what you do and why it's important.
Put your relative in their shopping shoes by asking them to pull out their phones. Ask them to open up their favorite shopping app - whether that is Amazon or Walmart or for the most forward thinking aunts and uncles... Maybe even the Jet app.
Ask them to search for a product they might want to buy or receive as a holiday gift. It doesn't matter what it is, with the endless aisle they should be able to find it. (Product content is even easier to explain if they can't, but let's assume they can.)
Ask them if they have all of the information they need to decide whether or not they want to buy it. Are there pictures, videos, a detailed description, height, weight, etc.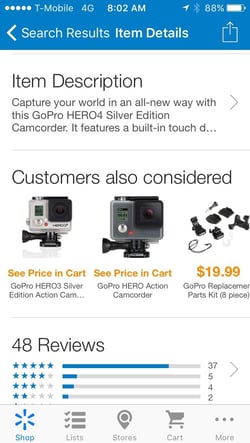 "Well aunt Alice, that's what I do. I make sure that all of that information that you just looked for is there so you can hopefully decide to buy my product. Because when it's not there - and easy to find and absorb, you're not going to buy it here. You'll go to another app or website, or you'll buy another product. Right?"
And there you have it. Aunt Alice gets it now. Maybe she doesn't know what a pain it can be to actually achieve that task, but she can now boast to all of her friends about the work you do and why it matters. It's definitely better than saying "he/she works in computers." Now about that pumpkin pie...
Happy Thanksgiving!