What Does It Take to Win on Wayfair and Overstock?
Cara Wood | January 6, 2020
Furniture sales have lagged in the last year. In November 2019, industry sales were up only 0.4%, according to the U.S. Census Bureau, while retail as a whole grew 3.2%. This lull means retailers like Overstock and Wayfair — retailers that built their reputations on serving this market with online innovations — must continue to differentiate their online shopping experiences without the guarantee of double-digit year-over-year growth.
Home and Garden Brands Have the Power to Win on the Digital Shelf
The majority of online visitors for Wayfair, Overstock, and other home websites participate in "webrooming," which is the process of browsing and researching big-ticket items online before buying. These shoppers expect web sites and mobile apps to have personalized virtual concierge, 3D-modeling, intuitive search, and personalized product recommendations.
The opportunity: Home and garden brands can control precisely how products are displayed on the digital shelf — everywhere the products appear. Brands must deliver the right product information, images, and other digital assets in the right context to influence the next sale.
But delivering channel-specific content at the speed and scale required isn't easy. Each retailer or distributor has different requirements and methods of data collection. The retailer requirements for Wayfair, Overstock, and other home and garden retailers change across product categories frequently.
For example, item set-up requirements for a lamp on Wayfair and Overstock are different.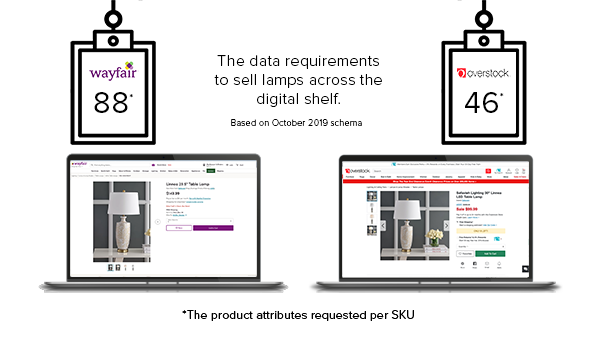 Syndication: The Right Content for the Right Place
At its simplest, syndication is about sending the right content to the right place. Sending data from Point A to Point B should be an open, transparent, and low-cost process.
Syndication can't begin or end with mere data delivery to grow product sales. Brands need the ability to customize content for every channel while ensuring a consistent brand experience. They also need the ability to refine this experience to drive discovery.
This process requires an integrated system that lets brands store and manage channel-ready versions of product information. One that allows brands to adjust data for one channel — or across the core data set — dependent on need. One that will enable brands to validate data against these requirements so they can deliver the best content for every channel.