What does it take to have the best furniture product content on Amazon?
David Gold | April 18, 2017
We went shopping for furniture and home goods on Amazon this week and thanks to our newly launched Product Content Grader were able to see just how well some of the site's brands are performing on product content. You can get your own product content score, or read below for the lessons in good product content.
Head of the class...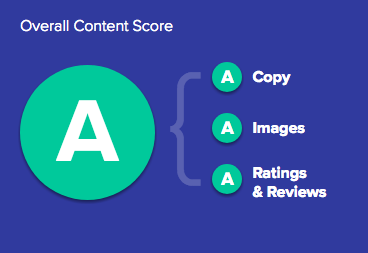 Dorel Living, which sells several juvenile and home furnishings brands, scored a solid A across 9 of its top products. You hardly need to look beyond its product page for "Dorel Living Faux Marble Lift Top Storage Coffee Table, Black" to see why. The brand provides 10 high-res images and a robust written description. Also worth noting is the extensive A+ content section which has a catalog feel and provides detail on the hinged top functionality and material options available.
5 Common Mistakes Made with Furniture and Home Goods Product Content
We analyzed other furniture and home goods product pages on Amazon and ran into many brands that were making some or all of the common mistakes below. Try our free product content grader to make sure that your brand is not making the common mistakes:
Lacking multiple images.

Our recent customer research found 82% of furniture and home goods shoppers want to see a minimum of 3 images per product. Our analysis found that many furniture product pages only had one or two image, often these were low resolution and did not allow shoppers to zoom in. Furniture shoppers want to get a sense of the size, color and material furniture is made of. In addition, they want to understand what the piece will look like from every angle. When choosing images, consider the ways you can convey all of these details with high-res images.

Using short or repetitive product descriptions.

We noticed several furniture brands were using feature bullets as a replacement for a detailed product description. The detailed product description is your opportunity to tell the story of the furniture piece. Shoppers want to image a piece of furniture in their home before buying it. In addition to calling out some of your products' best features, use the detailed product description to help paint that picture: describe what the piece is, how it was made, and tell shoppers what role it can play in their home.

Getting more negative product reviews than positive ones.

Even the most high quality products will occasionally get negative reviews. Rather than expect to have only positive reviews, pay close attention to the ration of good to bad. Many negative reviews for furniture are a result of buyers having difficulty assembling pieces or getting sizes, materials or colors they were not expecting. Where you can adjust images and descriptions based on any confusion shoppers had. In addition respond to negative reviews to clarify or offer generous return policies to offset the negativity.

Forgetting to specify exactly what's included.

Many common questions from furniture shoppers are about what is included in the shipment. If your product requires some assembly, consider including an unpacking video that clearly shows what comes in the box and what tools a consumer may need to build the piece of furniture. Other brands use itemized lists or charts as part of their A+ content on Amazon so that there is no question what will arrive when a shopper hits "buy."

Leaving out interior and exterior dimensions.

Customers want to know where the furniture they buy will fit. They also want to know what will fit inside or underneath their furniture. Provide the exact dimensions, consider including a sketch or photograph that explicitly shows each measurement. Be sure to include dimensions in the relevant units of measure for each of your target audiences.
Do you recognize these common issues? Providing the right product content to Amazon can be the difference between getting your products discovered and bought or missing the sale. Don't forget to get your free product page assessment by entering your brand on our free product content grader.