Trend Watch: P&G ad share on retailer sites is up by nearly 30%
Andrew Waber | October 26, 2017
P&G has made what I would argue are significant changes in terms of the percentage of their ads going to ad products directly tied to retailers. The graph below, from a brief analysis and blog post by Aaron Rabinowe at L2 Research earlier this month, demonstrates this.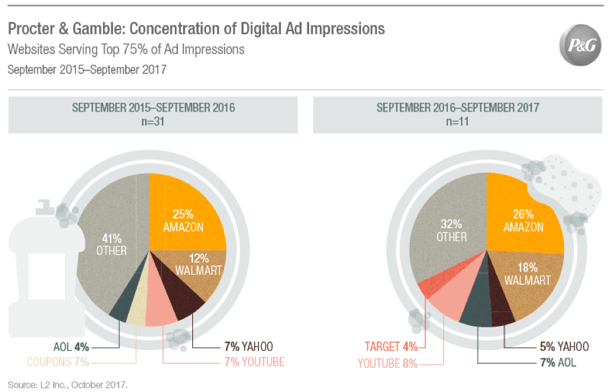 In the 2015-2016 graph, 37% of ad impressions were tied to retailer sites. In 2016-2017, that number rose to 48%. That's a 29.7% increase – pretty significant considering P&G's marketing budget is $2.4 billion.
It's very likely that this increase in retailer-oriented ads indicate a marked shift in how P&G is measuring its advertising success. Rather than traditional metrics like impressions or awareness, which favor a wider distribution of sites through RTB trading desks, the move to retailer ads means that P&G is steering its online advertising activity to more trustworthy sites, while that also aiming to drive actual purchases. The latter represents a big difference from how CPG brands have traditionally thought about their advertising.
Prior to my time at Salsify I ran market insights at two different advertising technology companies for about five years in total. A lot of my work related to measuring ad prices based on a variety of factors – for example, video ads vs. image ads, retargeting-focused ads vs. prospecting ads.
It was this experience, and the trends I've been following in the ecommerce space at Salsify, that got me interested in Rabinowe's analysis, which identified both the sites where P&G ad impressions showed up, along with frequency.
You may remember that P&G's Chief Brand Officer Marc Pritchard notoriously stated his company's intention to overhaul its online advertising back in January. However, Rabinowe argues that the data indicates P&G has actually had likely kept its ad strategy fairly static. He writes:
The biggest change is that the bulk of P&G impressions now appear on far fewer websites. Specifically, L2 researchers found that the number of websites serving P&G ads declined by about 65% year-over-year. However, the relative shares of indirect and direct impressions did not change significantly, indicating that the advertiser may not have made major adjustments to its ad buying strategy.
This conclusion gives me pause. Note the phrase – "shares of indirect and direct impressions." The 29.7% increase in the share of retailer-specific impressions, in my view, should be seen as significant. This is especially true when viewed through the lens of how retailer-sold ads appear on retailer sites, as seen in the below.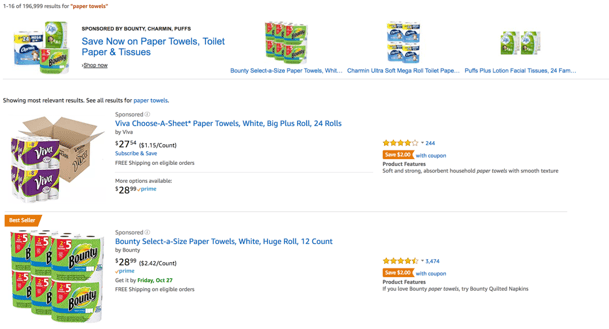 While I can't speak to the return on ad spend (ROAS) of P&G, it's possible P&G's budgets have remained largely similar, but the company is spending more on these direct response type ads through the likes of Amazon, Wal-Mart, etc. If the traffic is garnering real sales results, it's worth the extra allocation.
This is a strategy shift other brands should be taking into account. As compared to, say clothing or lifestyle brands who jumped early on D2C sales and direct-response ad products as ecommerce has grown, CPG brands had been largely content to follow an awareness-based strategy. This changing should signal some urgency for other brands.
Every brand manufacturer who sells online needs to begin employing and testing retailer-run ad products sooner rather than later. Dedicating resources to these campaigns will allow for better optimizing of channels and associated ad products, and also to identify which classes of products perform best within a target market.