Top 5 Takeaways From the Amplifi 'Under the Hood: Salsify PIM' Report
Beau Blinder | June 22, 2020
Data management consulting firm Amplifi recently took a close look at the Salsify Product Information Management (PIM) platform. Salsify got an 8.13 out of 10 on its new "Under the Hood" PIM framework which assesses software for data modeling, data governance and operational use capabilities..
The authors offered strong praise for Salsify's increasing number of cross-functionality tools, noting the new features left them feeling "confident that we can solve brands' complex PIM requirements" with the system.
"Salsify is on a trajectory to upset the current PIM status quo in the brand manufacturer space," the report reads. "Salsify's platform has undergone a radical transformation over the past 18 months, evolving from a syndication tool with light PIM capabilities to an enterprise-grade PIM capable of imposing complex governance requirements and creating robust data models."
The full report provides a list of use cases and test scenarios that are helpful during any PIM evaluation. Here is a quick summary of the highlights.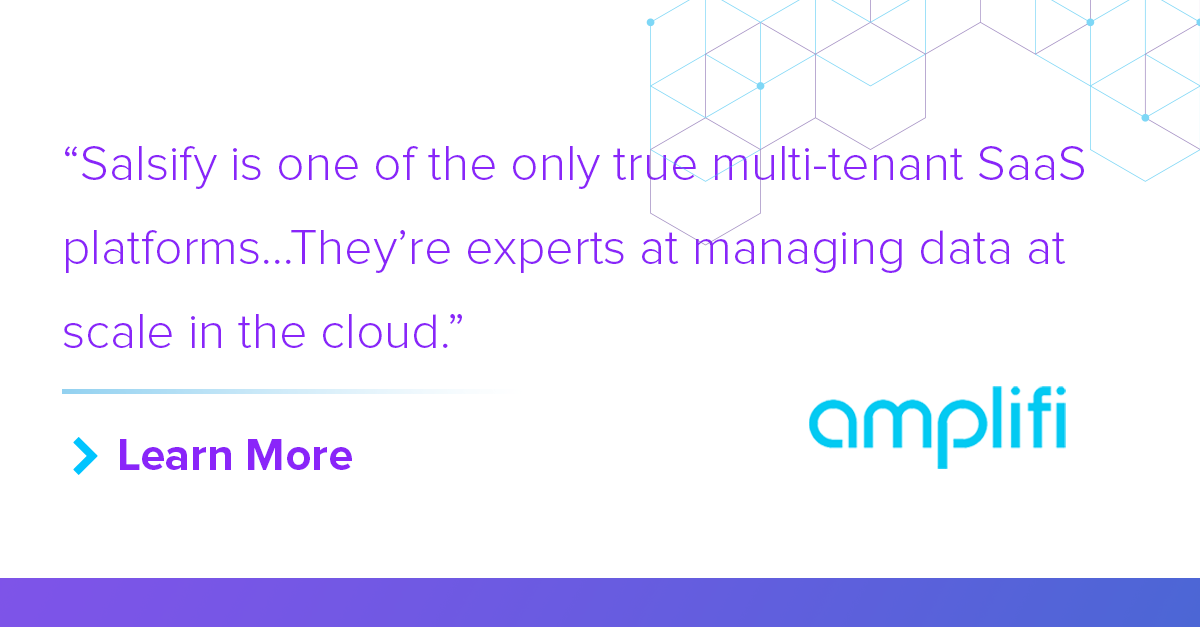 Amplifi approved of Salsify's "very familiar templating/population experience," noting the in-app features provided "all the attention to usability that Salsify is known for, even when working at scale."
In-app image support and transformation also "exceeded Amplifi's expectations," with the authors noting Salsify had paired a powerful cloud asset-management platform with an easy-to-use interface for business users.
The report also points to functions like custom field types and validations, as well as its support for enhanced content, including embedded videos.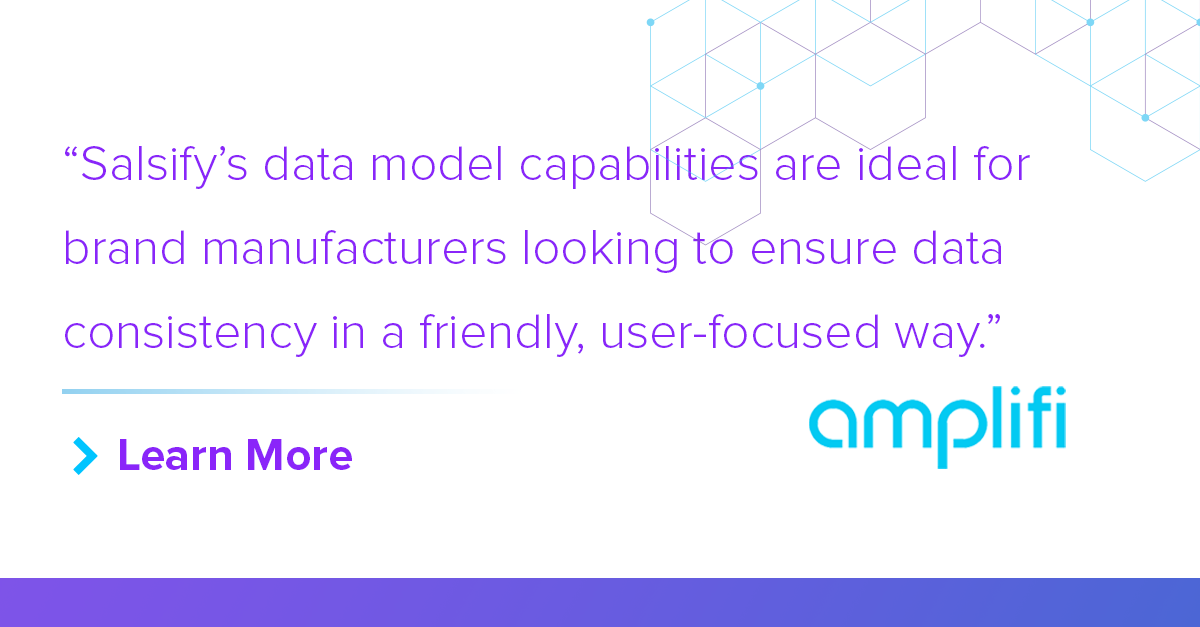 The report said Salsify's data modeling is on par with other PIMs. "Salsify's ability to manage channel-specific requirements differentiates its integration capabilities from most offerings on the MDM marketplace today," the report reads. "Customers do not need to worry about right-sizing the environment and managing IT resources over time as their needs shift and increase to meet new business demands."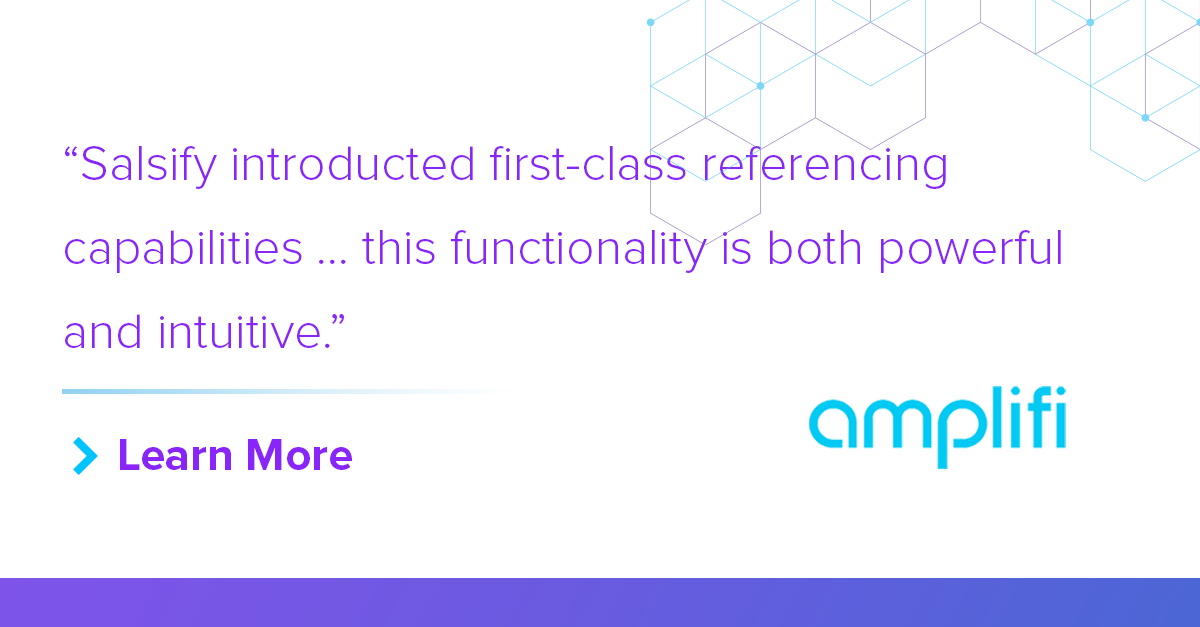 Salsify's data-management features "far exceeded" Amplifi's expectations. Reviewers said they assigned data ownership during their test "throughout the product lifecycle with ease," and noted that assigning user roles and permission was "very simple for an end-user to do."
"To maximize the value of a PIM platform, it is important that the solution be deployed as far, as wide, and as deep in an organization as possible," the report reads. "Operationally, we want data owners and consumers to be as close to the data as possible while keeping the organization's interests protected via flexible, yet effective, governance guardrails."
The group was also impressed by the platform's tiered product structure, which includes an unlimited level of variation in its taxonomy — with Salsify, organizations now have unprecedented control over how their products are listed in a given category, carefully managed through an intuitive user interface (UI).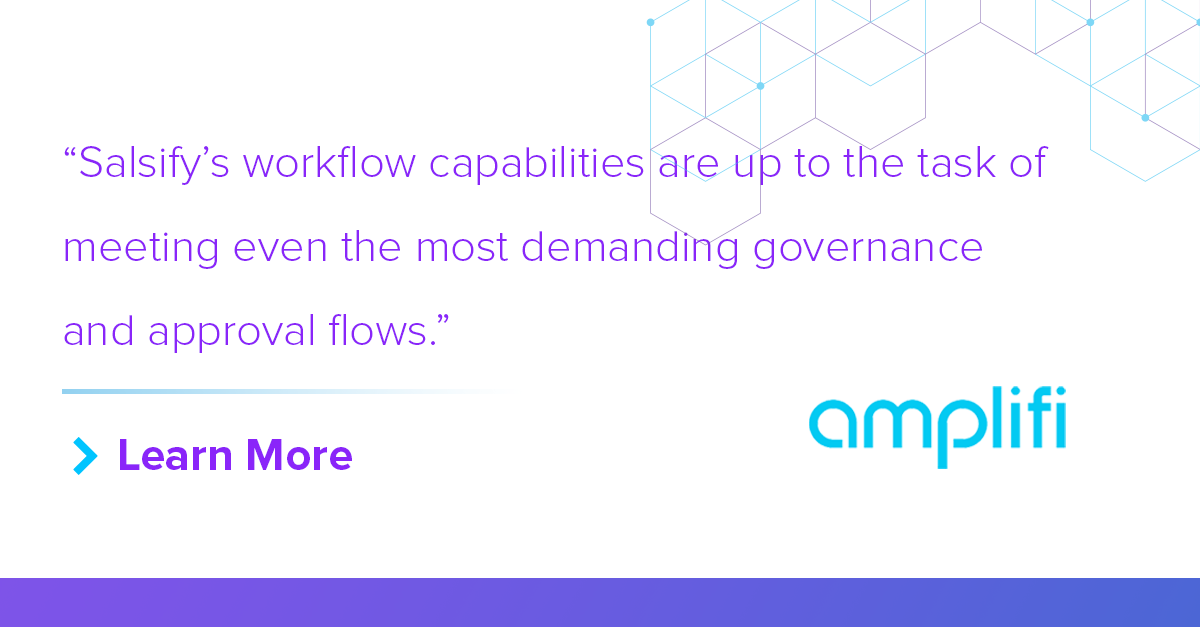 Amplifi reported that they felt "confident that Salsify workflows are flexible enough to model complex processes while also being user-friendly.
"Balancing this type of complexity with usability is a challenge and something that Salsify has done well," the report reads.
In particular, the reviewers gave high marks to Salsify's automated workflow process, which allowed them to successfully model most of their test cases with "out-of-the-box functionality."
"By replacing as many aspects of the data lifecycle with algorithmic processing and prefilled values, results will be quicker, more accurate, and more valuable to busy business users," the report notes. "Overall, we were very happy with our ability to create automation within the platform."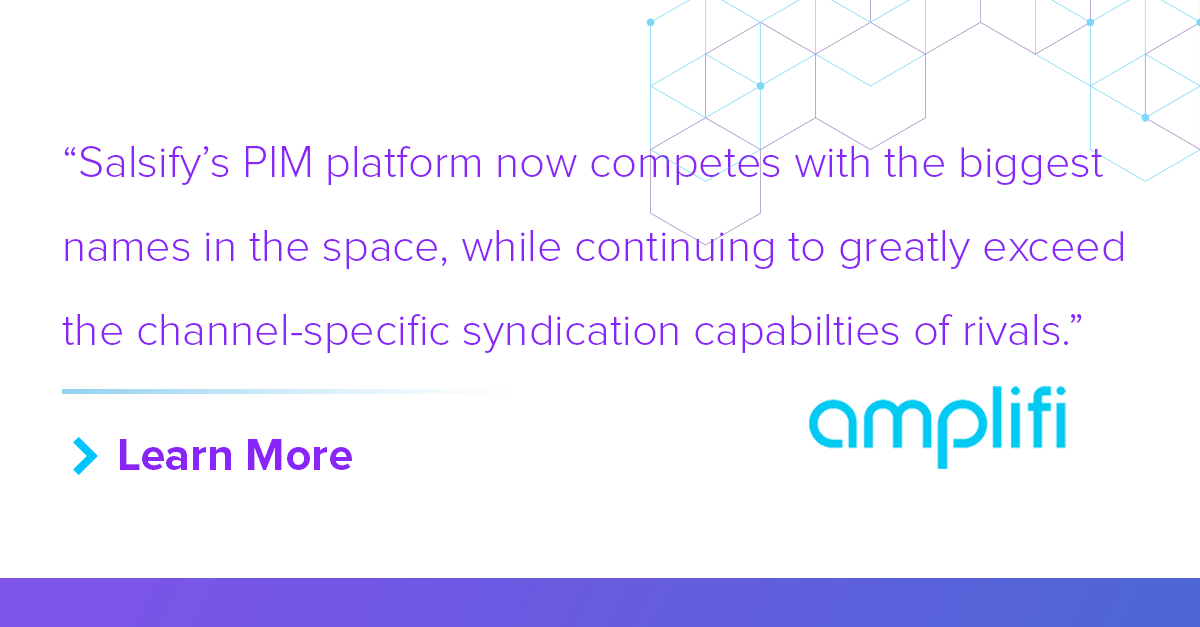 Due to Salsify's integration of enhanced content, syndication, and digital asset management (DAM) capabilities alongside such a high-performance PIM, it's well-positioned to remain a leader in the master data management (MDM) space.
Amplifi noted Salsify's connection team, which works directly with retailers to develop APIs and other automated processes for users — allowing the UI to provide "a surprising degree of fidelity and control" over their data as a result.
"[Salsify's] years of experience in this space means they understand that syndication is not a push-button experience, and leverage on-premise employees at major retailers to help strengthen relationships, advocate for brands and resolve issues as they arise," the report concludes. "Salsify remains the leader in content syndication, able to model and publish to any internal or external endpoint."
As a quickly growing product information management (PXM) platform, Salsify meets all the standard requirements of a PIM, fused with a number of additional functions, including workflows, DAM, enhanced content, and syndication — all tools that are essential to any brand looking to stand out on the digital shelf.