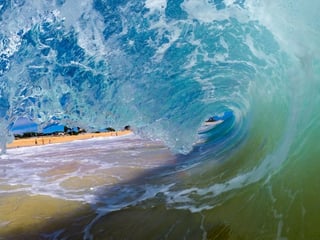 There's no doubt that digital retail is booming: E-commerce sales hit a Black Friday record of $3.3 billion in 2016. But does that mean brick-and-mortar is losing steam? According to experts, the answer is a resounding "no."
In fact, one of the biggest changes in consumer shopping behavior is not the switch from brick-and-mortar to digital, but how deeply digital, mobile and brick-and-mortar influence each other. In particular, digital devices now influence a majority (56%) of US in-store sales, up from 49% last year, according to the latest digital influence study from Deloitte. The same report also found that an amazing $0.56 of every dollar spent in a store is influenced by a digital interaction.
Digital's influence on brick-and-mortar sales has actually quadrupled since 2013, the study determined, most importantly because of mobile devices: In 2016, mobile devices influenced 37% of in-store sales, up from 28% last year and just 5% in 2013.
The Power of "Phygital"
One recent article calls this phenomenon "phygital" — that is, "flexing both digital and physical shopping muscles." More and more shoppers, for example, buy gifts online and then collect them in stores: A whopping 39% of shoppers plan to use a BOPUS (buy online, pick up in store) option, up from 32% in 2015, according to a survey by the International Council of Shopping Centers.
Many top retailers have been preparing for months to make BOPUS a smooth operation, especially in terms of seasonal hiring: Target, for example, reportedly increased the number of workers at its e-commerce warehouse and fulfillment centers to 7,500 workers this holiday season. And in great news for brick-and-mortar stores, the ICSC's holiday survey also found that among those shoppers who choose to click and pick up, 83% plan to open their pockets to make additional purchases in the store while picking up their online order.
In addition, for the vast majority of consumers, the shopping journey starts online — even if most plan to make the purchases in the store. This is true even during the busiest shopping season: end of the year holidays. For example, 85% of shoppers said they plan to research online before making brick-and-mortar holiday purchases, according to the ICSC.
Online has Redefined the Way Consumers Shop in Stores
According to the Deloitte study, digital has actually completely redefined how customers handle their experience in a brick-and-mortar store — how they locate, buy and receive products. They are so used to quickly going to a browser that searches a broad, fragmented marketplace and finding exactly the assortment they want.
As a result, there have been definite changes in how consumers behave in the store: For instance, there has been a rise in customers who want an easy, self-directed journey at their local brick-and-mortar retailer, found Deloitte — two-thirds of respondents said that's what they want, up from 30% just two years ago. There is also a significant rise in the number of consumers willing to share data in exchange for personalized service — likely because shoppers have become used to exchanging data for personalized recommendations online.
Stores underestimate digital influence
RSR's omnichannel strategy report that showed retailers seem to completely underestimate digital's influence on stores (and vice versa) — calling it a "blind spot." Retailers apparently believe online only influences about 30 percent of store sales, and yet companies including Forrester that estimate online influences put that figure at 60 percent or higher.
The report found: "When it comes to understanding the role that digital has in shaping business challenges, retailers, whether large or small, high-performing or low, reveal a breath-taking level of naiveté about the role of digital in an omni-channel strategy."
Retailers should take advantage of the opportunities
According to Deloitte, understanding how digital influences in-store sales, and vice-versa, can help retailers take advantage of opportunities to understand their customers overall and implement strategies that work.
For example, in a statement, the firm said that despite the impact of digital influence, retailers have less and less real influence over the purchase journey over consumers who spent hours each day on platforms such as Facebook and Google. "Any retailer who thinks they can build their own personalized experience to interact with customers anywhere near the extent of major digital platforms and find success may be disappointed with their results," said Jeff Simpson, principal, Deloitte Consulting LLP and co-author of the study. "Their limited interaction with customers – about six to eight transactions per year – limits their understanding of the 'moments that matter' in a personalized experience such as purchase intent and preference.
Instead, he explained, retailers should "more aggressively embrace integration and the native capabilities of the major digital platforms where their customers have already chosen to interact and transact."